The user-review-driven local listings company Yelp said today that it gobbled up the US food-delivery startup Eat24 for $134 million in stock and cash.
As competition in the food-tech space heats up, American companies are learning it's not enough to only provide reviews, restaurant reservations, or delivery services. Instead, players such as Yelp and OpenTable are snapping up startups to round out their offerings and increase engagement.
Analysts at Cowen and Company estimate that Eat24 will generate about $300 million in revenue for Yelp, helping it diversify its revenue sources. Monetizing local reviews hasn't been easy for Yelp, which posted its first quarterly profit last year after nearly a decade in business.
Though Eat24 is the largest competitor to the delivery giant GrubHub (which merged with Seamless in 2013), the latter is by a long shot the most dominant player in the market, as illustrated in the chart below.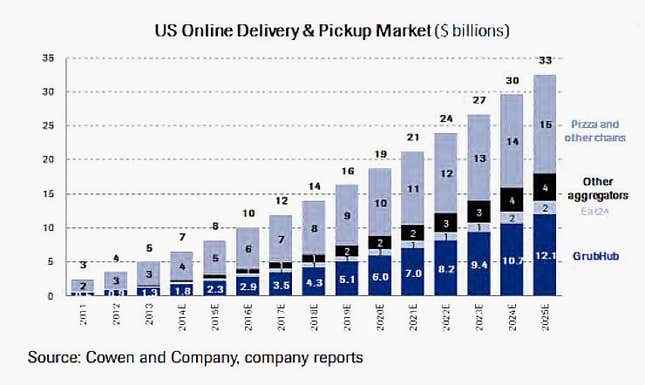 With Eat24 and the reservations service SeatMe (a $12.7 million acquisition from 2013), Yelp is now in front of hungry diners at nearly every step of their way to a meal, in whatever form it takes: while deciding what to eat, booking reservations, placing orders online, and when the food finally arrives at the person's doorstep.
It seems the only missing link at this point is paying the check in the restaurant—a functionality that OpenTable added to its platform through its $11 million acquisition of Chalo in 2013. Just last week, GrubHub announced that it bought DiningIn and Restaurants on the Run, delivery platforms focused on corporate catering. Last year, the payments company Square also added an order-ahead tool that lets customers pay for and pick up their purchases, and its $90 million acquisition of Caviar gives it a foot in the food delivery space as well. It's clear that everyone wants a bigger piece of the pie.