New York Fashion Week had not officially started, but it wasn't too soon for a party. Photographers crushed around marginally famous people inside a Meatpacking District studio Feb. 10, where women with clipboards checked guests' names before allowing them to ascend a ramp where a laser-like light show streamed across the walls.
Inside, bartenders poured specialty cocktails, models on pedestals wore splashy clothes and hostile expressions, and the DJ Leigh Lezark of the Misshapes looked deeply bored as she played songs by Solange and Bruno Mars. In one corner of the crowded room, women in white lab coats pulled on rubber gloves and used syringes to hook guests' arms up to to IV bags filled with a florescent yellow vitamin solution.
All in all, a fairly normal fashion party—except that the host of the event was the office equipment company Epson, and the guest of honor was a new printer.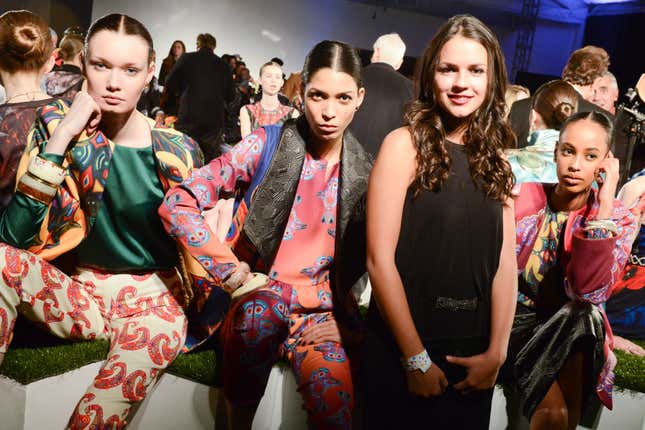 In a clear-curtained chamber guarded by a lab-coated woman with limeade-colored hair, a $20,000 printing machine the size of a large motorcycle disgorged a length of white stretchy fabric printed with multi-colored roses.
Todd Schneider, who usually spends his time training printer dealers for Epson, manned the F7170, a new fabric printer that Epson hopes fashion designers will take to in a big way. Schneider said the printer works by essentially applying a giant iron-on transfer, which is heat-pressed into fabric in a process called dye sublimation ("dye sub," to guys like him).
The rose-printed fabric showed none of the peeling edges or telltale surface signs of an iron-on. That's because, Schneider explained, the heat press turns the liquid ink into gas. "For lack of a better term," said Schneider, "it jumps off the paper and gets sucked into the fabric."
The industrial printing technology has been around for a while, but Epson's new printer purports to be more user-friendly and easier to maintain. In Mexico and South America, dye sublimation is popular with manufacturers of bright, allover-printed athletic wear such as bike shirts or the busy jerseys worn to identify members of Carnaval blocos in Brazil. In the US, said Schneider, it's bigger for "the tchotchke market"—mouse pads, coffee mugs, and Christmas ornaments.
Now Epson has its sights on fashion, hoping to inspire high-end designers to seek out printing companies that have already invested in the dye sub machines. For this week's event, the company brought 11 designers from North, Central, and South America to show off garments they'd made from Epson-printed fabrics.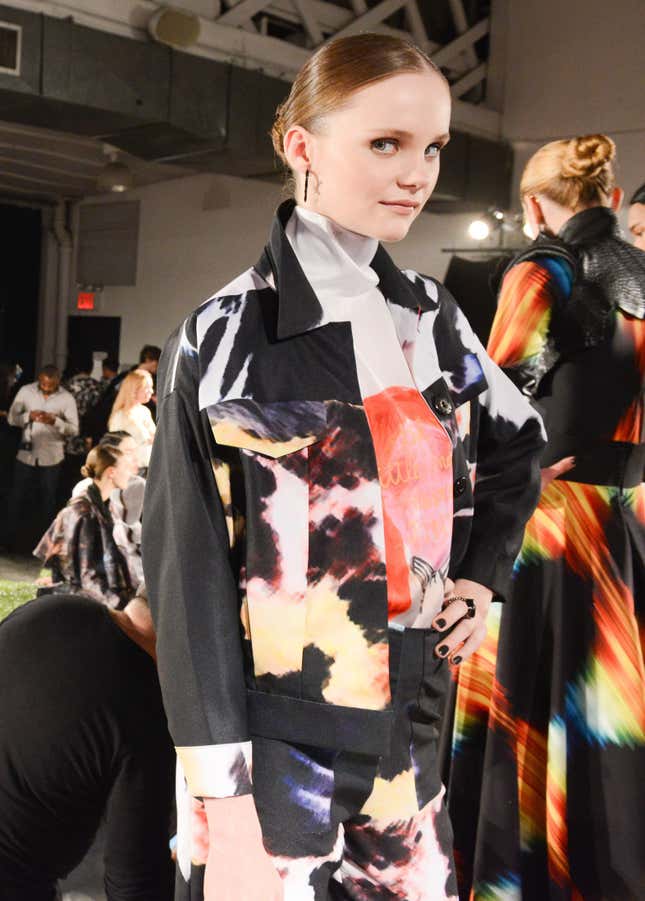 And some of them looked great. Noel Romero, the designer and co-founder of the popular Argentinean denim brand A.Y. Not Dead, created three looks, including a men's suit covered in a David-Hockney-inspired print of lawn green, sky blue, and bubblegum pink brushstrokes. A female model wore a corresponding mini-skirt with a pink sleeveless motorcycle jacket; another wore a black jacket and matching pants with pink and yellow smokey clouds that started out as one of Romero's own oil paintings.
Romero said she engineered the prints specifically for each garment, deciding exactly where each brushstroke and splotch should fall on the body. A painterly mahogany tree trunk, for example, could be printed to fall on the section of fabric that would be cut into a suit's sleeve.
For designers who want to work with local printers—which can help with timing and quality control—and create garment-specific graphics, the technology could be a boon.
But just one thing, warned Romero, who usually works with cotton, silk, and leather: "For these machines," she said. "It has to be polyester."