The packaged foods company Mondelez International was born in 2012, the result of a Kraft spinoff. Along with famous snack brands such as Ritz crackers, Trident gum, and Cadbury chocolate, the new company also took over Oreo, which had been born 100 years earlier, in 1912.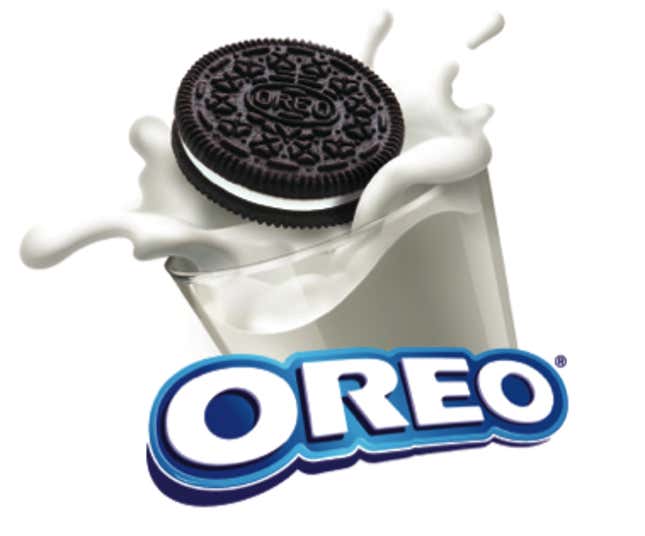 Not all century-old snacks can be multibillion-dollar brands, but fortunately for Mondelez, Oreo is one. The company announced this week that it sold more than $2.5 billion of the cream-filled cookies in 2014. That's more than twice the global sales of Cheerios cereal (a General Mills brand), and five times the annual sales of Kraft Macaroni and Cheese.
Oreos are, by far, the best-selling cookies in the world.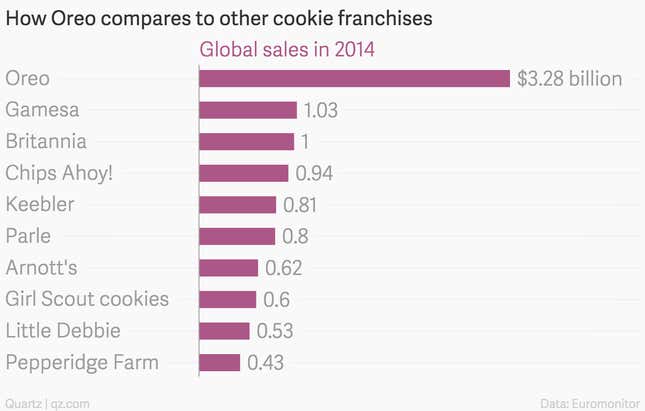 These charts are based on data from the market research firm Euromonitor. Euromonitor's numbers reflect retailers' revenues from the cookies, not the cookie companies' revenues; so even though consumers may have paid more than $3 billion for Oreos in 2014, Mondelez only saw around $2.5 billion from selling Oreos to retailers.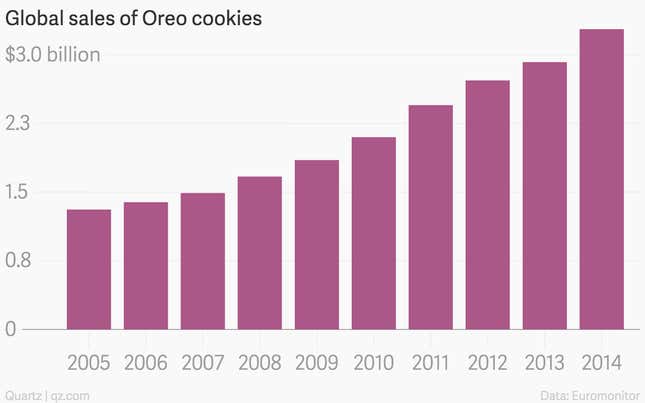 What's driving the constant uptick in Oreo sales is probably the simple fact that consumers like Oreos. They taste good, they're unique in design, and people keep finding new things to do with them; deep-fried Oreos are sold at American state fairs, Oreo churros are now available at some US sports stadiums, and anyone who's seen the film The Parent Trap knows that topping an Oreo with a spoonful of peanut butter is divine. There are countless other ways to eat them, of course. Dipping whole Oreos in milk, pulling (or twisting) the cookies apart to lick the cream filling, or crumbling the cookies over ice cream are pretty standard.
Mondelez has also executed some savvy social media campaigns on behalf of the once-humble, now-hyped sandwich cookie, which was invented by Nabisco (a snack food company that eventually became part of Kraft Foods). Some 38.7 million people publicly "like" the Oreo brand on Facebook, a handful more than the number who "like" Starbucks.
And then there are the various permutations of the original chocolate-cookie-plus-vanilla-cream model: Oreos with peanut butter filling, mint-flavored Oreos, Oreos with coffee-flavored cream filling, Pumpkin Spice Oreos, Watermelon Oreos, and now Red Velvet and, perhaps, S'mores Oreos. That's just in the US, where there once was even an Oreo breakfast cereal.
More than $1 billion of the brand's global revenue is generated in developing markets. In China, there are Oreos in wafer form, and Oreos filled with cream in a green tea flavor offering "a cooling sensation that simulates ice cream," according to Mondelez. In Argentina, one can purchase chocolate-covered Alfajor Oreos. In Mexico, each "Trio Chocolate" Oreo has one kind of chocolate in the filling and a different kind of chocolate in each side of the cookie.