A study of demographic changes (pdf) in Britain's Muslim population should be required reading for Britain's would-be leaders. In short, the existing policy of "non-engagement" isn't going to work for much longer.
What the country is seeing is a Muslim baby boom: a group of people getting to childbearing age, and all having kids at the same time. A recent report by the Muslim Council of Britain (pdf) notes that while Muslims make up just 4.8% of the population, the share of school children who are Muslim is around 8.1%, according to the latest census data. As such, Muslims in Britain skew younger than the general population: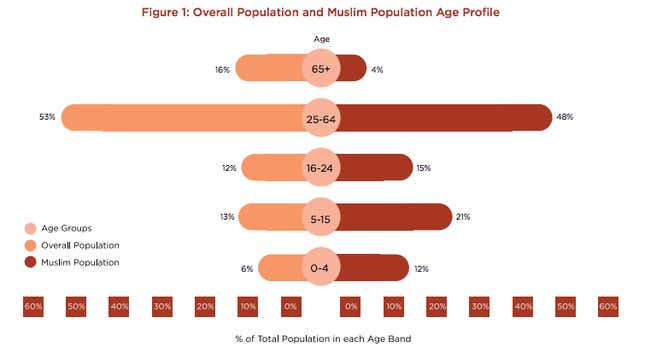 Britain's politicians would do well to take note: this is a fast-growing new generation of voters. British Muslims aged 18 or above are eligible to vote in the May general election. Those aged 13 or above in 2014 will be eligible to vote the next time around. And the youngest children of current voting-age Muslims will not be able to cast a ballot for a while, but they will be brought up by parents at the the sharp end of debates about immigration, identity, and the link between Islam and extremism.
Up to now, some say, Muslims have been ignored by those in power, despite their fast-growing numbers. In January, Baroness Sayeeda Warsi, a former member of prime minister David Cameron's cabinet who resigned over the government's policy on Gaza, attacked the current and former governments for what she described as six years of non-engagement with British Muslims.
Cameron has already been criticized for failing to meet with Muslim leaders in the way he does with other community groups. Worries over the radicalization of young people after the Arab Spring led a government minister to send a letter to more than 1,000 Muslim leaders on the topic of countering extremism. But it was seen as a heavy-handed and out of tune: "We know that acts of extremism are not representative of Islam; but we need to show what is," it read.
The Muslim Council of Britain produced its report about the UK's Muslim population to dispel myths about the community. In a recent survey, the average Brit thought that more than 20% of the population is Muslim, when in reality is around 5%, up from 3% in 2001. "Demographic alarmism is scaremongering," the council said.
It also noted that, while it is true that Muslims are one of the UK's fastest-growing groups, it is far from a homogenous bloc. British Muslims are ethnically diverse, and comprise first-generation immigrants and citizens from birth.
There are other demographic realities that could make Muslims less of a political force than their numbers suggest in the next few elections. The young are notoriously apathetic when it comes to politics. Perhaps worse, Britain's Muslim community lacks pensioners, a group whose reliable voting patterns win them outsized pre-election favors. Muslims might be studying, working, raising families, and buying homes, but they'd better hurry up and get old as well.