China's largest umbrella exporter, Jicheng Umbrella, saw its shares shoot up over 50% on the company's first day of trading in Hong Kong today. Jicheng, based in China's southern province of Fujian, applied to list on the Hong Kong Stock Exchange in October, just as the city was gripped by pro-democracy protests dubbed the "Umbrella Movement" because demonstrators used umbrellas as shields against police tear gas and pepper spray.
Given the contentious nature of the protests in mainland China, it's unlikely Jicheng is intentionally capitalizing on the newfound iconic status of the umbrella in Hong Kong—but it surely isn't hurting. Hong Kong was the company's third-largest market for the six months ending in June, according to its prospectus. While various businesses suffered during the 75-day protest movement, Hong Kong umbrella retailers saw their business jump as supporters bought umbrellas for both practical and symbolic purposes: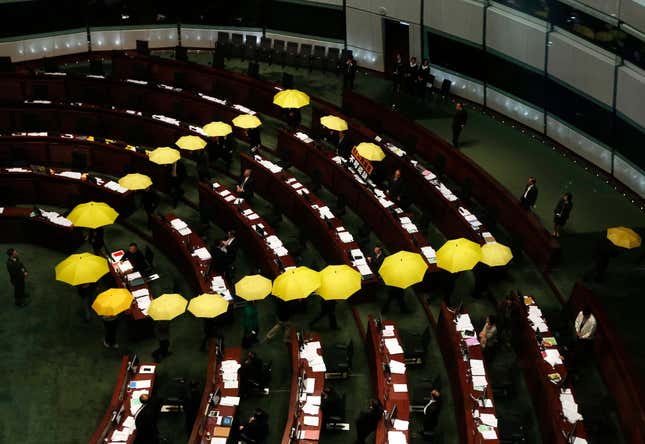 China has emerged as the world's top source of umbrellas, after surpassing Taiwan in the 1990s. Total Chinese umbrella exports totaled $2 billion in 2013, according to the General Administration of Customs, with half of all umbrellas or parasols going to Asian markets.
Jicheng's IPO funds will go toward a new factory and expanding output, according to the company. The company manufactures and exports umbrella parts and umbrellas made out of plastic, nylon, and polyolefin elastomers, which the company says is environmentally friendly and biodegradable.
Here are Jicheng's expectations for umbrella and parasol sales in the Chinese market over the next few years, based on research from the consultancy Frost & Sullivan.
Jicheng's largest market is actually in umbrella-mad Japan, where it expects umbrella sales to grow gradually as the Japanese economy recovers, to 69 million units in 2017, an increase of about 1.2% since 2013.
Jicheng is counting especially on Japan's less-prepared younger generation who aren't used to carrying umbrellas around and duck into convenience stores to grab a cheap plastic umbrella when it begins raining. (Older middle-class Japanese shoppers are accustomed to toting higher quality cloth umbrellas with them at all times, the prospectus notes.) Another bonus of Jicheng's plastic umbrellas: "Transparent appearance of plastic umbrellas make them easier to match the garments."