You might expect to use virtual reality goggles for video games and entertainment, but what about for designing your next pair of shoes? A patent awarded to Nike on Feb. 3 shows the sneaker behemoth may be exploring that possibility.
Nike already has a custom shoe design site, NIKEiD. Shoppers can customize every aspect of a plethora of Nike products, and check out their designs from multiple angles. Larger Niketown stores also have areas where you can customize shoes and feel swatches of fabric.
Nike's new patent would fall somewhere in the middle. It shows a user standing in front of a physical, shoe-shaped object, and wearing a "head mounted display" that would overlay graphics on the object: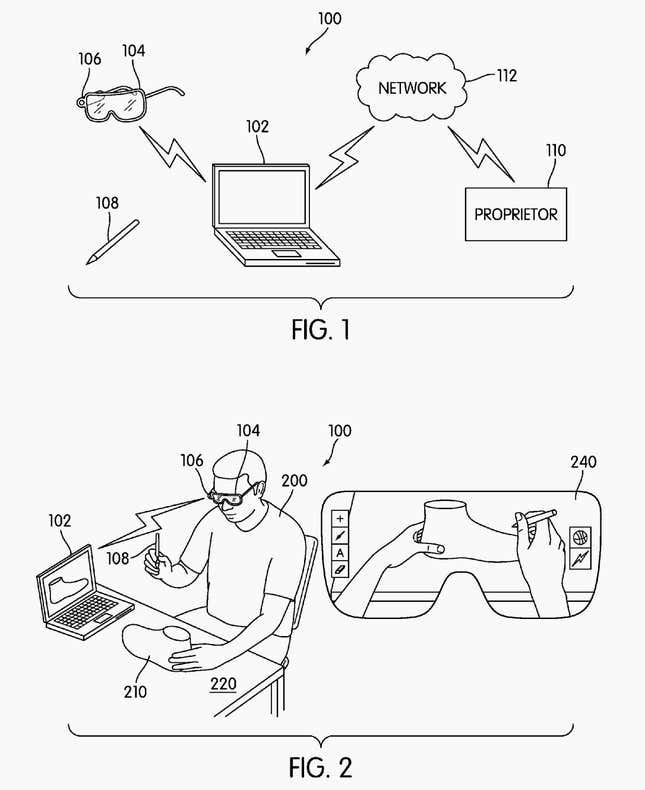 Nike's idea for overlaying digital information on physical objects looks much like what Microsoft is envisioning with its HoloLens augmented reality system. Nike's patent also mentions an "interacting device"—which looks a lot like a pen—to let designers draw their virtual concepts onto the shoe-shaped object. The patent shows a simple editing program running on the virtual reality headset that looks like a cross between the NIKEiD site and Microsoft Paint.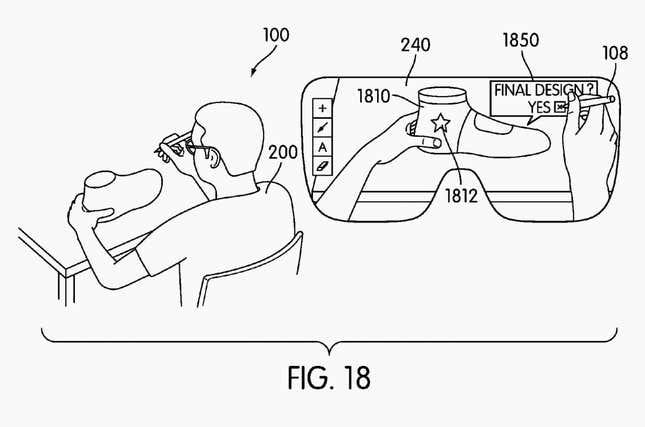 What's not yet clear is whether the technology would be intended for shoppers looking to customize their shoes or for Nike's designers to do prototyping. It's also unlikely that Nike would be building its own augmented reality hardware to rival Microsoft's HoloLens or Google Glass, but the company could be working on software to run on one of them. There's also no guarantee that a patent will turn into a product. (Quartz reached out to Nike for comment; we'll update this post if warranted.)
Nike has plenty of technological innovation under its belt: It partnered with Apple to build a step tracker in 2006, and launched a GPS-powered running app in 2010, and a step-tracking wristband series, the Nike+ FuelBand, in 2012. But there's no word yet on the technology everyone is hoping Nike will release: the shoes with the self tying-laces from Back to the Future Part II.