The UK's tourism board, Visit Britain, has decided to re-brand several famous tourist destinations to make them more attractive to Mandarin speakers.
Visit Britain chose 101 popular destinations, and opened them up to a re-naming competition, rolled out across China via social-media platforms Weibo and WeChat.
Among the new names are Zhai Xing Ta (A Tower Allowing Us to Pluck Stars From the Sky), formerly known as the office tower The Shard; Yong Heng Zhi Ji (Wall of Eternity), once known as Hadrian's Wall; and Wan Bo Tao Ci (Diverse Ceramics), also known as Stoke-on-Trent.
The move was shrewd. Apart from garnering lots of media attention (paywall), Visit Britain is making a decisive play for a market that, according to a study by the agency, is now the biggest in the world (pdf, page 30)—but which barely registers in Britain's tourism charts.
Chinese tourists spent $128.6 billion globally in 2013, according to the study. They preferred closer destinations like Hong Kong, Macao and Thailand, but of those who ventured further, fewer than 1% chose Britain; they went to the US, France and Germany instead. Chinese tourists have been put off by the extra visa requirements needed to visit the UK, which is not part of the Schengen area of Europe that allows travel to several countries on one visa.
The Chinese visitors' input is still valuable to the UK, however: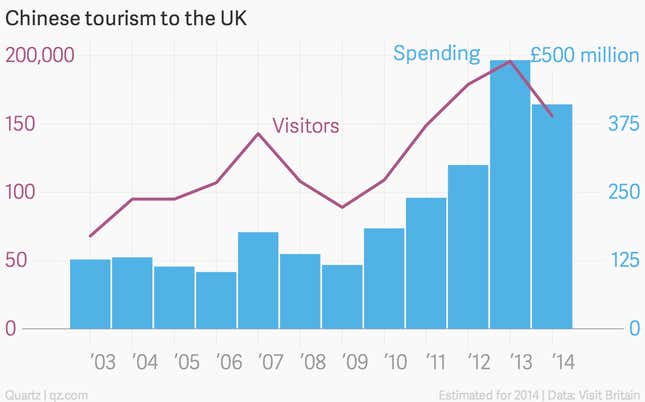 And it's growing. China is one of the fastest-growing markets for the UK tourist trade. From 2009 to 2013, Chinese tourist spending in Britain rose by an average of £94 million a year—the same increase, in absolute terms, as that of American tourists, and behind only Mexico in percentage terms.
Still, much more business continues to come from the rest of Europe, and from English-speaking countries like Australia, the US and Canada.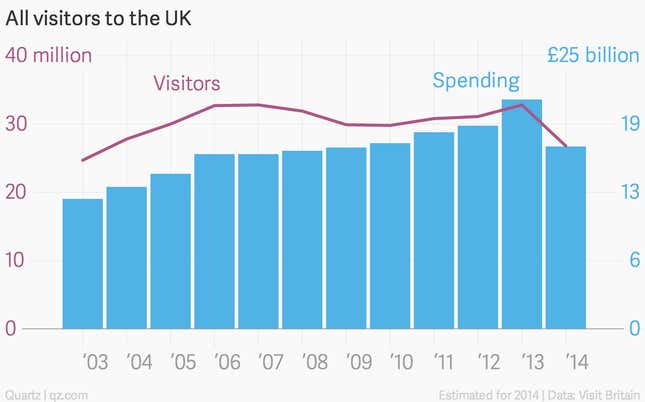 Visit Britain will be hoping this is all about to change, as Chinese visitors flood in to see the Big White Streaker, the new moniker for the Cerne Abbas Giant, a huge naked figure depicted in chalk on a Dorset hillside. They may also want to shop on Tall, Rich, Handsome Street, once called Savile Row. The new names may sound less poetic translated into English than the originals, but at least they put money where the mouth is.