This post has been updated.
Euro-zone finance ministers gathered in Brussels today for another round of crisis talks on Greece's precarious financial situation. Last week, talks ended after 1am local time, and even then the ministers could not agree on the wording for a joint statement. Hopes were slim for more of a breakthrough this time around, and so it proved—the meeting broke up angrily and, quite unusually, after only a few hours.
The Greek delegation rejected a draft proposal to extend the country's current bailout program for six months. Markets are on edge because the program expires at the end of this month. After that, there is little chance that the country can avoid going bust if it is cut loose without a new agreement.
"The next step has to come from the Greek authorities," said Dutch finance minister Jeroen Dijsselbloem at a post-meeting press conference. The Greeks have a week to present a counter-proposal to their euro-zone colleagues, and "that is about it," Dijsselbloem added. Euro-zone finance chiefs could meet again on Friday (Feb. 20) to ink a new or extended deal. That, for real, is the final deadline, Dijsselbloem suggested.
The euro dropped sharply against the dollar after the meeting broke up (other euro financial markets were already closed):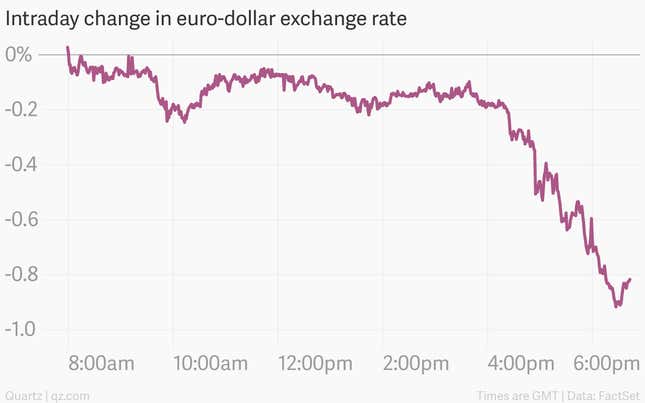 Greek banks are essentially living on life support from the European Central Bank, and are thus the most exposed to the costs of a so-called "Grexit," or Greek exit from the euro zone. In recent weeks these banks' stocks have veered wildly up and down on every rumor that a new deal is imminent, or that the country's days in the euro zone are numbered. The Athens banking index gained almost 20% at one stage on the final trading day of last week, but fell by around 10% today in anticipation of another unsuccessful attempt to sign a new bailout deal: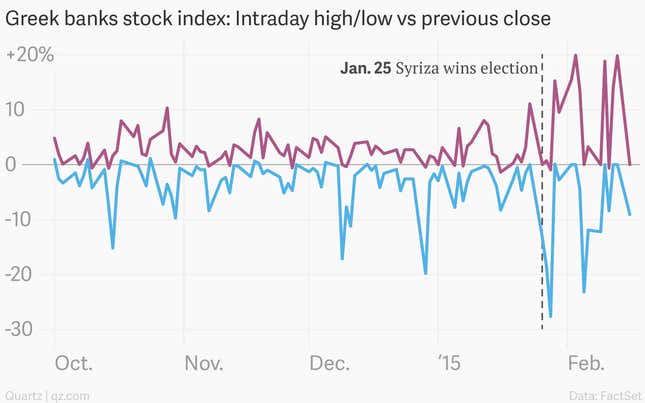 The new Greek government, led by the left-wing Syriza party, is adamant that a new deal should represent a break from the austerity imposed in the past. In a combative op-ed (paywall) published in the New York Times today, Greek finance minister Yanis Varoufakis (pictured above) yields little ground on behalf of his "small, fiscally stressed nation lacking its own central bank and seen by many of our partners as a problem debtor." Prime minister Alexis Tsipras, meanwhile, says he's "full of confidence" that his government will gets its way.
Greece's creditors have other ideas. Recent statements from German, Austrian, and Dutch officials show little appetite for compromise on the bailout's existing conditions. The new Greek government has behaved "pretty irresponsibly" in its few weeks in power, according to German finance minister Wolfgang Schäuble.
Despite the ultimatums and brinksmanship, most believe that a classic last-minute, face-saving fudge—a euro zone specialty—will be agreed."We must be logical, not ideological," said European Commissioner Pierre Moscovici. But there is less room for maneuver with each day that passes, and that implies an awfully wild ride in the markets ahead.
Updated Feb. 16 at 18:45 GMT with details of the conclusion of the finance ministers' meeting and market reaction.