Even in the fall/winter collections at New York Fashion Week, many runway looks still expose a good deal of skin—seriously high-slit skirts, diving necklines, or tops cropped at the ribcage. But on Feb. 13, Fatema Fardan, who has been called the first Emirati designer to show at New York Fashion Week, showed looks that were a little more covered up.
"I find that fashion nowadays is very all-about-sexual—you know, making the woman into a sexual object—and I don't like that," Fardan told Quartz just before her Fashion Week presentation at a studio space in downtown Manhattan. "I can't see myself in it, or any of my friends in it."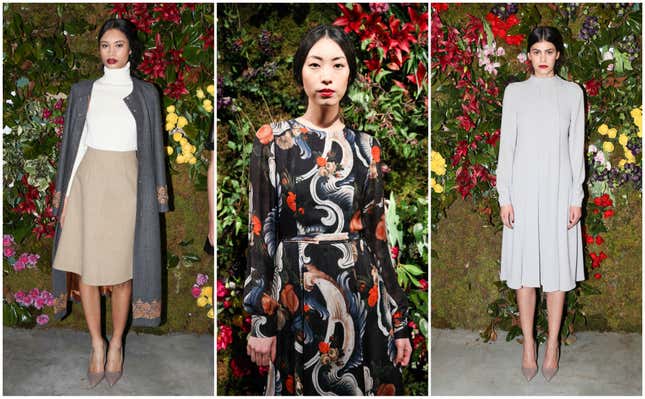 So she tries for a subtler allure, she explains: "I want to make my woman more sensual than sexual. She is empowering herself with her sensuality… I don't think even when you're completely naked, you look sexy. You don't. You look sexier when you're a bit more covered up. So that's kind of what I try to do when I design. It's like, where can I show that will make you look sexy? But still very classy, very elegant, very sophisticated."
Fardan, who was born in Dubai to a Lebanese mother and studied in London, said she wanted her collection to reflect the global, multicultural, poly-lingual lifestyle of the modern Middle Eastern woman.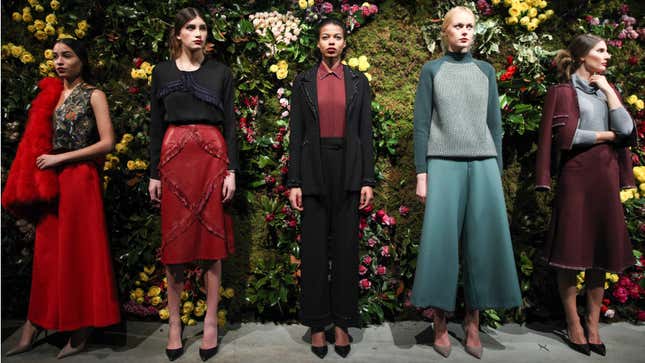 "When I design, I try to do things that are versatile," said Fardan, who wore a long embroidered wool coat of her own design, which she likened to the abayas she wears at home in Dubai. "So I try to think like, how would my customer wear this? Would she wear it with a top or would she wear it alone? So there are a lot of things that a maybe more modest woman could wear, and then people who are not so modest could still wear it."
Many of the stylish international guests at Fardan's presentation were wrapped up more because of New York's frigid February weather than for cultural or religious reasons. And true to Fardan's vision, the collection lent itself to versatile styling. Some items, including a leather top with a cutout torso triangle and a strapless scarlet velvet gown, were more revealing than the ankle-grazing culottes, round-necked dresses, and long-sleeved turtlenecks that ran through the collection.
The event's co-host, Julia Restoin Roitfeld—a New York-based website editor and model, and the daughter of famed French fashion editor Carine Roitfeld—wore one of Fardan's black dresses. The cut of the dress was prim: a fitted bodice, short sleeves, and a flattering full skirt that fell just a few inches above her ankles. But it was all leather, and Restoin Roitfeld looked as chic, sultry, and modern as ever before.