There's some good news for American travelers in 2015: Thanks mainly to the strong dollar, the price of a hotel room outside the US has decreased by about 7% over the past year, according to a report by travel booking and review site TripAdvisor. In 2014, the average nightly price for a hotel room outside the US was $123, while it'll be $115 in 2015 (rates for the rest of the year are calculated on the US dollar exchange rate as of Feb. 5).
Hotel costs in Europe are 9% lower this year compared to last (average from $133 to $121), and even cheaper in some countries. A hotel room in Sweden is 19% cheaper than last year and has gone down by 17% in Norway—but still costs more than most European destinations, including the UK. Meanwhile, room prices within the US are up 9%.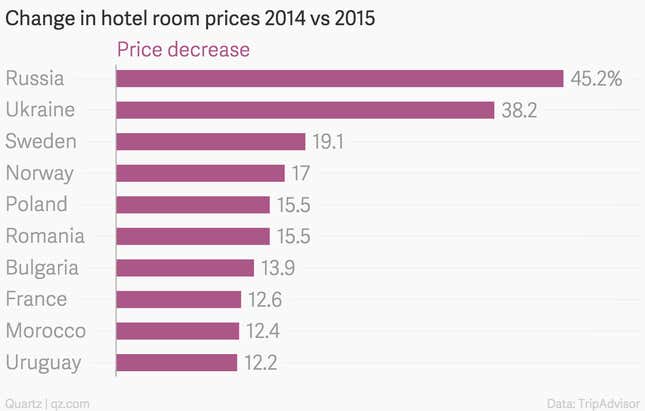 If, on an average, $109 will buy a night in a French hotel, rooms are twice as expensive in the Caribbean in September and October, when the prices are lowest (the cost of a room, on average $250, goes up to $317 a night in February).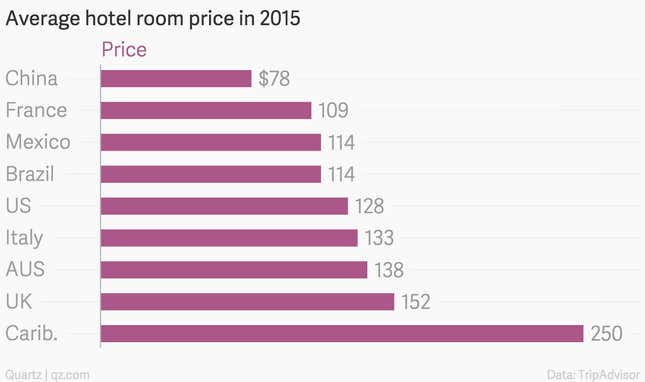 The most affordable stays—and those with the least fluctuations through the year—are in China, where the average room price is $78.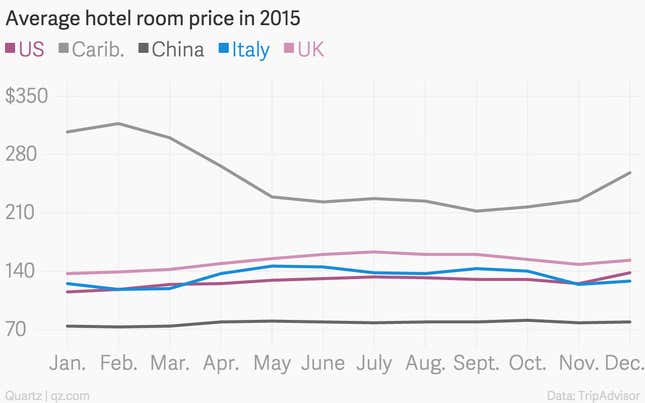 To get the best deal, Europe and the US are cheaper in January, February, March and November, while in the rest of the world, the hot and wet months (generally in late spring and summer) are the most affordable. A room in Italy is on average $146 in May and $118 in February, while Mexico is more expensive in February ($121) than in May ($109).