Whole Foods Market is finally coming to terms with its image problem. The notion that its food is too expensive has kept a certain segment of grocery shoppers at bay, limiting the company's growth. In 2013 and 2014, sales and growth went from stagnant to outright bad. The company lowered growth forecasts three times in one year, putting the stock price in a rut that it's only now beginning to overcome.
That's why, under the threat of cheaper organic food options from lower-end grocers like Wal-Mart and Kroger, as well as from newer competitors like Sprouts, the company has started cutting prices in cities across the country, according to the company's most recent earnings call.
Although the details Whole Foods has released about its price cuts are scant, they seem to be working. Asked about its decline in average spending per customer on the Feb. 11 earnings call, co-CEO Walter Robb emphasized that cheaper prices are driving more people to stores more often:
If you look at the quarter and even the five weeks in the new quarter, look at the tremendous improvement in the transaction growth, that's much more the story I think than the basket is…
Earlier in the month, the company beat earnings expectations for the second consecutive quarter; it posted record revenue and higher-than-expected income, despite its shrinking profit margins amid price cuts.
Even with price cuts and lower profit margins, overall sales are increasing again, rising to a record $4.7 billion last quarter: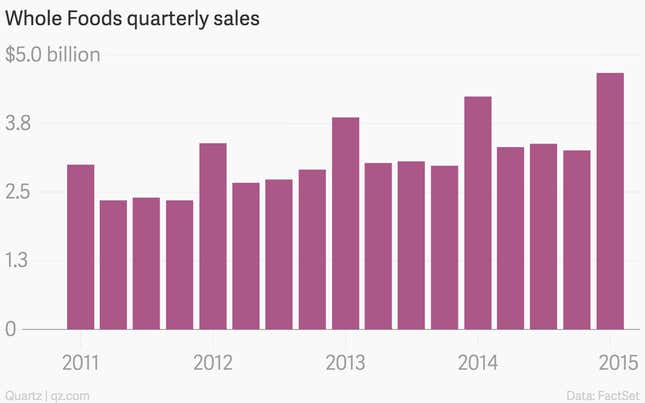 Investors appear to be back on board; the stock is near the high it reached before its two-year slide: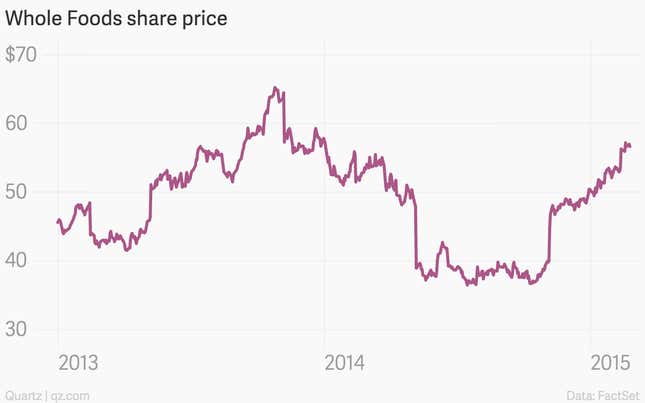 The initial focus on produce and other perishables is a bid for repeat customers who buy staples, rather than gourmands who turn to Whole Foods for a touch of luxury.
The company isn't trying compete on price for foods that people value knowing the origin of, like meat and fish. Instead it's aggressively investing to get closer to what others charge for staples, according to Robb:
We're going to be relevant on price. We've said that before; we'll say it again. Our tracking of competitors' pricing and indexes is much more sophisticated now than it was two or three years ago. We know where we stand relative to the others, and yes, of course on the items that are ubiquitous we're going to be in and we're going to have to price them right.
In other words, it's trying to be cheaper, but only where it has to be.