If you were to look at the newest population data, it would appear that Italians are quickly becoming an endangered species. According to the Italian institute of statistics Istat (link in Italian) the birth rath is at the lowest level since 1861, the year of Italy's unity.
No wonder the Pope has recently encouraged child-making; here's a look at Italy's declining baby production: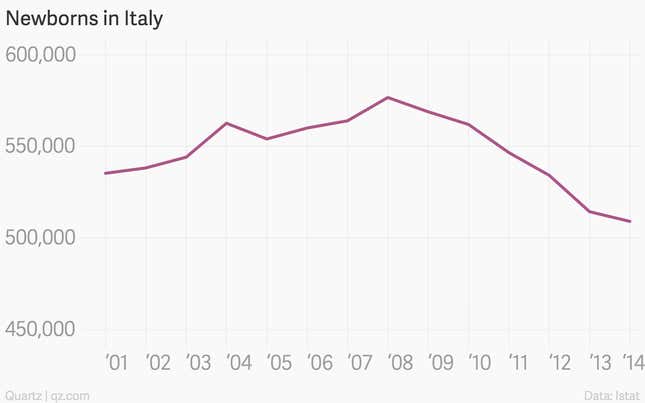 Although Europe's birth rate as a whole is decreasing, Italy's is doing so faster than the average: the data available for Europe stops at 2013, but Italy is on a steeper decline.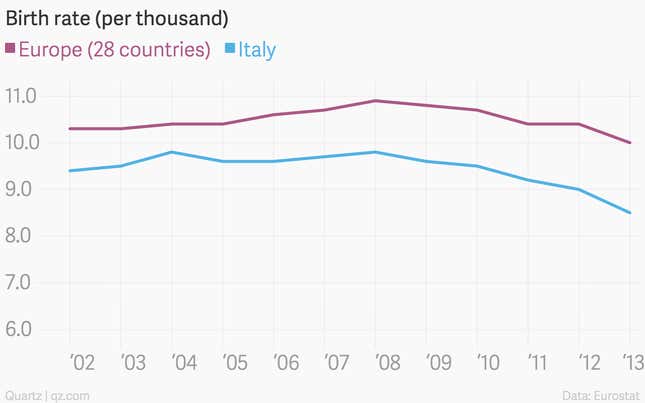 A look at the economic indicators are telling: Italy has the third lowest female employment in Europe (after Greece and Malta), at 49.9% (against a European average of 62.2%). Female employment rates and birth rates are positively correlated, and in a country where 42% of the youth population is still unemployed and kindergarten is often more expensive than university, children are quickly becoming a luxury young parents can't afford.
Italy has only had 505,000 births in 2014, and 597,000 deaths—population growth is nearing 0 (it's at 0.4 per thousand). The influx of immigrants (184,000 this year) is keeping Italy from shrinking—but that too is shrinking, especially when calculated against the number of Italians who are migrating abroad.
On a brighter note, life expectancy in Italy is one of the world's highest, growing steadily for both men and women.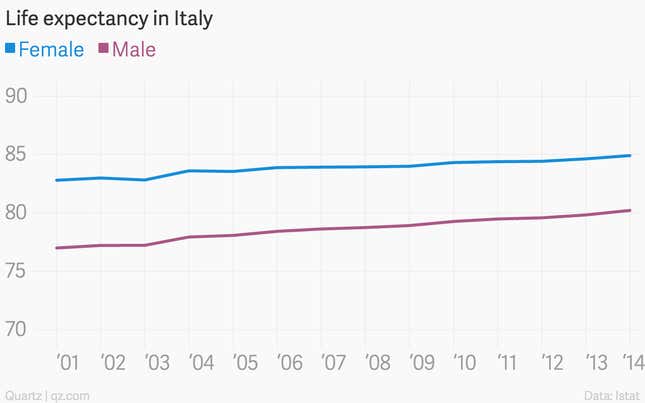 But it doesn't much help the flagging workforce unless Italians start making more babies. The country is already struggling with an aging population: over a fifth of the population is above 65, and the dependency ratio—33% in 2103 according to the World Bank—has been growing steadily since the 1980s.