This item has been corrected
The world's most recognizable airplane is on a death march.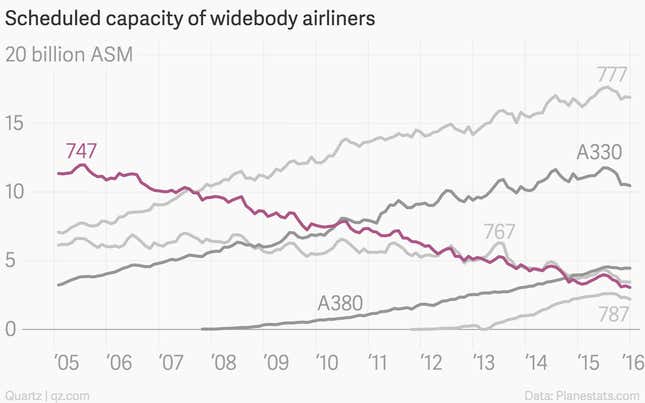 The scheduled passenger capacity of the Boeing 747—as measured in available seat miles—dropped below that of the double-decker Airbus A380 for the first time ever in 2014. Published schedules through 2015 show airlines will continue to increase their use of the A380, and reduce the use of 747s, according to data from PlaneStats.com.
Boeing 747 capacity by airline
As you can see above, some of the largest operators of 747s have drastically reduced their passenger service on the plane—if not phased it out entirely, like JAL, Singapore Airlines, and Cathay Pacific.
An outlier, Lufthansa, has increased its 747 service in recent years with 16 of the latest versions of the plane and 32 in total. Following reductions in British Airways's 747 service over the past decade, Lufthansa and BA will begin to trade the title for most 747 capacity in 2015.
It's not just the use of existing 747s that's on the decline. Orders for new 747s have slowed as well. As a result, Boeing announced in December 2014, that it will be cutting production of the jumbo jet from 1.5 planes per month to 1.3.
While the average world traveler will have fewer and fewer opportunities to fly on the iconic aircraft, there are two notable customers Boeing can count on to utilize the 747.
The first is freight operators. The latest version of the plane—the 747-8—has turned out to be popular for cargo: 57% of orders and 67% of deliveries so far of the 747-8 are for the freighter configuration.
The second is the President of the United States. The US Air Force recently selected the 747-8 as the successor for Air Force One—the presidential airplane. The current 747-200 aircrafts used for the purpose have been flying presidents since 1990.
Correction (Feb. 19): A previous version of this item referred incorrectly to the model number of the latest 747. It is 747-8 not 747-800.