This article has been corrected.
Her collection may not be part of New York Fashion Week, but when it comes to hazmat suits, Jill Andrews is in the avant-garde.
Working with a group of students, engineers, and public health specialists at the Johns Hopkins University in Baltimore, Maryland during a weekend hackathon, the wedding gown designer gave the protective suit used by health workers a complete fashion upgrade. "It's all about engineering," explains Andrews. "If you can build a bra, you can build a bridge."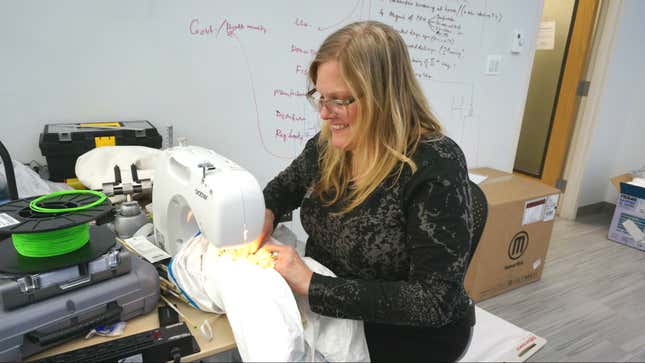 The current design of hazmat suits used in the Ebola-affected regions in Western Africa has several issues. For one, they are quite unwieldy, requiring separate 31 steps to put on, and 20 minutes and two people to remove. The fabric does not breathe and the face mask fogs up within minutes especially when health workers are working in 95TKF (TKC) conditions. The prevailing design also has 28 known points of potential contamination.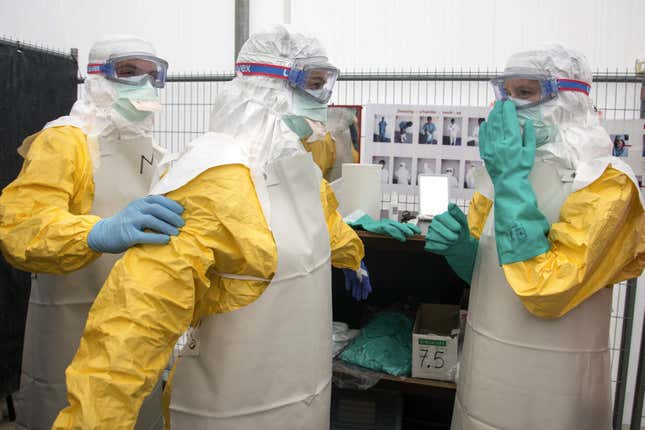 But Andrews was not deterred. "I love parameters," says the former Broadway costume designer and Fashion Institute of Technology alumna. "Wedding gowns include a lot of problem solving. My Jewish Orthodox clients, for example, like to dance, but their dress must remain modest."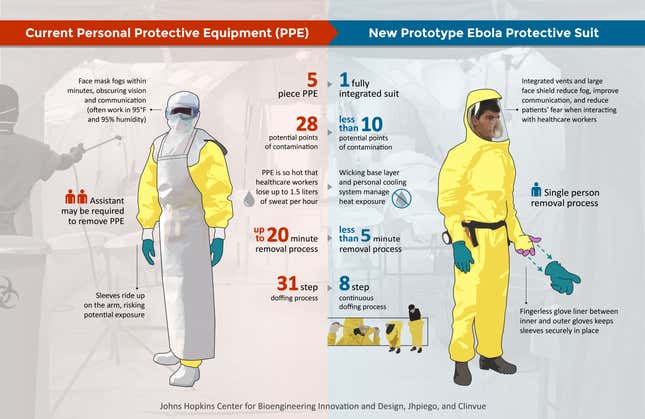 Drawing from her mastery of clothing closures, she sketched out a new design —moving the zipper to the back like a wet suit. This simplifies the removal process and and allows the wearer to emerge from the suit like a cocoon. She also introduced larger face mask and a small battery-powered fan that blows air into the hood.
Using a proven heavy-duty industrial fabric made by DuPont, Andrews sewed a prototype togther in her studio. There are still some issues to work on like the cooling system, Andrews told Quartz during a viewing of her Ebola suit last week at the Empire Hotel, just across from the Fashion Week tents.
 Hannah Kroll-Belok, a former client of Andrews, popped by the showing and testified to the designer's acumen and thoughtfulness. "I was a nursing student and I didn't want to spend a lot of money on my wedding gown. I bought a dress off the rack and she totally customized it for me," she beams, showing photos of the re-made dress on her iPhone. "We even thought about having zippers on the bottom of the dress so it could detach when it's time to dance. Jill is big on versatility and practical solutions. She totally re-engineered my dress."
The hazmat suit has been shortlisted for the "Grand Challenge" competition to fight Ebola, organized by the US Agency for International Development. With the collaboration of the global health non-profit organization Jhpiego and the GE Foundation, the prototype may soon see mass production.
GE Foundation Chief Medical Officer David Barash outlined the broader impact a better designed suit can bring, beyond the Ebola outbreak. "It fits into our strategy in terms of building things that are long lasting," says Barash. "I don't see why this suit could not be used for an influenza outbreak or other outbreaks. It's going to protect people from any virus or communicable disease."
When Quartz asked Andrews what other tricks from the wedding trade she's bringing into the final design, she smiles widely, "Actually, it's the other way around. I think I'm going to try breakaway zippers in my wedding gowns from now on!"
Correction (Feb. 19): The International Rescue Committee is not involved with the development of the suit, as previously reported.  The IRC shared its space at the Empire Hotel to showcase the Ebola suit at the request of GE Foundation.