Sony has had some hard times recently, losing nearly ¥850 billion ($7.2 billion) over the past five fiscal years, with another ¥170 billion loss expected for the year to March. But when the company announced (paywall) that it would separate its audio and video businesses into a new subsidiary, like it did with its television operations last year, investors took heart.
The announcement yesterday came two weeks after the company raised its earnings forecast (pdf) to predict a smaller loss this fiscal year. So far this year, Sony's stock has gained 30%, despite the persistent losses. Analysts have been upgrading their ratings on Sony shares, believing that the worst times are behind it.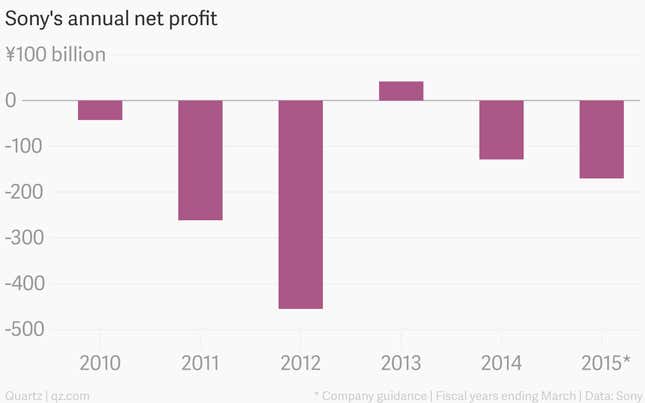 Indeed, Sony CEO Kazuo Hirai said the company expected to boost operating profit (pdf) to more than ¥500 billion by 2017. Sony's television unit even expects to post a profit for the first time in 10 years.
The new Sony will focus primarily on what its new corporate strategy dubs "growth drivers," which include video games, entertainment, and imaging sensors. At the same time, it will separate out the businesses that make cameras and music players, which are considered "stable profit generators," and try to wring as much cash out of them by cutting costs and curtailing investment.
Hirai also indicated that Sony will consider getting out of phones and television altogether. He does not "rule out considering an exit strategy" from those areas, which the company dubs "areas focusing on volatility management."
Many of the big changes Sony has announced recently (including its new strategy) come from Kenichiro Yoshida, the company's chief financial officer, who Reuters reported this week "is pushing each Sony division to take more responsibility for its performance." It was his decision to spin off the television business, and to sell off Vaio, the personal computer division. Since Yoshida took the CFO job in April, the company's stock has risen by around 70%.
However, if Sony is going to rely on things like making movies to drive its future growth, it's going to have to up its game from last year's disastrous release of "The Interview." As AMC Entertainment CEO Gerry Lopez told The Hollywood Reporter, "you had the president of the United States promoting the movie on television, and it still bombed."