In case you missed it, the specter of terrorism reared its ugly head again. But it it wasn't a new ISIS video or some new Al Qaeda splinter group.
Rather, it was Delta's CEO, Richard Anderson associating Gulf carriers—including Etihad, Emirates, and Qatar—with "9/11 terrorists" in the latest Openskies salvo from US airlines.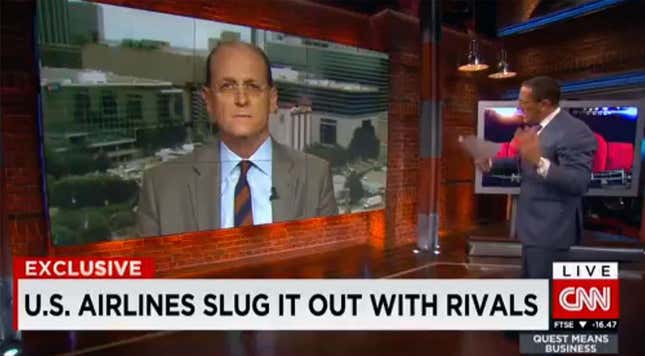 CNN's Richard Quest asked him about government subsidies and tax arrangements like Chapter 11 bankruptcy allowing airline restructuring. Anderson responded:
It's a great irony to have the United Arab Emirates from the Arabian Peninsula talk about that, given the fact that our industry was really shocked by the terrorism of 9/11, which came from terrorists from the Arabian Peninsula, that caused us to go through a massive restructuring.
Mr. Quest surprisingly didn't push back on the point—which seems like journalism 101. But that's besides the point.
In case you're new to this debate, I wrote on it last week and described my take as to how the US carriers are content to cry big bad wolf when it suits them.
In this case, the big bad wolf is Islamic terrorism. Which is slightly ironic, being as you can now enter US soil via Abu Dhabi's US customs pre-clearance center. And even more ironic given the fact that Delta serves a hub, Detroit, with the largest concentration of Arab Americans in the US.
Also: not to get all Thomas Friedman on you, but innovative, generally business friendly countries—such as the UAE—are not the people we need to worry about.
As John Walton, a travel journalist, observed:
Let's be clear: after a week where three Muslims were shot in the head, execution-style, in Chapel Hill, North Carolina, to little apparent concern of some media outlets, we should have no compunction in condemning these types of analogies in the strongest of terms.
Suddenly that homespun charm of Mr. Anderson in the old Delta in-flight videos doesn't seem so friendly.
Let me unequivocally state how reprehensible this act was. And how it represents the worst, race-to-the-bottom politics and protectionism imaginable. These Gulf carriers have built good brands, are growing quickly, and are providing incredible service that is raising the global standard of air travel. And that should be commended.
Also: customers don't care who is getting access to what capital or subsidies. They are increasingly voting with their cash and opt for the best product (read: humane and gracious) they can get for their money. Treat them well, get their business. That is the way the world should work.
Predictably, Qatar Airways CEO Akbar Al Baker fired back:
[Anderson] should be ashamed to bring up the issue of terrorism in order to hide his inefficiency in running an airline. He should compete with us instead of cry wolf for his shortcomings.
He added:
Mr. Anderson has forgotten in 2001 that the US government contributed $5 billion aid to airlines and $10 billion in loan guarantees. Was this a subsidy or just a donation?
More competition equals more access to the world, and most importantly, the options to fly on better carriers that aren't cutting services to the bone.
Loyalty to an airline should be earned through providing a consistent, quality experience—and making an effort to serve all customers—not just those at the sharp end of the plane. Loyalty should not garnered out of fear.
Richard Anderson (and Delta by association), shame on you.
This post originally appeared at Medium.