Walmart, the world's largest private employer, said it plans to raise starting pay in the United States to $9 an hour. By February 2016, the company aims to push that up to $10. It's essentially a self-imposed minimum wage, preempting an attempt to raise the federal minimum wage higher still.
The decision is likely to have ripple effects across the US and follows similar moves by companies like Gap, Ikea, and Aetna. The companies, evoking the spirit of great capitalists before them, say higher wages lead to a better experience for workers and customers, "which can drive higher sales and returns for our shareholders," Walmart CEO Doug McMillon told analysts Thursday. In Walmart's case, many of the 1.3 million US workers are also customers that can spend their extra dollars in the company's cavernous "supercenters."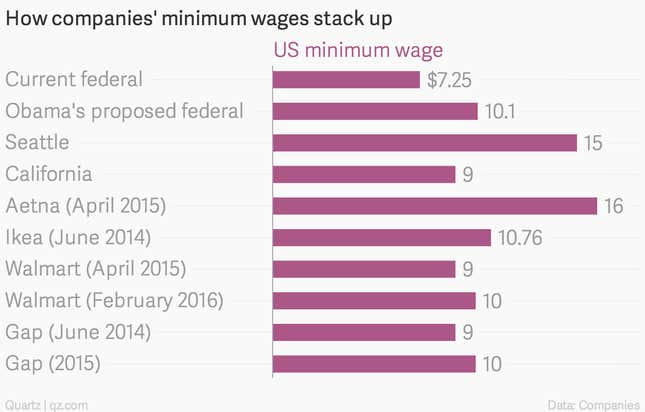 These companies will get deserved praise from workers and labor advocates, but the reality is that it was just a matter of time before these companies were going to have to raise wages, anyway. The better question might be: What took them so long?
While long-term unemployment and the number of part-time workers who would rather be working full time remain at historical highs, jobs have roared back in the US. The unemployment rate, 5.7% in January, has fallen faster than expected. But even as companies complain they can't find enough qualified workers, wages have hardly edged up.
To that end, more than a dozen US states raised their minimum wages last year. Now, 29 US states and Washington DC have wages above the $7.25 federal minimum wage, not to mention bigger boosts in cities like Seattle, which last year raised its minimum wage to $15 (the highest in the world).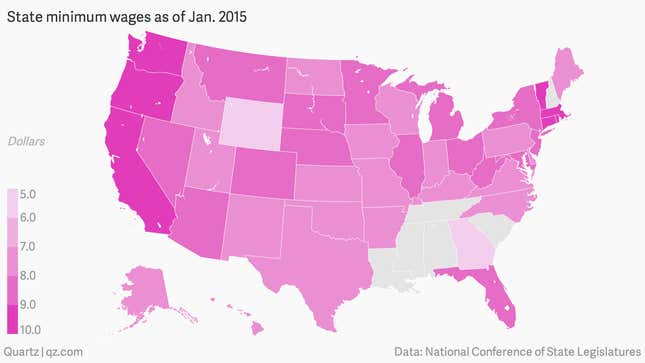 Likewise, US president Barack Obama has made it one of his priorities to raise the federal minimum wage to $10.10 before his term is up, though he faces quite a bit of opposition from Republican lawmakers and businesses that say the increase would lead to fewer new jobs. Labor unions and worker groups, including employees at Walmart, have also led strikes to rally for a $15 hourly wage.
But by putting out a splashy announcement, companies like Walmart boost their reputations, gain extra political points, and are better able to control the conversation (and higher minimum wage mandates). Plus, they get to create the rules that govern the way their businesses are run–rather than let the federal government do it–while avoiding any legal checks on whether or not the companies are actually following through with their promises.