A deep vein of Americana runs through the designs of Greg Lauren, the artist-turned-fashion-designer who happens to be the nephew of Ralph Lauren. But unlike the elder Lauren's polished, romantic ideals of the American woman and the American man, Greg Lauren's is deconstructed, reshaped, and mashed up.
"I love the officer's lounge in classic war movies, and I love the bar in Star Wars," he said after his fall/winter 2015 presentation at New York Fashion Week on Feb. 18. The set of his show was a camp populated by, as he put it, "artistic nomad warriors" of an indeterminate time and place. "It references a military camp," he explained. "You don't know whether it's the Revolutionary War; is it Gladiator, is it Game of Thrones, is it Mad Max?"
In its four years, the line has earned Lauren fans such as Kanye West, who Lauren dressed for the 2015 Grammy Awards, and Brad Pitt, as well as retail space in 40 stores around the world. Those include premier retailers such as Barneys in New York, Dover Street Market in London, and Isetan in Tokyo.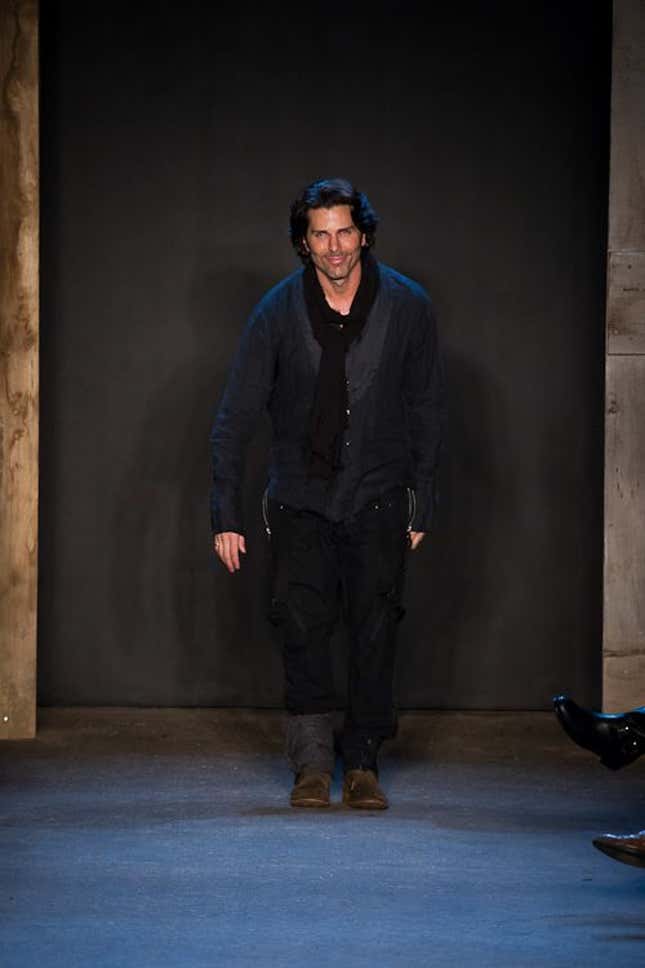 Just about everything in Lauren's new collection was heavily distressed or covered in elaborate patchwork. Lauren's favorite pants in the show were made out of vintage rubberized military duffel bags. Rampant with references to military and American Western clothing, it was as if a Ralph Lauren collection had been shredded and then painstakingly stitched back together with little concern for what the original garments looked like.
In its dissected and rebuilt approach, Greg Lauren's collection resembled the Japanese interpretation of Americana, most notably the fantastic, slightly surreal version of the designers Junya Watanabe and Takahiro Miyashita. (In fact, a small Japanese contingent at the show included a few guys decked out in Miyashita's label, TheSoloist.)
Creating these reworked garments is no simple enterprise. Lauren makes every piece in his Los Angeles studio, and no two are exactly alike.
"The world doesn't need another clothing company," Lauren said when asked why he doesn't make simpler pieces that are easier to produce. "To me, clothing is a medium that gives me an opportunity to create things that move people and make them feel differently about something, about anything—while looking good."