Like all conflicts, the one in eastern Ukraine has driven people from their homes. As of mid-February, over a million Ukrainians were refugees within their own country, according to the Internal Displacement Monitoring Centre, which tracks such figures worldwide. Among them, two groups face a particularly complicated life.
One is Crimean Tatars, a Muslim community with a long history of being repressed by Russia. Thousands of them have fled Crimea since Russia annexed it last year. The other is Jews, who have endured their own long history of anti-Semitism in the region, which the conflict with Russia has stirred up again.
Photographer Misha Friedman travelled to Ukraine to visit members of both communities. In this, the first of two stories, he looks at the Jews who have fled to Dnipropetrovsk, roughly 150 miles (240 km) from the rebel-held city of Donetsk. In the next, he profiles the Crimean Tatars who've made a home in the western city of Lviv. (Except where noted, all photos are by Friedman; text is by Friedman and by Gideon Lichfield.)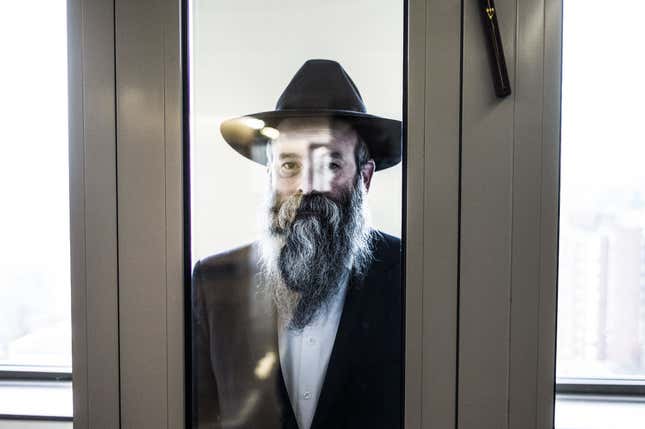 The city's Jewish community has a history as tormented as those anywhere in Europe. Most fled the Nazis in 1941; all those who didn't were exterminated. Of those who returned after the Soviets took over, thousands more died after being drafted into the Red Army. And most of those who remained emigrated to Israel after the Soviet Union fell.
Yet today the community is thriving, with an estimated 50,000 members. That's thanks in part to the patronage of the region's Jewish governor, Ihor Kolomoisky, one of Ukraine's richest oligarchs, who was profiled by Israeli newspaper Ha'aretz under the headline "Is this man the most powerful Jew in the world?"
Kolomoisky co-funded the building of the city's Jewish community center, said to be either Europe's or the world's biggest. It's built in the shape of—and named for—the menorah, the seven-branched synagogue candelabra. Inside the $70 million building, completed in 2012, are offices, restaurants, a hotel and youth hostel, luxury apartments, an Israeli consulate, a cultural center, and a museum. At its feet is the historic "Golden Rose" synagogue.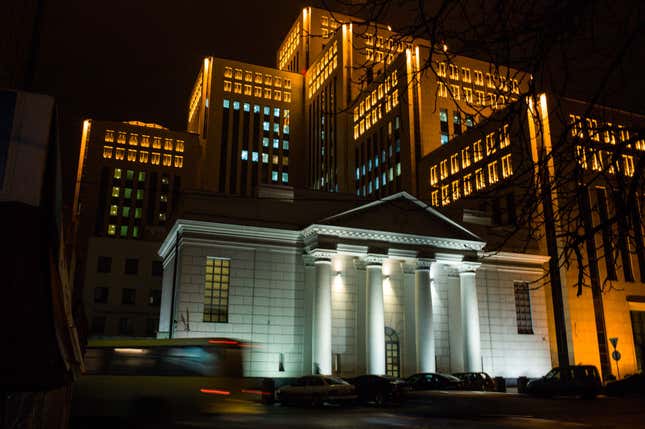 Despite the fears about an anti-Semitic resurgence, Friedman found a resilient community where the refugees from further east are finding ways to fit in. Some have devised rather enterprising responses to their situation.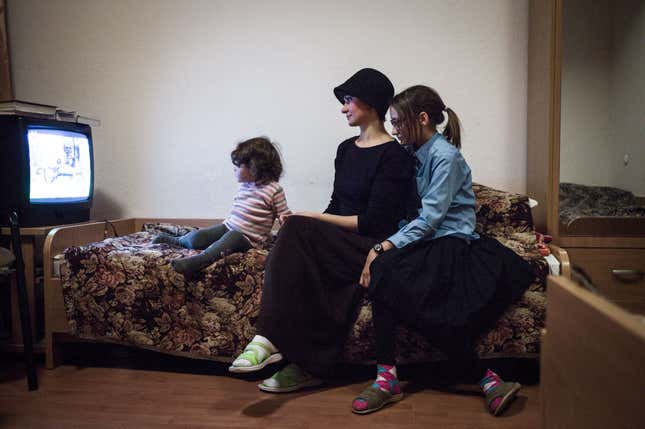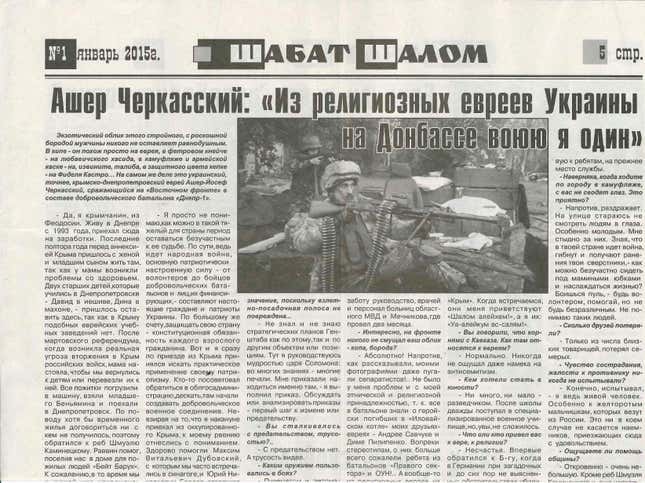 Asher Cherkassky, who left Crimea with his family and came to Dnipropetrovsk after Russia invaded, prides himself on being—so he says—the only Orthodox Jew in the Ukrainian volunteer battalions fighting the pro-Russian separatists. He was out fighting when Friedman visited, but his family posed for the camera (above). A local Jewish newspaper, Shabbat Shalom, profiled him (left), writing: "The exotic appearance of this slender, richly-bearded man leaves nobody unmoved. In a kippa, he just looks like a Jew; in a felt hat, like a Lubavitch hasid; in camouflage and a helmet, like—forgive us—a Talib; and in a khaki cap, like Fidel Castro."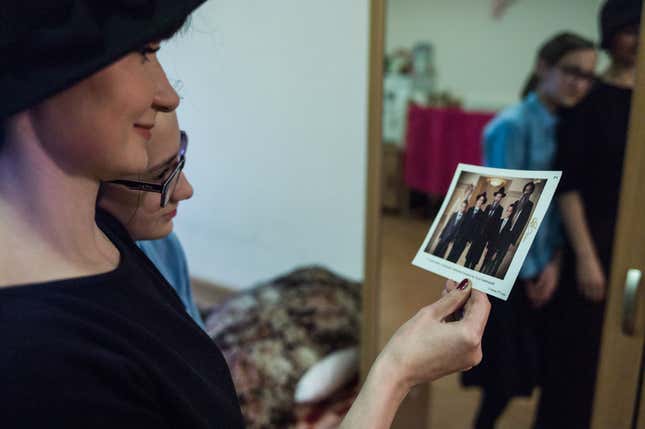 Some of the refugees have found shelter with local families or had the money to rent their own homes. Marianna, a high-school student, left Donetsk in September and is staying with a friend's family in Dnipropetrovsk. She hopes to return home soon. Her mother and grandfather are still in Donetsk, though her mother tries to visit often.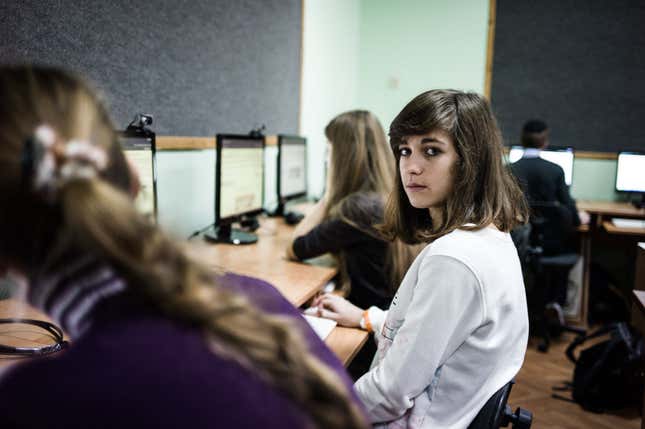 Others, such as Mikhail, a 24-year-old translator, and his family, have been put up in the community center's retirement home. Because Ukrainian authorities have recently introduced a permit system to go in and out of the rebel-held territories, Mikhail is even more worried about his father and his fiancée's family, who are stuck in Donetsk.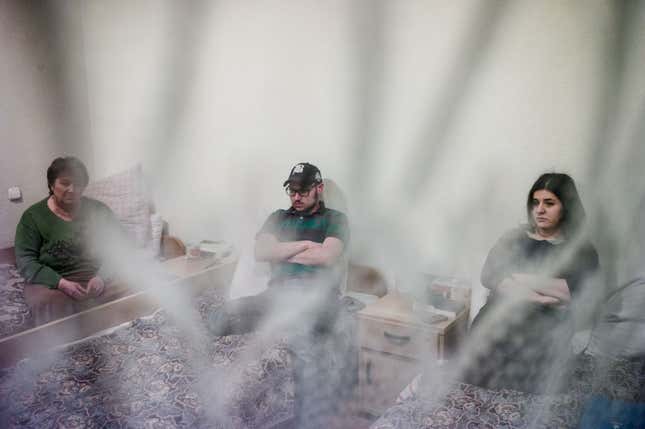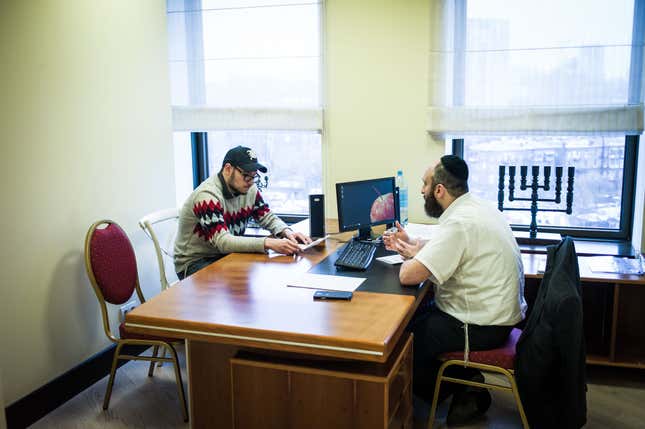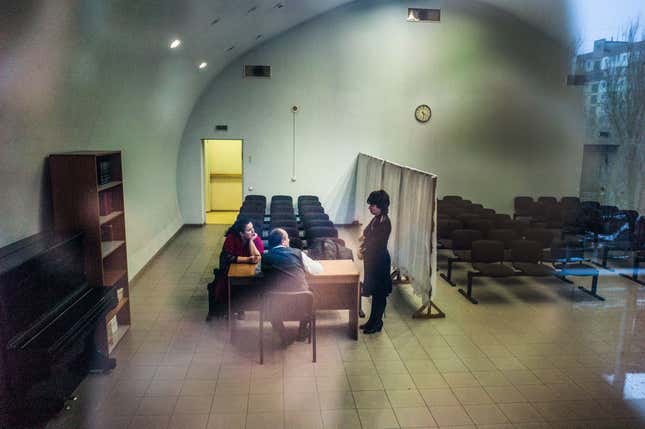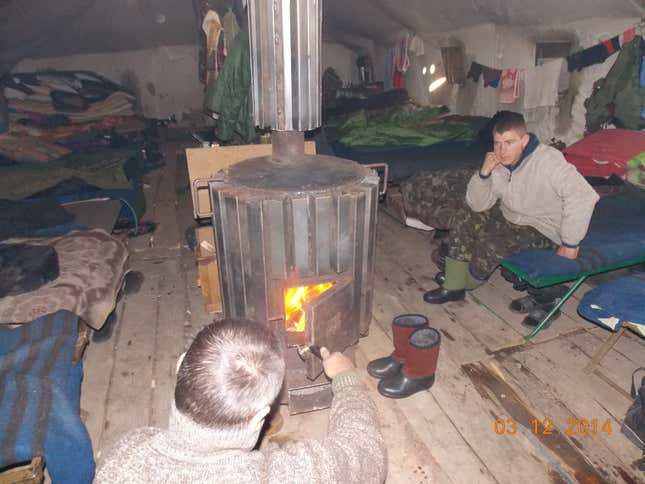 Among the more enterprising members of the Dnipropetrovsk Jewish community are Sasha Chumak and Alik Krasniy, who run an electrical maintenance and heating systems shop. Sasha was a Ukrainian paratrooper and took part in a peacekeeping mission during the Yugoslav wars in the early 1990s. Combining his knowledge of war and trade he modified a potbellied stove to make it more efficient for soldiers. With Alik, he produces such stoves and sells them to the Ukrainian army. (The picture to the left, provided by Alik, shows the stove in use in an army tent.) They named the stoves nitsakhon, the Hebrew word for "victory."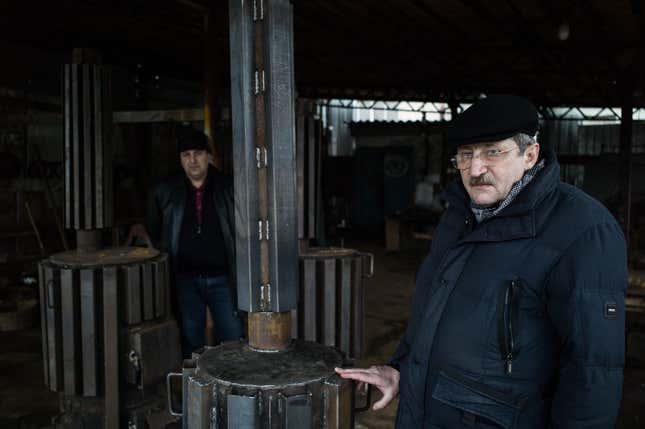 Volunteers from the Jewish community are regular visitors at the local hospitals, which receive many wounded Ukrainian soldiers from the front lines. The community has brought surgeons from Israel to train local doctors in treating war injuries, and buys medicines and supplies for the wounded.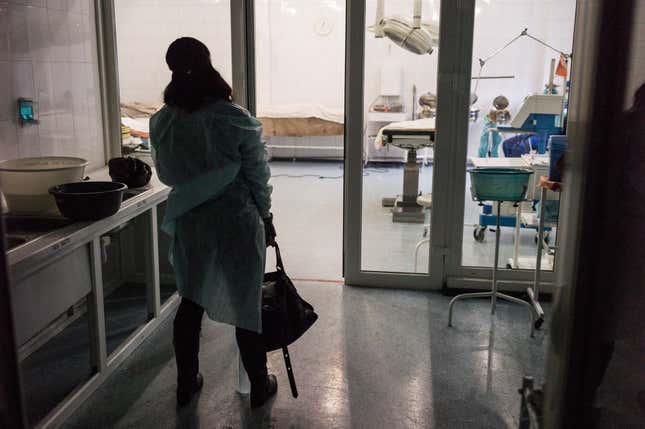 Yet another of the community's colorful characters is Leonid Krasnopolsky, a tailor from Donetsk. Imprisoned by pro-Russian rebels on charges of spying for Ukraine, he managed to get out after only five days. Now he runs a company selling Ukrainian-themed t-shirts and other clothes across the country. He says he spends a third of his earnings on protective gear for soldiers.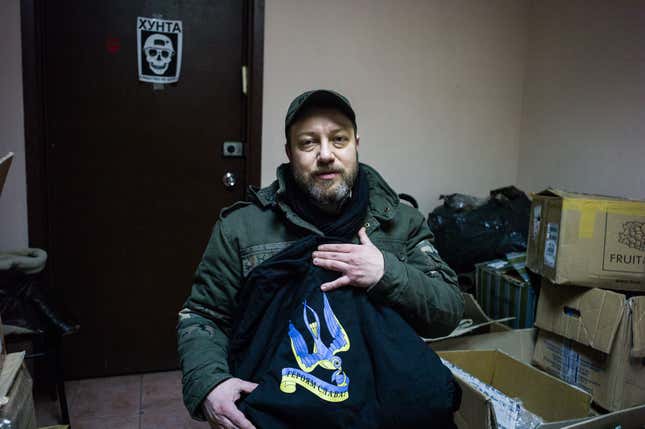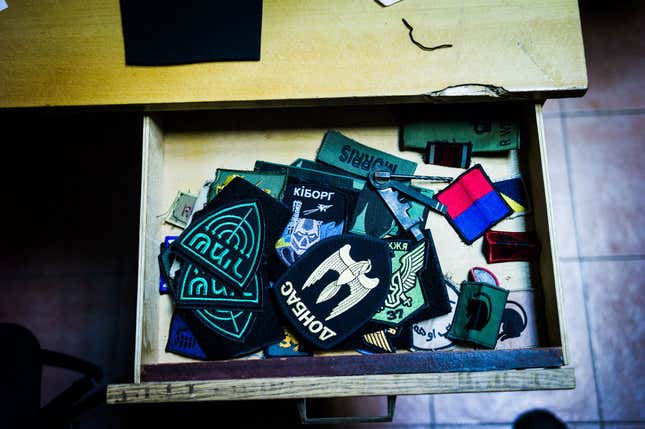 Two of the oldest refugees are Fira and Lyova, a couple who celebrated their 60th wedding anniversary on Feb. 5. Fleeing the fighting last year brought on haunting memories of a previous evacuation—in 1941, when they fled Lviv in western Ukraine in the face of the advancing Nazi army. Last summer they escaped first from Lugansk, another rebel-held city, to Donetsk, and when the fighting followed them, came to Dnipropetrovsk. Their son and his family have remained behind.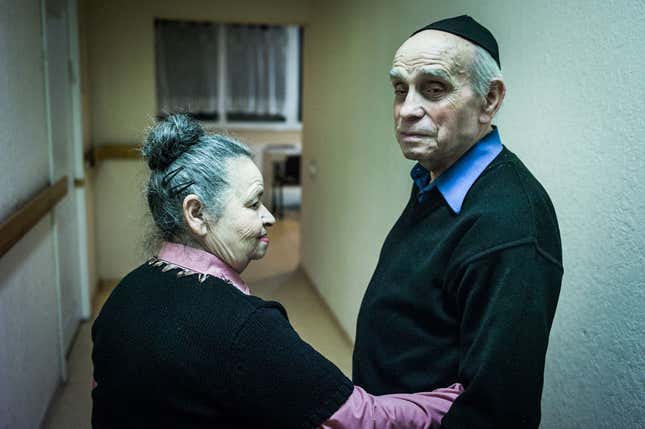 Fira and Lyova remember World War II and are at a loss about the current conflict—how can brothers kill brothers, destroy such beautiful cities, for no reason whatsoever? World War II made sense, they say; this one doesn't.
However, moving to Dnipropetrovsk has brought them at least one moment of bittersweet joy. After nearly 60 years of secular marriage—the only kind allowed during the Soviet Union—they finally had their Jewish wedding ceremony just a few weeks ago.