This post has been corrected. 
This chart explains the dynamics at play in America's cable industry better than words could: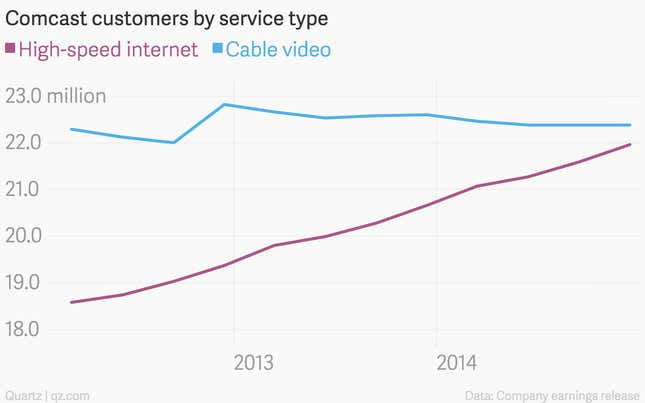 Comcast, America's biggest cable company, is also its biggest home internet service provider (and the company could get bigger if it is allowed to buy Time Warner Cable). It reported earnings today, and they were weaker than expected.
The gap between Comcast's video customers and broadband customers continues to shrink. That's because, last year, Comcast added 1.28 million internet customers, while 194,000 "cord-cutters" quit its cable service.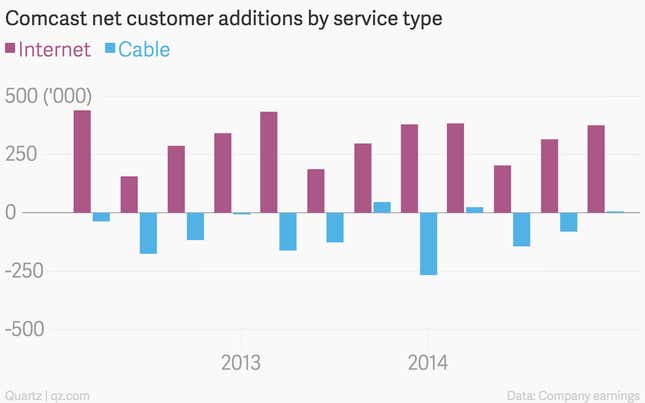 The problem is, Comcast makes much more money from those video customers ($20.7 billion in 2014) than it does from its high-speed internet customers ($11.3 billion). One way to pick up the slack from cord-cutting in cable TV would be attract more broadband customers, and charge more for internet, both of which seem to be happening.
The average monthly bill per Comcast customer account continues to edge higher.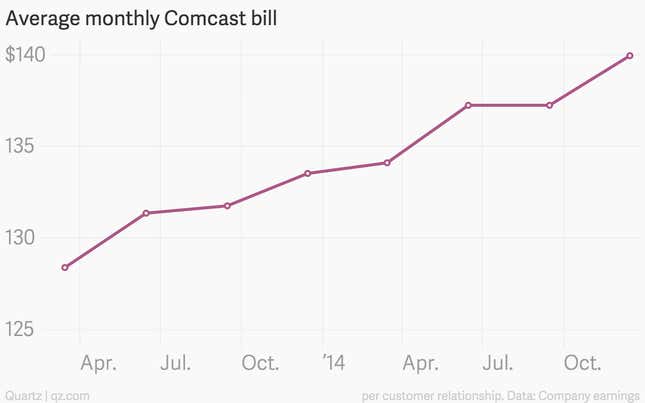 Comcast does not split out that average bill into video and cable services, but you get the picture.
Of course, Comcast has very lucrative TV production and programming businesses totally unrelated to its subscription-based communication (cable and internet) services. For example, its broadcast TV division (including NBC) generated $734 million in operating cashflow last year, on $7.7 billion in revenue. Its cable programming and production operations (including USA Network and MSNBC) also make a lot of money ($3.6 billion in operating cash flow last year).
But if you are wondering why your internet bill keeps going higher, whether you are a Comcast customer or not, this might help explain it.
Correction 12:06pm: Comcast's cable networks business generated $3.6 billion in operating cash flow last year, not $4.4 billion as previously stated.