The estranged former son-in-law of Kazakhstan's president has been found hanged in a Vienna jail cell, after an eight-year effort by the Central Asian government to bring him home to face murder and racketeering charges.
Rakhat Aliyev, 52, a trained surgeon who was once one of the oil state's most unassailable forces, was found dead while awaiting trial on charges of murder. An Austrian official called the death a suicide; Aliyev's lawyer said he doubted that his client would have killed himself.
The death brings a mysterious end to a long trail of allegations of torture, kidnapping, murder and coup attempts—all of which Aliyev vigorously denied. In long interviews I conducted with him from the late 1990s through the early 2000s, in Kazakhstan and Vienna, Aliyev portrayed himself as a democratically minded ally of the West who had ruffled the feathers of entrenched, self-interested opponents.
If so, his greatest enemy was Nursultan Nazarbayev, the leader of Kazakhstan since 1990. Aliyev was married to Nazarbayev's eldest daughter, Dariga, until she divorced him in 2007.
For years, Nazarbayev had seemed prepared to look the other way regarding allegations of his son-in-law's excesses, including strongarm tactics to obtain other people's businesses. But in 2001, and again in 2007, Nazarbayev reacted violently when it appeared that Aliyev was mounting efforts to seize political power.
In both cases, Nazarbayev exiled Aliyev to Austria, naming him ambassador, a traditional face-saving method in the region of sidelining political opponents. But something snapped with Nazarbayev in 2007, when he cut ties with Aliyev and dispatched the country's legal and security apparatuses to bring him home. Aliyev, clearly fearing for his safety should he end up in Nazarbayev's clutches, embarked on a high-profile campaign, casting himself as a persecuted political opponent, a posture he maintained until the end.
"He was evil, and not stable. Justice has happened," said Akezhan Kazhegeldin, a former Kazakhstan prime minister who had been in a long political battle with Aliyev. He told Quartz by Skype: "It is a shabby end to someone who was one of the most promising people in Kazakhstan."
They called him 'Sugar'
In Kazakhstan, some peers nicknamed him "Sugar," for his control over the sugar trade, which was the basis of his original fortune. From there, Aliyev and his wife built a media empire, and bought a bank, an airline and other businesses. The rise in fortune coincided with his appointment to a series of security-related official positions by Nazarbayev, starting with head of the tax police in the then-capital of Almaty, and then deputy head of the KNB, the successor agency to the Soviet-era KGB.
Aliyev was a showy and, his critics said, menacing presence. He hired and trained an outsized security force—men who all seemed well over 6 feet tall, donned black and conducted televised raids of local businesses, led sometimes by Aliyev himself.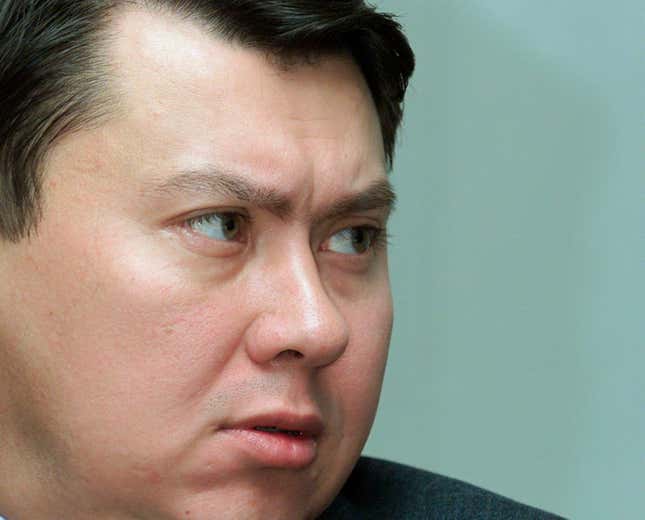 But it was a series of deaths that cast Aliyev in his darkest light. In 2007, two senior executives of the Aliyev-owned Nurbank vanished in what prosecutors later said was a dispute with Aliyev. Four years later, the bodies of Abilmazhen Gilimov and Zholdas Timraliyev were found in metal drums in a garbage dump outside Almaty. It was for their deaths that Aliyev was to go on trial in Vienna.
Before that, a woman alleged to have been Aliyev's mistress died in a 2004 fall from a Beirut apartment building, and was quietly buried in Kazakhstan. Three years later, Anastasiya Novikova's body was exhumed by Kazakhstan authorities. Since then, a group of supporters, along with the woman's family, have alleged that she was thrown from the apartment balcony after being beaten and held against her will.
A political gaffe may be his lasting legacy
In the late 1990s, Nazarbayev faced a political threat by Kazhegeldein, then his prime minister, who announced he would run in the 1998 presidential election. Nazarbayev's machine crushed him politically, and Kazhegeldin fled to self-exile in Europe. Aliyev pursued him in his position as head of the Almaty Tax Police, but in the process inadvertently enveloped his father-in-law in an enormous and complex international political scandal.
What Aliyev did was to petition Belgian authorities to freeze properties in the European country, alleging that Kazhegeldin had bought them using stolen funds. As a matter of course, the Belgians extended the search for Kazhegeldin's alleged wealth—they sent a standard money-laundering query about Kazakhstan funds to Swiss banks. The query got a hit, but not to the funds Aliyev was targeting—instead, it dug up a bank account in Nazarbayev's name.
The discovery turned into a scandal that local papers called Kazakhgate, and for years tarnished Nazarbayev as an allegedly corrupt autocrat.
For the past few years, the still self-exiled Kazhegeldin has been in pursuit of Aliyev's fortune. Kazhegeldin said forensic investigators on his team have turned up hundreds of millions of dollars in a trail leading from Kazakhstan, to Lebanon, to Europe, and finally to the US.
Aliyev's money was behind numerous real-estate transactions in the US, Kazhegeldin asserted, and the pursuit will continue with the idea of compensating those who can show they were victims of Aliyev's actions. "I don't believe this business is finished," he said.