Step (further) aside, Left Shark. London Fashion Week has brought us the greatest development in pop culture's shark obsession—cooler than Shark Week, friendlier than Rihanna in a shark's mouth, and sexier than Sharknado.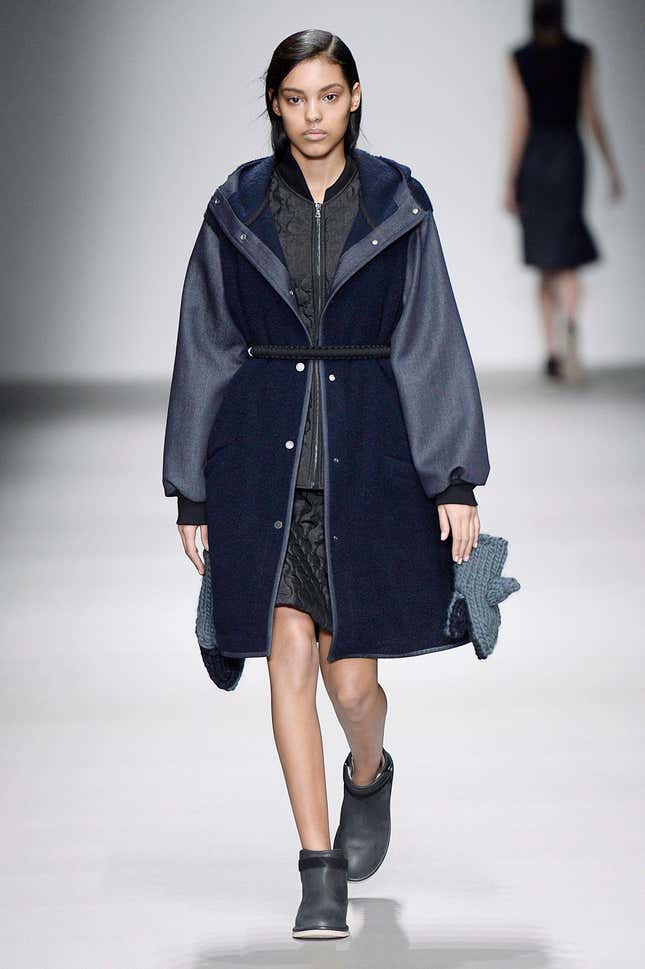 At London Fashion Week on Feb. 24, British designer Christopher Raeburn sent thick, woolen shark-shaped mittens, complete with fins and fearsome contrast-colored jaws, down the catwalk.
The crafters of the international knitting network and knitwear brand Wool and the Gang co-created the sharks for Raeburn from Peruvian wool, along with some beautiful non-animal themed accessories they made with jersey yarn up-cycled from discarded fabric scraps.
Sharks also appeared in an all-over print of a jumpsuit, and knit into a sweater that the designer himself wore.
Raeburn was already into shark-infested territory with the fall/winter 2015 menswear collection he showed in January, which included shark silhouettes on sweaters and scarves, alongside jackets fashioned from recycled life rafts.
But only these mittens are available immediately, via Wool and The Gang's website, where shoppers can either purchase them readymade, or opt for a kit with a pattern and supplies for home-knitters to make their own.
From brands celebrated for their smart approaches to sustainability in fashion—Raeburn often uses recycled materials and Wool and the Gang celebrates small-scale, community-based production—the DIY mittens are a sharp, silly, and stylish attack on fast fashion.