In a matter of days, 11 convicted criminals in Indonesia are to be shot dead by a firing squad. The group, mostly convicted of drug trafficking, includes Indonesians as well as Frenchmen, Brazilians, and two Australian citizens whose families and government have been heavily lobbying Jakarta to commute their sentences.
But the executions will not be delayed or reversed, Indonesian president Joko Widodo vowed to reporters yesterday: "The first thing I need to say firmly is that there shouldn't be any intervention towards the death penalty because it is our sovereign right to exercise our law."
Indonesia is far from the world's biggest death penalty practitioner—that accolade goes to China, where between 1,000 and 2,400 people are executed annually—but the looming mass execution will add to a recent uptick in the use of capital punishment across Asia.
According to a new report from Amnesty International, while much of the rest of the world is moving away from the death penalty, state executions have become most common in the Asia Pacific region. At least six countries in the region—Japan, North Korea, Vietnam, Malaysia, China, and Pakistan—carried out executions last year. In 2013, there were executions in 22 countries around the world, many of them in Asia.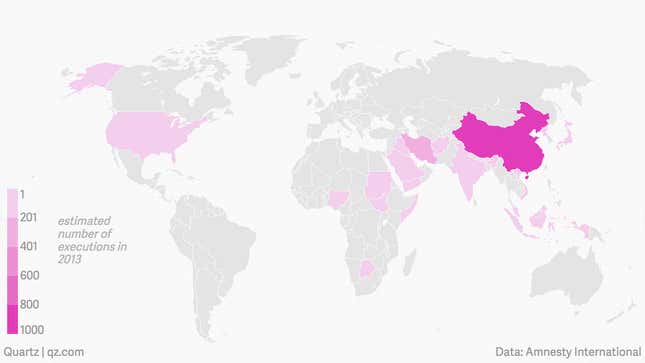 One factor driving the number of executions in some countries may be the presence of new leaders intent on establishing their reputations as being harsh on crime. Since Japanese prime minister Shinzo Abe took the helm in late 2012, for example, 11 people have been hung and 127 remain on death row.
Widodo appears similarly concerned with appearing firm, especially when it comes to drug-related crime. He campaigned on an anti-narcotics platform and has claimed that drug use claims 4o to 50 young people's lives every day—a statistic that many experts dispute. In January, six people, mostly foreigners, were executed for drug trafficking-related crimes, a move that prompted the Netherlands and Brazil to pull their ambassadors from the country.
The two Australian men have been jailed since 2005 and are convicted of coordinating a ring of heroin traffickers known as the "Bali 9." The lawyer for the two Australians say that they are reformed men who now teach Bible and cooking classes in prison.
Analysts say that Widodo's insistence on the executions may also have something to do with controversy at home over his selection for the country's top police chief, general Budi Gunawan. The appointment has set off accusations of corruption and a rivalry between the country's police force and an anti-corruption commission, in a drama that has reflected badly on Widodo's image as a decisive leader.
So far, Widodo is on track to more than double the average number of executions his country has carried out in recent years: Five people were executed in 2013 after a four year moratorium on the death penalty, and none were executed in 2014. Including the 11 slated for imminent execution in the coming days, 58 people remain on Indonesia's death row.