This post has been corrected. 
ESPN utterly dominates the sports media landscape in the US. For example, the Disney-controlled network broke the record for the most watched program in the history of US cable TV three times in January—all three being matches of the first-ever college football championship playoff.
What sometimes goes unnoticed is that ESPN has also managed to transfer this dominance over to the internet.
January was a record traffic month for its digital properties on a number of different measures, including the simplest: unique visitors.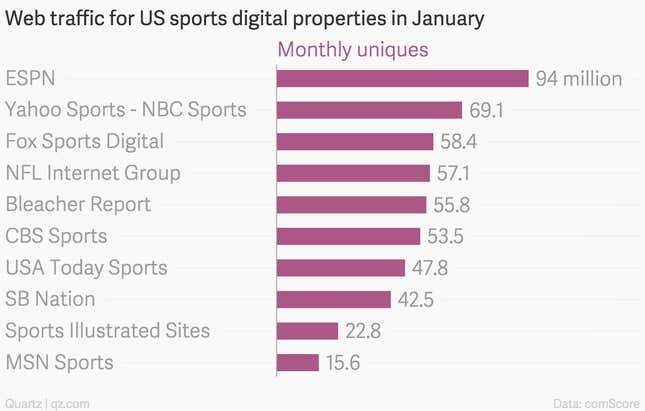 (It ranked it 18th among all digital properties in the US, just behind Twitter, which had 95 million uniques.)
In addition to the college football playoff, January was also the month for the heavily watched and much discussed NFL playoffs. ESPN only aired one NFL playoff games—the rest were on broadcast TV—but people still flocked to its digital properties to track news and discuss them. Which gives you a sense for the stranglehold it has over the national sporting conversation.
To be clear, ESPNs dominance on the web is not as pronounced as its dominance in cable. It's digital properties captured nearly half of all traffic in the sports category in January, based on comScore numbers, while its four cable channels (ESPN 1/2/News and ESPNU ) accounted for nearly 80% of the time the US audience spent on cable sports networks during the month.
But it's a pretty big deal that ESPN is first in both platforms: that doesn't often happen in other media categories. Fox News dominates cable news TV ratings in the US but gets less web traffic, by some measures, than CNN. This is all to say that the internet can be a scary place for incumbent old media properties.
ESPN has managed a smooth transition to the internet by making lots of its video content available on its digital properties. And it has also done a good job of targeting millennials, who tend to access web content through social media on mobile devices. "We saw a record amount of social referred traffic [in January]," ESPN's VP of digital media research Dave Coletti tells Quartz. "That's really paying off in a pretty meaningful way."
Correction (Feb 25): This post originally said ESPN aired no NFL playoff games in January. Actually, for the first time, it aired one (and it wasn't exactly memorable).