Danish toymaker Lego reported its 10th consecutive year of sales growth today, recording a 13% rise last year. This outpaced growth at its biggest rivals, Barbie-maker Mattel and Transformer toy purveyor Hasbro, as it has been doing for many years: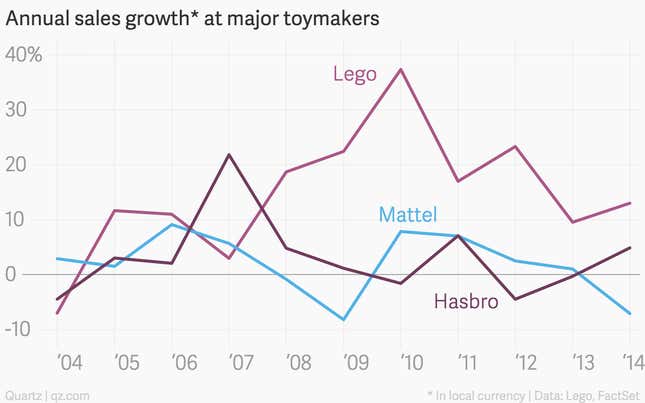 Toys related to "The LEGO Movie" sold well throughout the year, the company said. So well, in fact, that Lego managed to record double-digit percentage growth in all of its regional operations. The toy market in most countries grew by only single digits, it added.
Lego CFO John Goodwin reckons that more than 85 million kids (and, let's be honest, a fair few adults) "had a Lego play experience" over the course of last year. Euromonitor estimates that Lego controls around 7% of the world toy market, up from below 4% five years ago. It is closing the gap fast: Hasbro (around 8%) and market leader Mattel (12%) have both been struggling to boost sales of late.
Lego was on the verge of going bust 10 years ago, before a new management team put the focus on innovation and intense research of children's play patterns. The results have been remarkable, and Lego has grown both bigger and more profitable over the past decade: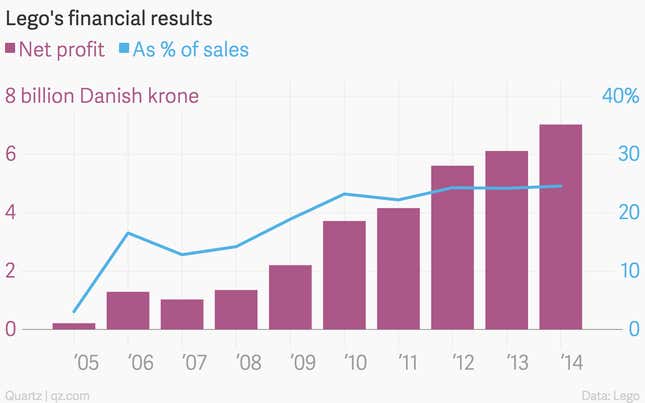 It's not all smooth sailing ahead, though. Utku Tansel, a toy-market analyst at Euromonitor, notes that Lego is less entrenched in Asia than other markets, and will need to improve in digital gaming, which will be "the most dynamic toys and games category" over the next five years, to gain a strong foothold there. Based on recent evidence, it would be bold to bet against the Danes to get it right.