The long takeover battle for Allergan, the maker of Botox, ended late last year with Actavis beating out a Bill Ackman-backed Valeant with a $66 billion bid. Now Actavis is preparing to pay up—its acquisition of Allergen is expected to close in the next few weeks—and the result is an absolute whale of a secondary stock offering.
Dublin-based Actavis raised an estimated $4.5 billion yesterday (Feb. 25) in a sale of convertible preferred shares, and $3.7 billion from a separate offering of ordinary shares.
There hasn't been a larger convertible offering since General Motors raised $5 billion back in 2010, according to Ipreo, which tracks market data. It's the fifth-largest such deal in history, and the only one to come from the health care sector. The other companies dominating the list are big banks and insurance companies and capital-intensive automakers: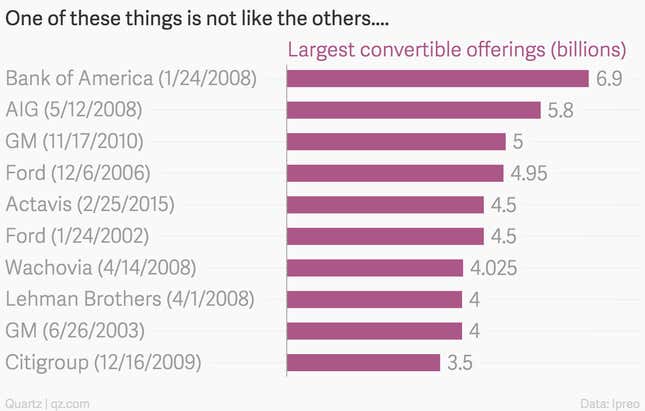 The common stock offering was notable, too, as the largest since Facebook's $3.9 billion issuance in December 2013.
The market is absorbing the new shares easily, keeping Actavis' multi-year bull run on track. If the Allergan deal ends up not going through, the money raised will be used for general corporate purposes.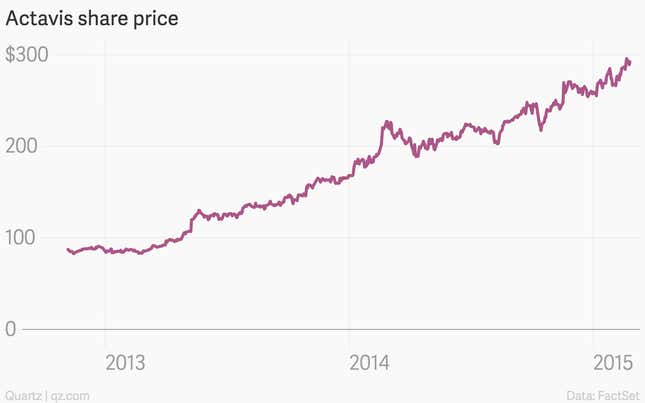 Actavis represents a particular school of thought in the pharmaceutical industry, that acquisitions can almost entirely replace internal R&D. CEO Brent Saunders pretty bluntly says as much. Wider adoption of that ethos may make for an even more competitive buyout market and skyrocketing valuations.
But if the company can't keep finding good targets, or integrate Allergan as successfully as it says it will, it's unlikely Actavis will be able raise money on these kind of terms or at this scale again.