When it comes to innovation, the rest of the world seems to be outpacing Europe, but patent applicants are coming to Europe in droves to make sure their inventions are protected there. Of the 247,000 patent applications sent to the European Patent Office (EPO) in 2014, 53% came from just three countries—US, China and Japan—with more than a quarter of the applications coming from the US alone. Among European nations, only Germany made it into the top five countries for patent applications.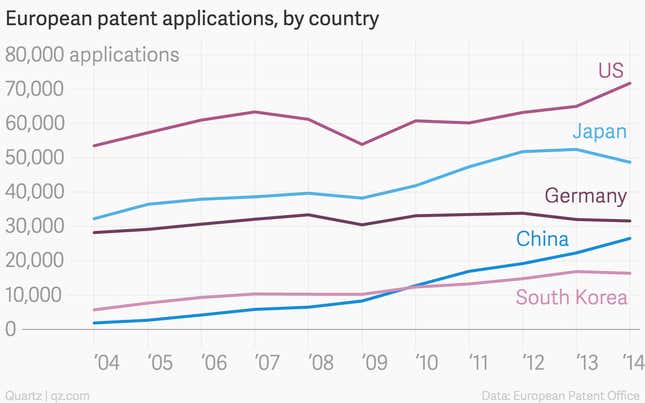 For the fifth year running, the EPO said it received a record number of patent applications. In 2014, no company applied for more patents than South Korea's Samsung, which sent in more than 2,500 applications—or about 15% of all applications from South Korea last year. (The company also has been known to take a the-more-the-merrier approach to its smartphone releases.) The most prolific US patent applicant to the EPO last year was Qualcomm, which overtook General Electric for the most applications from an American company. (GE also had fewer applications this year than fellow US-based companies Intel, United Technologies, and Microsoft.)
American companies filed more patents (71,700 in all, up 6.8% from 2013) than they ever have in a single year. The US led the way in patents relating to medical innovations, computer technology, and digital communications.
Applications from Germany were down from 2013, but it's not all bad news for European inventors. Applications from the EPO's 38 European member states were up 1.2% overall. Growth was especially strong from the UK, Holland, and France, according to the EPO, which is based in Munich and has offices in Berlin, Brussels, The Hague, and Vienna.
China continued to gain ground in 2014. The biggest number of EPO applications from China came from the telecommunications company Huawei. Japan's applications, meanwhile, were down more than 4% from the previous year.