Istanbul's streets have been flooded with men in skirts this week, to the dismay of Turkish president Recep Tayyip Erdogan.
"They call themselves 'men'. What kind of men are they? Men wear trousers, why are you wearing skirts?" Erdogan said on Feb. 25 in a televised speech.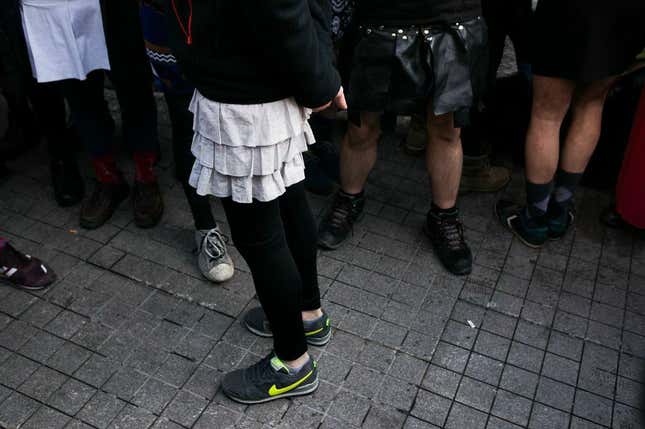 They're protesting the murder of Özgecan Aslan, 20, by a bus driver who allegedly tried to sexually assault her.
Last year, nearly 300 Turkish women were killed in cases of domestic violence, a 33% increase from the year before. Most female murder victims are buried with little fanfare, if not outright contempt. In 2009, then Turkey's prime minister, Erdogan dismissed a woman's murder by her boyfriend with the proverb: "If a girl is left unattended by her family, she will run away either to a drummer or a trumpeter." But this time, outrage is widespread and Erdogan is calling Aslan's case a "nefarious massacre." He has promised to personally follow the case to ensure "the heaviest penalty" possible.
Özgecan is in many ways the perfect subject for sympathy: unlike most murdered women, she was attacked by a total stranger, not a boyfriend or relative (who often are lightly penalized for violence in Turkey). There's also little chance for rape apologists to accuse her of inviting trouble. Driver Ahmet Suphi Altındöken, 26, confessed to stabbing the student after she tried to defend herself with tear gas.
Özgecan's body was found in a riverbed outside the southern Turkish city of Mersin on Feb. 13. The next day, Turkish television host Nihat Dogan tweeted, "Women wearing miniskirts and getting naked don't have the right to make a fuss if they are harassed by perverts deprived of morals due to the secular system."
In response, the "skirt for Özgecan" movement began on Feb. 18 in nearby Azerbaijan, where men first tweeted pictures of themselves wearing skirts in solidarity and using the hashtag #ozgecanicinminietekgiy, or "miniskirt for Özgecan."
"If a miniskirt is responsible for everything, if [wearing] a miniskirt means immorality and unchastity, if a woman who wears a miniskirt is sending an invitation about what will happen to her, then we are also sending an invitation!" explains a Facebook page supporting the action.
By Feb. 21, Turkish men wearing skirts were seen marching in vigils through the streets of Istanbul.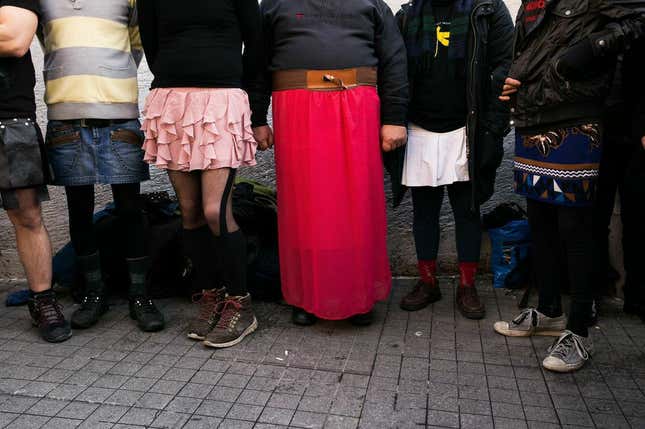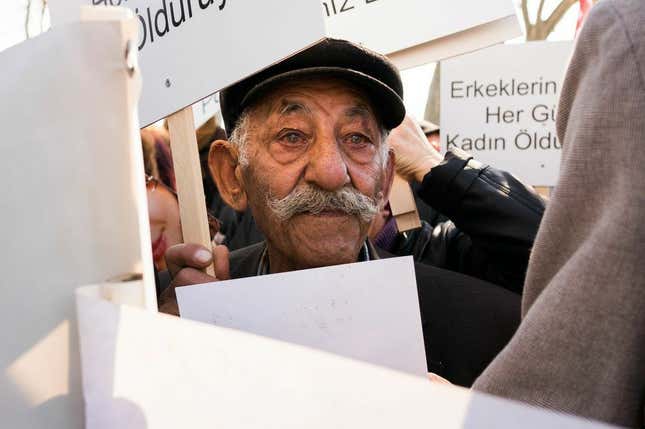 Now, men as far as Italy are posting photos of themselves in skirts in solidarity.
It's not the first time men have donned skirts and dresses to protest injustice and violence against women. In Jan. 2013, 200 men in Bangalore, India, gathered in a park wearing skirts to protest violence against women. "Wear a skirt and speak to as many as you can against the misconception that what a woman wears is the cause for sexual violence against her," urged the Facebook page where the event was organized.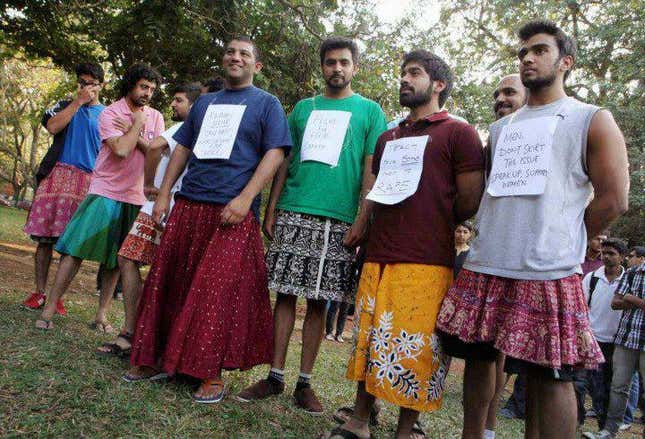 Two months later, in April 2013, Kurdish men in Marivan, Iran, protested against a court order to parade male convicts through town in women's dresses as humiliation, by posting photos of themselves in traditional Kurdish women's clothes.
"I did not feel any strangeness when I put on a woman's dress. I just wanted to demonstrate who we are: this is what we look like, this is our culture and they cannot insult our culture, our mothers and sisters. We cannot accept that," said Sasan Amjadi, contributor to the Facebook page Kurd Men For Equality, which organized the Marivan skirt protest. "There can be no free society without free women."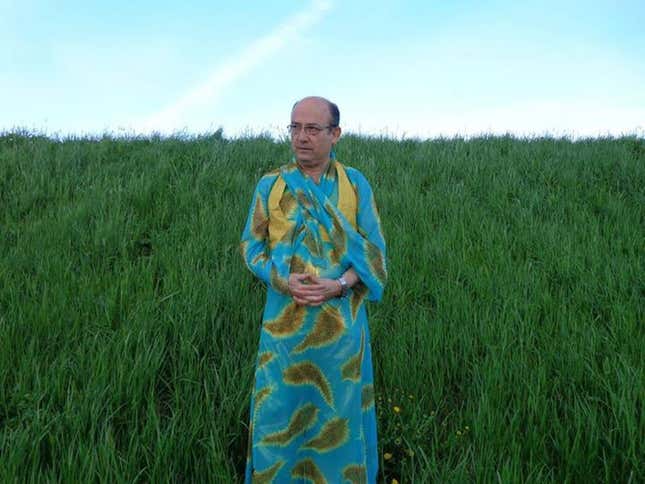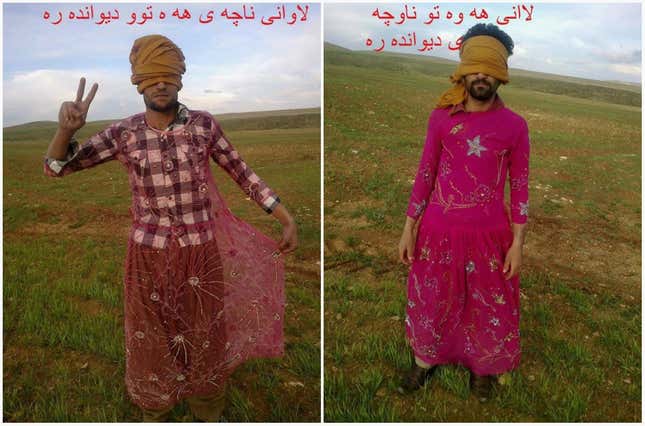 And in December 2014, students at National Taiwan University started posting photos of themselves in skirts to support their transgender peers.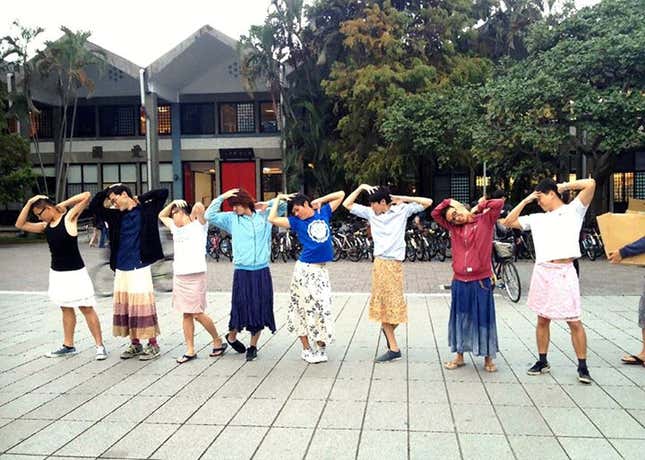 Turkish women are breaking taboo in their own way: on Feb. 18, hundreds of women carried Aslan's coffin to its final resting place, against the orders of a local imam. Online, more than a million women have made the protest personal by telling their own stories of harassment and fear with a different hashtag: #sendeanlat, or "tell your story."
Both men and women marching in the streets of Istanbul are also wearing masks of Aslan's face, but this, too, has been criticized by the nation's president. Erdogan, despite his vow to punish Ozgecan's killers, doesn't seem to understand what her death represents for women across the country.
"Why are you wearing masks?" he also asked of protestors on Feb. 25. "If you are not a terrorist, don't hide your face."