Sao Paulo, Brazil, the most populous region of South America's largest country, is facing its third consecutive year of drought. Rainfall is at one-third its normal level, and experts say the city of Sao Paulo could soon run out of water. The city's Cantareira Reservoir (pictured above) supplies some nine million people with water, and is operating at just five percent capacity, according to a report in the Guardian that cites the recently-formed watchdog group Alliance for Water.
While officials at Sao Paulo's state-run water company insist that rationing is not yet underway, Sao Paulo residents are already experiencing outages.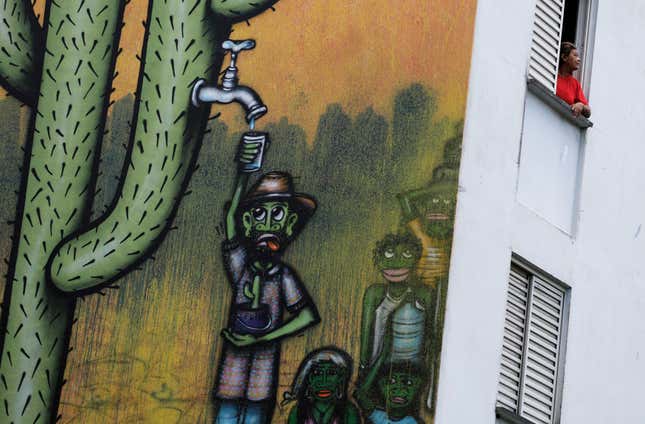 Isabela Berger Sacramento, a 33-year old graphic designer, told the Guardian that for four days in early February, her entire apartment complex went completely dry. Eventually, residents had to spend R$5,400 ($1,880) for a 90,000 liter (23,776 gallon) truck of water.
Berger described the experience as smelly and uncomfortable, but above all, tense. Residents screamed and blamed one another for the crisis. As Alliance for Water noted in the Guardian: "Whereas catastrophic situations like flooding often fosters solidarity, a lack of resources tends to do the opposite, leading to chaos and even violence."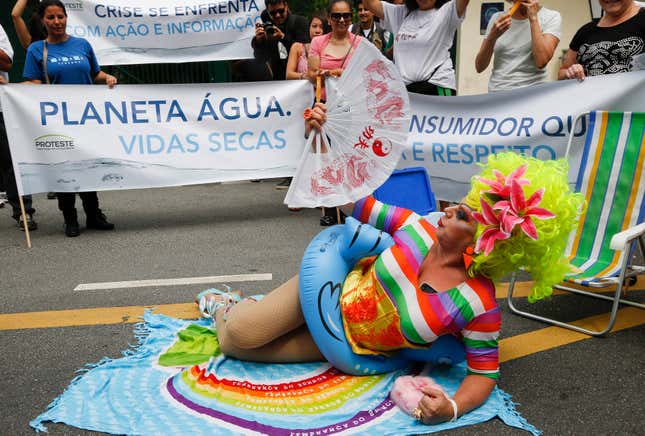 Brazil has by far the world's largest renewable water resources—a commonly used measure totaling precipitation, recharged ground water, and surface inflows from surrounding countries—with nearly twice as much as Russia, which is in second place, and 12 to 16% of the world's total supply. But most of the water is in sparsely inhabited areas and protected zones such as the Amazon, with relatively little available to its heavily populated northeast and southeast.
As Paulistas, as residents of Sao Paulo are called, take to the streets to protest the lack of water, scientific studies and editorials point to a leaky, outdated water system and environmental causes for the water shortage.
Antonio Nobre, one of Brazil's foremost environmental scientists, points to deforestation in the Amazon and Brazil's decimated Atlantic Rainforest as a primary cause of drought. Trees help release moisture into the atmosphere, creating conditions for rain and cooler temperatures.
"If deforestation in the Amazon continues, Sao Paulo will probably dry up," Nobre told the BBC. "If we don't act now, we're lost."