For Lumber Liquidators, cheap wood may come with a hefty price.
The American discount hardwood retailer disclosed this week that it could face criminal charges of importing wood sourced illegally from the far eastern Russian forests that are home to endangered Siberian tigers, of which there are only a few hundred left. It also warned investors that a planned broadcast on the news program 60 Minutes "will feature our company in an unfavorable light with regard to our sourcing and product quality."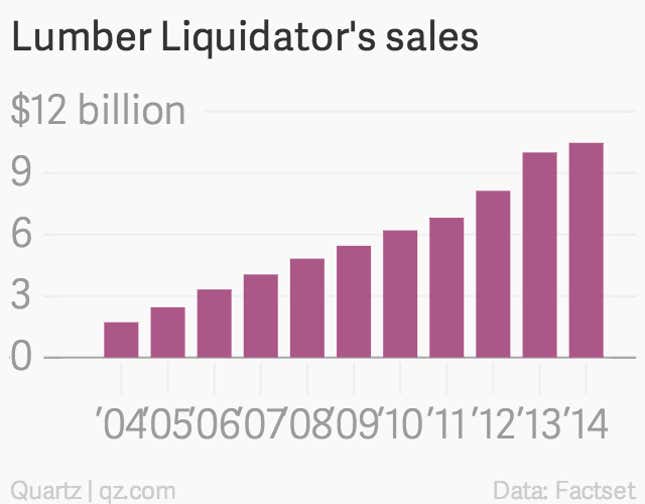 Lumber Liquidators' sales soared over the past few years as more Americans switched from carpeting to hardwood floors and went to the retailer for low-priced lumber. But in 2013, the US Immigration and Customs Enforcement's Homeland Security Investigations unit, along with the US Fish and Wildlife Service and the Justice Department, raided Lumber Liquidators' US headquarters, looking for violations of the Lacey Act, an American statute that prohibits importing wood if it violates state or foreign law. The act carries criminal penalties of up to $500,000 per violation.
Quartz has reached out to the Justice Department and Lumber Liquidators for comment, and will update this post with any response.
Illegal logging has become a hot-button issue for activists such as the Environmental Investigation Agency, a Washington nonprofit that spent three years trying to trace wood from the protected forests of far east Russia to the shelves of Lumber Liquidators.
Posing as wood buyers, the environmental group went to the border of Russia and China to document a process in which it said illegal loggers went into the forests to cut down Mongolian oak and Korean pine trees in the middle of the night, then brought them to illegal saw mills to mix the illegal wood with legal wood. (You can actually test the DNA of wood to trace exactly where it came from.)
From there, suppliers would smuggle the wood out of Russia to Chinese-owned suppliers, who would sell them to Western buyers. The nonprofit alleges that Lumber Liquidators knowingly accepted this wood.
Since then, Lumber Liquidators has said it is cooperating with authorities and has taken steps to clean up its supply chain. But its CFO told analysts this week that any hopes faded that the case would be dropped after federal authorities, who will likely use this case as a warning to other companies, warned of impending charges against the company.