Most business school rankings have one of Harvard or Stanford on top, their graduates command the highest salaries, and benefit from particularly powerful networks. But a report from student lender M7 Financial puts them below Brigham Young's Marriott School, and alongside less prestigious schools including Ohio State's and the University of Washington's, while Bloomberg Businessweek's top-ranked program, Duke's Fuqua School of Business, is in the second-lowest tier.
The difference between M7's methodology and others is that it focuses entirely on an average student's ability to pay back typical loan obligations after graduation. The list leaves out quite a few highly regarded schools, including Wharton, Columbia, and the University of Chicago, because they didn't provide debt figures to US News, which is where M7 drew its debt data from.
The report doesn't explicitly rank schools, it groups them by rating. Brigham Young is the only A+, meaning it typically leaves attendees with a "modest" debt burden. Pepperdine and the Thunderbird School of Global Management are the only programs to get a "B," the lowest rating, indicating a "demanding" debt burden.
In the middle is the largest category, the "A"-rated schools, which indicates debt obligations that are "very manageable" in relation to early career prospects. This is where Harvard and Stanford are grouped. And they are firmly in the middle of the pack on the specific metrics that M7 looks at. The first is leverage ratio, which is the average indebtedness of a program graduate divided by average starting salary plus bonus. The lower the ratio, the lower an average graduate's debt is relative to the graduate's starting salary. Big names like MIT, Northwestern, and the University of Virginia don't crack the top 15: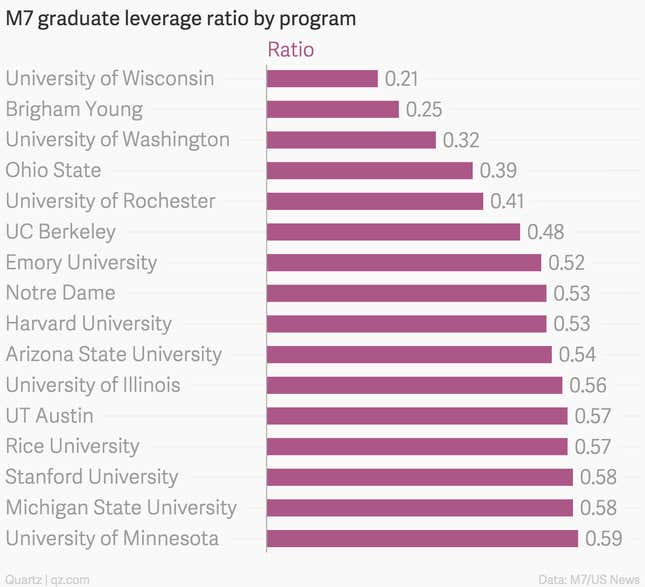 The second metric is the debt-service coverage ratio, a measure of the ability to meet annual debt obligations. It's calculated by dividing average starting salary and bonus by estimated annual debt service payments. A lower ratio means a bigger annual debt burden. The top 15 schools come in essentially the same order as they do for the leverage ratio.
Here are the schools that M7 rated whose graduates have the highest average debt levels: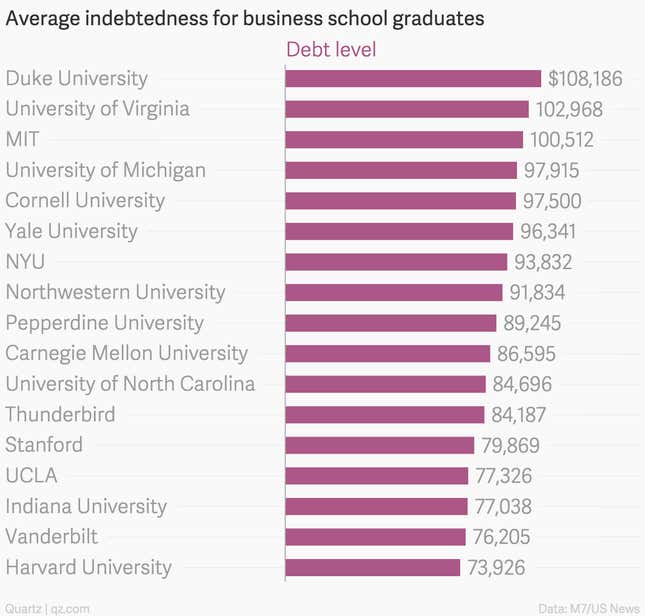 Salaries increase relatively quickly for business school graduates, and most graduates of top programs are able to pay off their loans. But in weaker job markets, cost and debt may become more of a concern.
More than anything else, a perspective like M7's highlights the enormous premium students pay to attend programs with marquee names. The top business schools may lead to good career outcomes, but they're extremely expensive.