The story of Alberto Nisman's death—at least, the version usually presented in the media—seems like a Hollywood thriller come true. A courageous prosecutor alleges that a crazed, power-hungry president has made a pact with international terrorists. A few days later, he is found dead with a gun in his hand. A month after that, and just days before the president's state-of-the-union address, a judge throws out the prosecutor's allegations. No killer is ever found, but everyone knows who ordered the hit… right?
A movie producer did in fact approach me recently with the idea of making a blockbuster about Nisman. I may have ruined my chance of a Hollywood career, because I warned him that if the story was the usual media version, we had a problem: It was mostly wrong. And we will probably never know the whole truth.
Some facts are not in dispute. Nisman was the prosecutor investigating the bombing of the AMIA Jewish community center in Buenos Aires in 1994, which killed 85 people and wounded 300. On Jan. 14 this year, he accused Argentinian president Cristina Fernández of having made a secret deal with Iran to cover up that country's involvement in the bombing. On Jan. 19 he was due to present his allegations in parliament. The night before, he was found dead in his apartment with a gun in his hand. Yesterday, a judge dismissed Nisman's case.
But beyond that, the legend of a heroic prosecutor fighting for truth and justice against villainous conspirators is largely fiction. I have been a journalist in Argentina for decades. I covered the AMIA case for many years. I have interviewed or met many of the characters involved. And it never ceases to amaze me how the void the bomb left behind has been, and is still, filled with lies, exploitation, and misunderstandings.
The bombings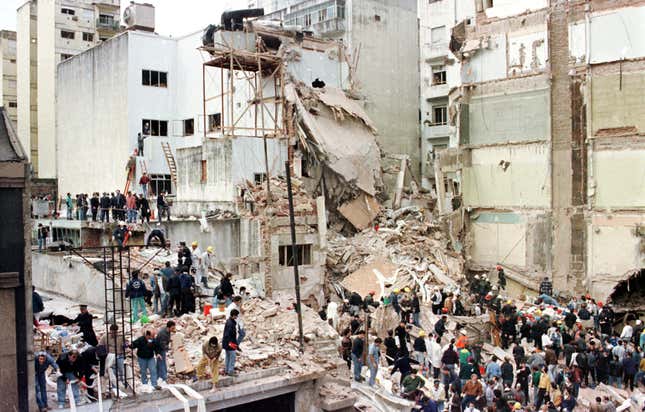 To overcome years of deception one must start from the very beginning. Argentina did not have in the 1990s, nor does it have today, the ability to prevent or investigate an attack like the AMIA bombing. Argentinian courts and law-enforcement agencies have proven themselves incapable of solving even common crimes. Routinely, forensics are badly done, altered, or ruined; evidence is fabricated or lost; the police are inefficient and corrupt; justice is slow, bureaucratic and easily swayed by external influences.
On March 17, 1992, a car-bomb exploded in front of the Israeli embassy in Buenos Aires, killing 29 people and injuring 242. Argentinian experts could not agree on what caused the explosion. The supreme court worked on the assumption that something had exploded inside the building—implying that the fault lay with the Israelis, despite the fact the Islamic Jihad Organization, a phantasmagoric group connected to Lebanon's Hezbollah party, had claimed the attack as its own, even sending a video recording of the embassy facade prior to the bombing as evidence.
The AMIA case was a horrific sequel. A van loaded with explosives crashed into the community center building in a densely populated part of downtown Buenos Aires. Based on dubious testimony and intelligence provided by the American and Israeli secret services, Argentinian authorities believed the attack was perpetrated by Hezbollah, with Iran's backing. But they had no smoking gun, and president Carlos Menem's administration (1989-99) feared retaliation if they persisted in accusing Iran.
So they fabricated an alternative theory, in which a "local connection" was charged with providing the van. The authorities found the perfect villains—a gang of corrupt police officers—and produced false evidence. The public bought the story.
Nisman's career path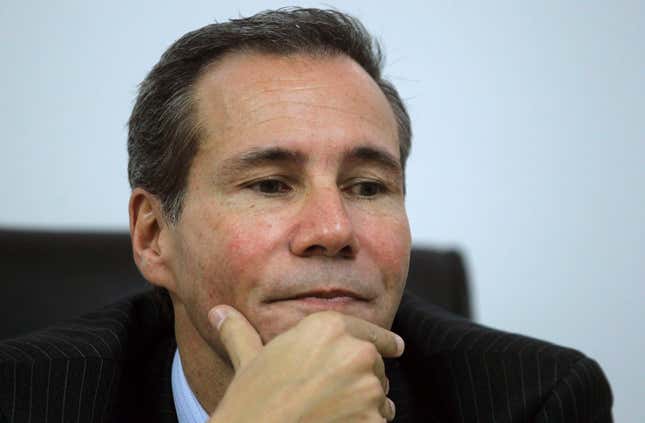 In 1997, Alberto Nisman joined the prosecutorial team in charge of defending this fabricated case in a public trial. The trial finally began in 2001. The evidence was so ill-concocted that, after the three years that it took to hear it all, the case crashed and burned. In the end, almost everyone involved in the investigation—including the judge, the prosecutors, the heads of the secret service, a top police officer, ex-president Menem, and even the head of DAIA, Argentina's leading Jewish organization—was indicted in connection with the cover-up, and the accused policemen were exonerated.
Nisman, however, somehow escaped indictment. Néstor Kirchner, who became president in 2003, made him special prosecutor for the AMIA case in 2004, despite the protests of the victims' relatives, who have called for his removal from the case ever since.
Nisman went back to square one: the Iranian theory. He still had no smoking gun, and he made some false allegations. For instance, he announced that he had identified the car-bomb driver as Ibrahim Hussein Berro, a Lebanese supporter of Hezbollah. According to Nisman, an Argentinian witness and Berro's brothers had confirmed it. But the three of them denied in court that they had done any such thing.
The public deal with Iran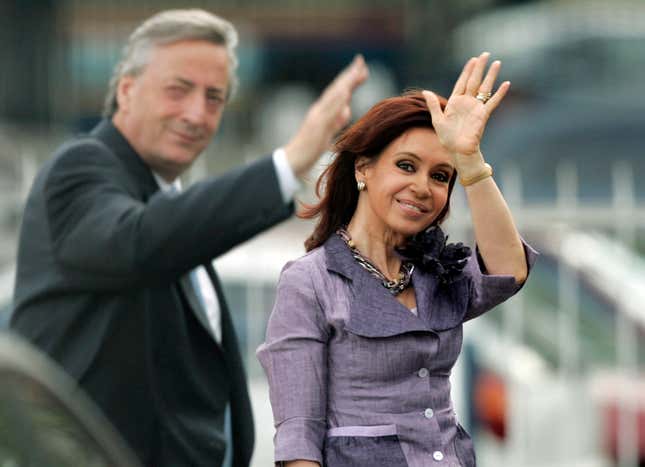 Nisman remained an ally of Kirchner and his wife Cristina Fernández de Kirchner, who succeeded him as president in 2007. In March of that year, at Argentina's request, Interpol issued "red notices"—a sort of international arrest warrant—for five Iranian citizens and a senior member of Hezbollah (Imad Mughniyeh, who was later assassinated).
But after repeatedly accusing Iran in international forums and trying to get the suspects extradited,Fernández's administration reached an unexpected deal with its Iranian counterpart in 2013. This was no secret, but a public memorandum of understanding to be ratified by both parliaments, under which Iran would allow Nisman and an Argentinian judge to question the suspects in Tehran.
The agreement had the support of the victims' relatives, but it was harshly (and predictably) criticized by Israel, the US, the Argentinian political opposition, and the leaders of the main Jewish organizations in Buenos Aires. Later on, it was also rejected by the Iranian parliament and by an Argentinian court that found it unconstitutional. The trip to Tehran never happened.
More surprisingly, Nisman himself eventually repudiated the agreement too. As it turned out, he had found a more powerful ally in the American State Department. According to diplomatic cables released by Wikileaks, he consulted with the American embassy in Buenos Aires about every move he made. Santiago O'Donnell, an Argentinian journalist who published a book about Argentina and the Wikileaks exposé, wrote on his blog (link in Spanish):
The cables said that Nisman was getting direct orders from the American embassy not to investigate Syrian involvement or the local connection [in the AMIA bombing], and to take the Iranians' culpability for granted, even though there had been no trial. That Nisman showed the embassy his submissions the rulings of judge Canicoba Corral [the judge in the AMIA case] days in advance of their being filed. That, once, Nisman brought to the embassy a two-page brief, and the embassy sent him home to rewrite it; Nisman came back a few days later with a brief of nine pages that did get the embassy's approval and that he then filed in court.
Nisman's final days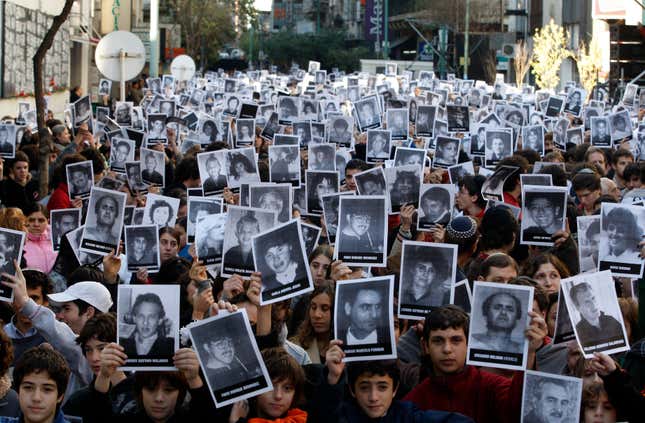 Elections are due in Argentina this October, and Fernández is constitutionally barred from running for a third term. Last December, as it entered its final year in power, her administration started clearing house.
There are two groups in Argentinian officialdom who pose a potential threat to any outgoing administration. These are prosecutors and judges who deal with crimes related to the federal government, and members of SIDE, the main civilian intelligence agency. Both contain savvy operators who use their positions to survive changes in government. The prosecutors and judges usually start investigating high-profile cases involving the outgoing administration just when a new one is about to take over. The secret agents keep files on their past, present, and future bosses, just in case.
Nisman had already alienated the administration through his contact with the Americans and rejection of the deal with Iran. In mid-December, his last remaining ally, the powerful spymaster Antonio Stiuso, was sacked from SIDE. It looked like Nisman's own days in office were numbered.
On Jan. 12, Nisman cut short a vacation in Europe and returned to Buenos Aires, where he filed a criminal complaint against Fernández and her foreign minister, Héctor Timerman. They were, he said, trying to cover up Iranian involvement in the AMIA bombing case in exchange for Iranian oil for Argentina. They were going to fabricate an alternative explanation for the crime, blaming it on some local "fascists". He based his allegations on journalistic reports, on taped conversations between small-time characters aligned with Kirchner but with no position or influence in her administration, and an Iranian agent. He also alleged that Timerman had tried to get the Interpol "red notices" on the Iranian suspects lifted.
Two federal judges—Maria Servini de Cubria in January, and Daniel Rafecas yesterday—have now rejected Nisman's claims as lacking evidence and being self-contradictory. They have also been rejected by Argentina's main Jewish groups (though since his death, they have come out in support of his accusation); by the three different organizations that represent the AMIA victims' relatives; and by leading Argentinian jurists. Ronald Noble, the secretary-general of Interpol from 2000 to 2014, denied that any Argentinian official had tried to have the red notices suspended—on the contrary, he wrote in an open letter (pdf), Timerman had been adamant about them remaining in place. (In one wiretapped conversation, the presumed Iranian agent complains about Timerman doing exactly that.) Argentina's economy minister, Axel Kicillof, explained that Argentina would not have wanted Iranian oil—too heavy for its refineries. And the "local connection" was never suggested, or introduced, in the investigation.
Finally, Rafecas's ruling also revealed (p. 56, in Spanish) that Nisman had written and signed two other documents in December 2014, directly contradicting the allegations he had made against Fernández and Timerman. Both documents, which Nisman had left with his own colleagues in the special prosecutor's office, were dated January 2015 and had almost the same wording, except one assumed the memorandum of understanding with Iran had been finally approved, and the other that it had not. In both, Nisman praised the Kirchners' efforts to bring the Iranian suspects to face Argentinian justice, and acknowledged that this was their only goal. His only complaint was that, in the face of Iran's refusal to cooperate, the government had accepted a negotiation that "degraded" their original aspirations. He wanted to ask for a UN Security Council resolution to demand that Iran extradite the suspects.
The death and its aftermath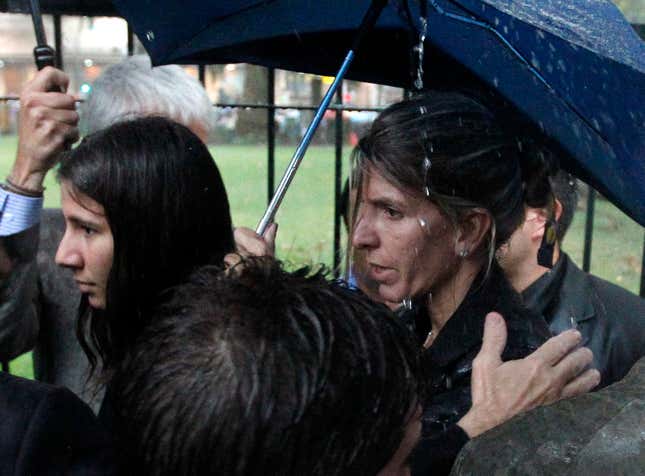 Nisman was supposed to explain his allegations of a cover-up by Fernández and Timerman at a hearing in the Argentinian parliament on Monday, Jan. 19. The night before, his mother and some police officers assigned to guard him found him dead in his bathroom. The apartment doors were locked, and his body was blocking the bathroom door. He still had in his hand a .22 caliber Bersa pistol with which he had shot himself—or had been shot—just above his ear. The gun belonged to one of his employees, Diego Lagomarsino. According to Lagomarsino's testimony, Nisman had asked him for a gun the night before "for his own protection." There were no signs of a struggle, no traces of anyone else at the scene, and no suicide note.
For Fernández, his death was a serious challenge. Used to dealing with problems by pinning them on a designated enemy, she started grasping at straws when faced with a corpse and an enigma. Where usually a head of state would maintain a dignified detachment, she began playing amateur detective, hinting at different culprits—Lagomarsino, who provided the gun; Stiuso, the spymaster she had sacked; foreign secret services; and Nisman himself. Federal prosecutors, fearing for their jobs, inadvertently helped her by organizing a silent march, allegedly to pay homage to Nisman, that brought together all the forces opposing the president. Nisman's death has thus become another episode in Argentina's usual, and extremely polarized, political game.
Nobody in Argentina believes the justice system will determine what really happened to Nisman. And even if it does, many will not trust the outcome—including Nisman's ex-wife, herself a federal judge, who has asked publicly for the Interamerican Human Rights Commision to monitor the case. "It is important that the public accept the outcome of this investigation, whatever it be," she said.
That kind of concern comes 21 years too late. Nisman's case, like the AMIA investigation itself, seems already doomed to remain a mystery. As Diana Malamud, the head of one of the groups of AMIA victims' relatives, Memoria Activa, said, "if the [AMIA] case is going to be solved, it will be by a miracle—and I don't believe in miracles."