The White House turns out to be a great stepping stone for a cushy career in tech.
The recent, high-profile hires of Jay Carney, president Obama's former press secretary, by Amazon and David Plouffe, Obama's former campaign manager, by Uber reflect tech companies' desire to influence policy.
In his new role, Carney will oversee Amazon's lobbying and media relations arms. In the past, the ecommerce company has lobbied the government on tax, cybersecurity, and cloud issues. Now, drone regulation is posing a hurdle to Amazon Prime Air, a proposed service that would deliver packages to customers via drone in 30 minutes or less.
Forms filed with the US House of Representatives show Amazon, which has a market cap of $176.69 billion, spent $4.74 million lobbying the US government in 2014, up 36% from what it spent in 2013.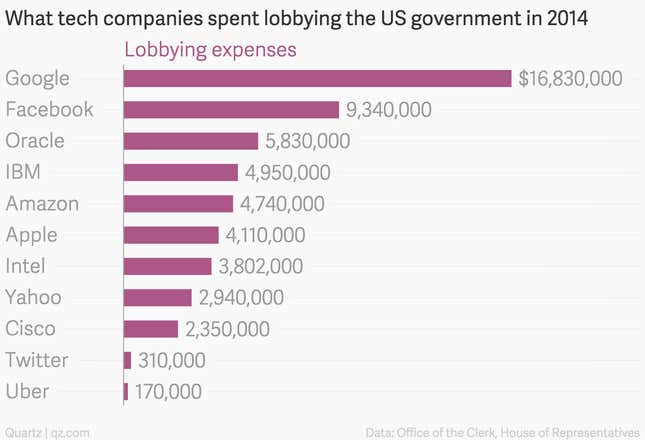 Uber and Twitter, which spend a fraction of what other large tech companies spend on lobbying, appear to be placing their bets on influential recruits rather than K Street.
Uber, which has a history of entanglements with local governments, snagged Plouffe in September to lead policy and strategy. So far, the San Francisco-headquartered, app-enabled car service hasn't spent much on its domestic lobbying efforts—just $170,000 at the federal level last year, pocket change for a firm with a $40 billion valuation.
And in 2010, Twitter hired Katie Stanton, a former special adviser to the US State Department's Office of Innovation (and also a Google veteran), to head international strategy. She took over as vice president of global media at Twitter last year.
The same year Twitter landed Stanton, Facebook hired Marne Levine, chief of staff of the National Economic Council, as vice president of global public policy. She hopped over to the role of chief operating officer for Instagram in October. With initiatives like Internet.org, Facebook has become a major force in tech lobbying, spending $9.34 million last year, a 45% rise from 2013.