Loren Nalewanski likes to be laughed at by his team, and he tries for some unscripted light-hearted moments in most management meetings and training sessions, whether they're held in Washington D.C. or Dubai or Shanghai. "I can take the joke, and be the butt of the joke," said the Marriott executive who serves as a vice president of its TownePlace Suites and Marriott Executive Apartments, which provide long-term housing in Asia, the Middle East and elsewhere.
At a brand webinar around Halloween, he and a few other executives "showed up" as the M&M guys with their faces pasted on the colorful candy characters. The benefit: Everyone watching will keep an eye out for the next time those M&M guys show up. "We're going to engage you," said Nalewanski.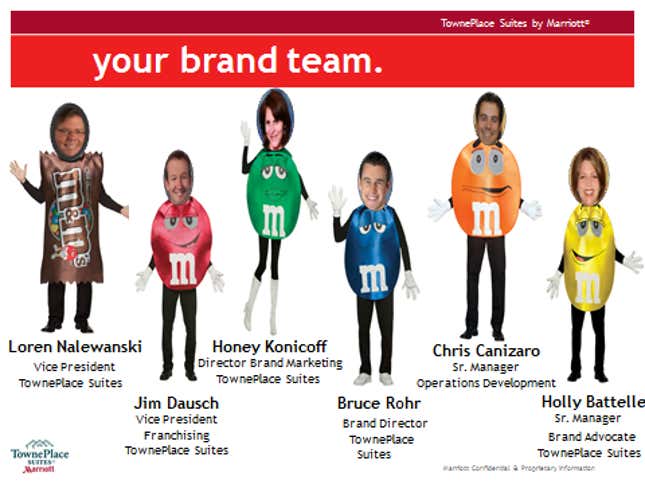 Laughter "just keeps it real" and helps people get comfortable, which makes it easier to open their minds and try something different, he said. He mixes fun and self-deprecating humor with a clear message that the business is going to advance and individuals will be held accountable.
Laughing stimulates the brain and makes learning easier, scientists have concluded. It's so important that companies book improv groups starting with Second City, a well-known comedy club in Chicago, to train managers on injecting joy and humor into meetings and daily life.
Humor at work brings other benefits: improving productivity, increasing self-confidence, problem solving and employee engagement. A white paper from the National Business Research Institute gives examples of companies encouraging levity, noting that employers encourage the fun, but not the funny.
"Laughter is not primarily about humor, but about social relationships,"  Dr. Robert Provine, a neuroscientist at the University of Maryland and author of Laughter: A Scientific Investigation, told the NBRI. "In fact, the health benefits of laughter may result from the social support it stimulates."
That's exactly what Nalewanski and his team wanted to develop at a general managers' conference at a hotel. He dressed in a very colorful shirt and trendy jeans, acting as a DJ who came on stage with loud music blaring and pounding.
"We did a flash mob," he recalled. They planted a dozen professional dancers in the audience. Then Nalewanski changed the music to a song called "Dynamite" by Taoi Cruz and the dancers jumped in. "We had 200 people all doing this crazy dance, all ages, all ready to go. We'd been flash mobbed."
The managers were energized, on their feet, clapping and engaged in the conference. It also created a memorable moment so that when any of the managers hear that song, they remember the conference and the key messages they heard that day.
When managing a team, "you want to ignite people, you want to inspire and you want to inform," said Nalewanski.
When I asked Nina Herrera-Davila, who does public relations for Marriott, to name a manager who believes in laughter in the executive suite, Nalewanski came up quickly. "He really is your light-hearted leader" and laughter and a relaxed feeling are "core to his brands," she said.
The key, of course, is to allow the humor or fun to flow spontaneously, Nalewanski said. Make it authentic to you, and not too calculated. Here are four suggestions from Nalewanski  on bringing more laughter into leadership meetings:
1. Be light-hearted and be a magnet. Nalewanski's fun, upbeat approach has made it easy to recruit people to TownePlace, which is among the smallest of Marriott lodging brands. "It's allowed me to get some of the best talent within Marriott," he said.
2.. Clear cultural hurdles. Know your audience.  When you aren't sure what will work, or when the group is very diverse, tell something personal. Leaders need to be sensitive about the differences in humor that works for people from different countries, ethnicities and genders, Nalewanski said. "I tend to turn to a story about me—something that led to where I am today" or someone who inspired me, including his 17-year-old daughter who despite a brain tumor discovered at age 1 1/2 is "rocking and rolling in life."  "You need to speak from the heart," he said, and be connected to your central message.  Then he added: "Some things I'd say to the team I wouldn't say to Mr. Marriott in the corporate cafeteria."
3. Connect laughter and learning. When he managed training for Marriott, he found humor an important tool to allow him to break the ice and connect with the people who were sitting in the conference room. If you show your team how you've stumbled or fallen and how ridiculous you looked, they may hear the lessons more readily.
4. Make it memorable and make a memory. You don't want to be another "talking head in a business meeting,"  Nalewanski said. "We remember a picture of the president playing a saxophone or playing basketball, not being presidential." So do something surprising, like throwing a bunch of candy on the meeting room table or serving hot chocolate with cinnamon to everyone as their day begins. Stage a dance contest or wear a wig and pose as the finicky customer you're trying to wow.
His light-hearted touch works for him around the globe as he works on marketing for Marriott Executive Apartments, where connection to customer and "the relaxed casualness" create a comfortable stay that may last for one to 10 years.
If you're not a jokester, perhaps you could be the one with the light-hearted gestures, leaving a chocolate bar or a note for a co-worker. These "just because" touches are part of the TownePlace brand's focus on being friendly and fun. He challenges the staff at the 209 locations in the United States and Canada to surprise someone every day, and then the company collects the gestures and shares them—creating lessons, and memories of the best of them.
The "just because" gestures help customers feel connected to the staff, and increase the sense of good times at the hotels, where people may stay for a week or two at a time. Plus, if there is a mistake, Nalewanski said, "the customer kind of gives you a break. We recover from it and move on, continuously improving" and laughing along the way.