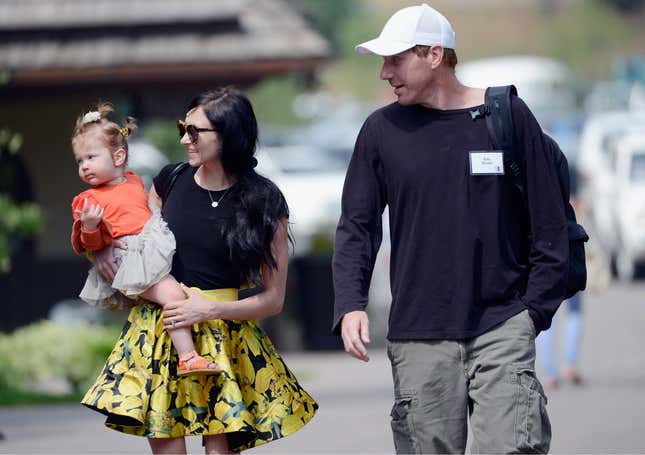 "Can women have it all?" The corporate response still seems to be  a resounding "no." In many parts of the world, women are still waiting for employment legislation and office politics to change and for management to be convinced of the merits of flexible work hours so that women can have a better work-family balance.
But in the sphere of entrepreneurialism, the answer, according to some highly successful startup businesswomen, is "yes." These women believe that what is thought of as a disadvantage in the male-dominated corporate world is an advantage as an entrepreneur.
Admittedly, there are problems with having it all when you have your own company but there is the flexibility to start companies with different profiles from lifestyle companies to high-growth companies depending the stage of your family's development. There is no need to sacrifice family. Instead, women with children can be better entrepreneurs. And here is why.
Having a child makes women more creative and courageous 
The first thing women say when they have a baby is how dramatically things change and how their children naturally become center of their lives.
"My life totally changed when I had Alisa, my first daughter. I was miserable after leaving my job at the World Bank and moving back to Turkey. Nobody really supported me at the beginning and I was expected to go back into the corporate world," says Ergem Senyuva Tohumcu, a London-based eco-entrepreneur and ambassador to Turkey for Al Gore's Climate Reality Project.
The OECD Gender and Sustainable Development report says: "Women gravitate towards self-employment because of a lack of alternative positions, blocked mobility or the inability to find a job that fits their skills after they have kids… Entrepreneurship and self-employment may sometimes be a survival strategy for those who cannot find any other means of earning an income."
Entrepreneurs at their core turn disadvantages into advantages and create solutions for themselves or for others. In his must-read book "The Courage to Create," Rollo May also describes limitations as the source of creativity and courage, other essential aspects of entrepreneurship.
"I realized that giving a birth and raising a child could be the greatest talent a woman can have. This gave me more courage in life and made me realize that I urgently need to focus my energy into co-creating a world that was clean, pure and prosperous first for our kids and for our community. This is how I started my green living Web portal yesilist.com," says Tohumcu.
Paul Graham from Y Combinator agrees. He says "the self" is one of the strongest sources of ideas and calls startup ideas that grow naturally out of the founders' own experiences "organic." Graham thinks that the most successful startups almost all begin this way.
Having a child makes women better leaders
Pinar Kaprali Gorsev is a serial technology entrepreneur and co-founder of one of the first ISP companies in Turkey called turk.net. She began turk.net at 29 and had her daughter five years later in 2000. The same year, her company was sold for $40 million to Sabanci Group, Turkey's leading industrial and financial conglomerate.
"Having a kid made me understand human beings better and how to be more flexible towards life. This has helped me have better relations with my employees. I have become more understanding than before. I can also understand the young generation better because of my daughter. This helped me create better human-centred new technologies," says Gorsev. Having her daughter also made Gorsev a better leader, she says, which is a crucial skill in becoming a successful entrepreneur. Obviously, poor leadership causes much more entrepreneurial failures than successes, and understanding human behavior better makes mothers better leaders for sure.
Having a child provides women with a new network
Being a mother certainly changes women's social networks. They begin interacting with other mothers to share tips on how to raise a children and how to adapt to this new lifestyle. "I found the support in this mom's network amazing. This is how I started my business. Everybody understands each other's challenges so well. There is a constant support and a sharing of know-how in the network," says Tohumcu.
A new name for women entrepreneurs with children has been coined by academia "mumpreneurs," or "mompreneurs" depending on which side of the pond you hail from. In the UK, there is even tax break to encourage women with children to start their own businesses. Jessica Alba's The Honest Company,  Julie Cole's Mabel's Labels, Sarah Davis'FashionPhile.com, and Jessica Kim's Babaco are some of the pioneer  companies started by mompreneurs. The rise of mompreneurs can even be seen from the increasing number of women who trade on eBay.
A successful tech entrepreneur Nilay Yuce, 30, founder of Lamagama Entertainment, an official game developer for Sony Entertainment, is currently eight months pregnant. "I already started to see my women friends who have kids more often in order to understand what's waiting for me. The support that I have got from my network increased. I feel more emotional, but surprisingly this makes me more tolerant in the office. I can already see that having a kid will make me a better entrepreneur, as I will take risks more responsibly. I realize that having a kid earlier would have been more helpful for my company. I didn't need to postpone it until now."
Having a child and having it all
When we talk about closing the gender gap, we cannot avoid discussing women's concerns about the family-work balance. In her article for Forbes, Candida Brush misses the point of this concern. Fear of failure surely is the answer to why women perceive opportunities less than man until 45 but these are exactly the ages when women have children, either in their early 20s or by their late 30s where fear of failure mostly comes from worries about having it all.
From Silicon Valley perspective, where the competition is severe, there is an admission rate of 4% women, for example, at Y Combinator, a technology startup incubator. This extremely low rate created a lot of discussions about why women were so noticeably absent; however, it is interesting that none of these discussions try to include family concerns or embrace mumpreneurs.
Perhaps it is not Silicon Valley that is keeping women down. But using a different language that includes women with children and promotes mumpreneurs may have a major impact because of the prominent role Silicon Valley plays in the global entrepreneurial arena. A woman with children starting a lifestyle company one day could be the founder of a high-growth company when her kids have grown up.
Even the solutions and environment that Anne-Marie Slaughter describes in her article for The Atlantic Monthly "Why Women Still Can't Have It All" is very much a description of an entrepreneurial lifestyle, where flexibility and space for play and imagination are the core parameters for innovation. Slaughter's points on the value of encouraging nonlinear thinking, integrating women's non-work lives with their work, seeing the world anew through a child's eyes or the new lifestyle that her child brought which broadened her world are all the same reasons why women should start companies especially after having a kid.