South Africa may be entering its fifth consecutive month of power outages but that hasn't put President Jacob Zuma above buck-passing.
Since November, Eskom, the state-owned utility that supplies 95% of the republic's electricity, has staged a series of shutdowns as it struggles to satisfy the demands of Africa's second-biggest economy.
Though Zuma, whose ruling African National Congress led South Africa's transition to majority rule nearly 21 years ago, has backed construction of power stations, goaded his government to harness renewable sources of energy and intensified oversight of Eskom, he also continues to shift blame.
"The reality is that we are dealing with the legacy of apartheid, which was skewed to deal with the minority and not the majority," Zuma told more than 50,000 supporters who gathered in January to mark the ANC's 103rd anniversary. "The energy problem is not our problem today. It is a problem of apartheid which we are resolving."
That may be wishful thinking on Zuma's part, judging by the reactions of the country's largest opposition groups – the Democratic Alliance and the Economic Freedom Fighters – which accuse the president of pointing to the past to distract from what they say is a failure of leadership in the present.
The critique transcends politics. "We've reached the point where government should be taking responsibility for something and it refused to do so," Professor Jannie Rossouw, who heads Wits University's School of Economic and Business Sciences, tells Quartz.
Evidence suggests the bona fides of both views. Zuma has a point even though he muddles the message and the president tends to assign fault despite the government's knowing for nearly 16 years that a shortfall of electricity loomed.
Though South Africa ended apartheid with sufficient electricity to shutter some power stations, the era predates a push by the government to electrify households in townships and rural areas as well as a surge in population by about seven million people.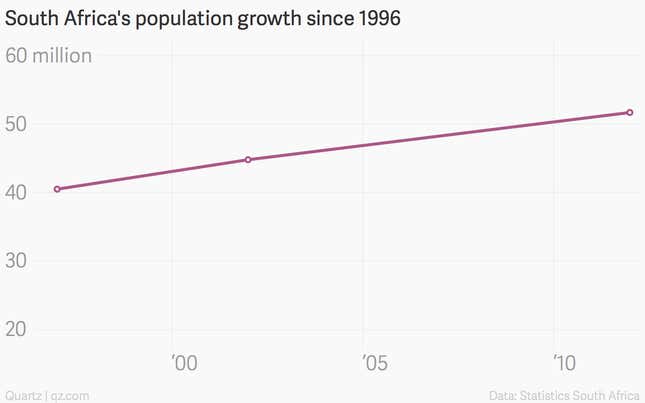 In two decades since the inception of majority rule, the government has made major advances in tying households to the grid. South Africa ended 2013 with 12.4 million households wired, up 49% from a decade earlier, according to the latest survey by Statistics South Africa. In all, 85% of households had access to electricity, up from 77.1% in 2002.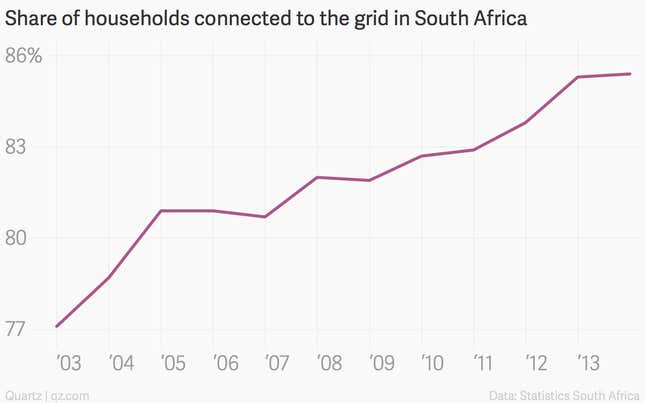 Still, Zuma took office in 2009 with notice of the shortages that would ensue. A report by the government in 1998 warned that South Africa would have insufficient electricity by 2007 unless capacity increased.
Eskom introduced so-called load-shedding a year later and has continued to play catch-up ever since. Meanwhile the undersupply of electricity has caused the economy to underperform.
South Africa's economy has lost about $25.4 billion (US) since 2008 and would be roughly 10% larger today if not for the shortages, according to economists at the Efficient Group, a financial services firm based in Pretoria. That translates to about one million jobs in a country where unemployment hovers near 25%.
"Every time the lights get switched off it sucks away the momentum we need to carry the economy forward," Francois Stofberg, an economist at the Efficient Group, tells Quartz.
The government's actions to address the energy shortage matter because they "show the government recognizes the problem and is beginning to take ownership of it," adds Rossouw, who remains hopeful about South Africa's prospects.
"We are moving toward improving education, improving skills and a new generation of youth that is not as interested in the past as the current generation," he says. "That clearly opens new doors for the country and is very positive."