If anything is emblematic of Russian cuisine, it's vodka—sipped along with a meal or gulped down in a shot (or several). But the country's iconic booze is losing ground to beer, according to government data released this week (link in Russian).
Despite efforts to revive vodka sales and a beer industry crippled by the ruble's fall, Russians are buying less of the spirit compared to last year, while sales of wine and beer have risen.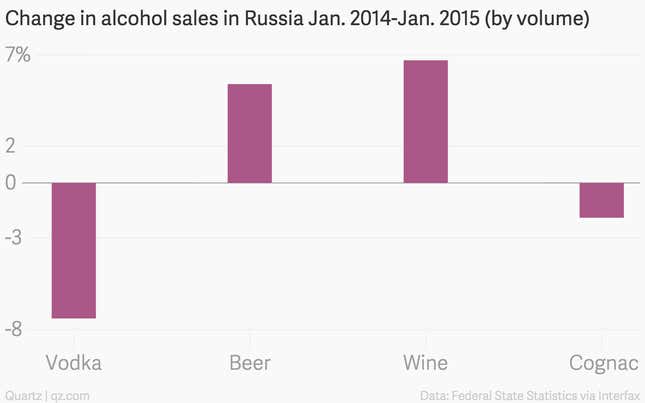 Overall, alcohol prices have been increasing in the country, with the government trying to curb excessive drinking through taxes and regulation. (Indeed, alcoholism is a plague in Russia: One in four men die before they are 55, and according to an extensive study, in large part because of "excess vodka use.")
Russian alcohol preferences have been swinging back and forth during the country's recent economic turbulence. Vodka consumption has been on the decline, but the Kremlin is working to change that. Beer consumption, which has been on the rise for years, dropped in the first half of 2014, the Moscow Times reported, with people returning to vodka. But the numbers released Tuesday, comparing this January's sales with last year's, show that vodka hasn't yet turned the corner.
Russia's favorite spirit may still bounce back. The government cut the state-regulated minimum price of vodka in February for the first time since 2009. President Vladimir Putin has said that he is concerned about the spirit's high prices stimulating the production of bootleg alcohol.