Regardless of whether you follow fashion or not, you know this look—a stark, industrial, sharp-cut, androgynous, predominantly black-and-white mashup of high-fashion and low. And you know it because it's everywhere.
What you may not know is that it reflects the enduring influence of one designer: Helmut Lang.
This year marks a decade since Lang left the label that still bears his name, and it's remarkable just how influential the self-taught, Austrian-born designer still is. His hallmarks now seem so basic, and are so widespread both on the runway and off, it's hard to believe they had to be popularized. Though Lang has long since moved on to life as an artist, the clothes he created for his brand remain desirable and relevant enough that they still turn up in editorial shoots, and as an object of obsession among collectors.
"The flat-front pant. The men's three-button suit. The low-rise jean," says Joanne Arbuckle, dean of the School of Art and Design at New York's Fashion Institute of Technology, enumerating just a few of the current closet staples that Lang pioneered throughout the 1990s and early 2000s. "What he did continues to influence fashion."
Lang is everywhere
In essence what Lang did was create a new design language. He's regarded as one of the premier minimalists because of the raw, stripped-down, architectural quality of his clothes, and these signatures—along with his color palette of black, white, and earthy neutrals—are easy to spot in brands from Alexander Wang to emerging young labels such as Yang Li and Lee Roach.
Just as importantly, he was one of the first high-fashion designers to bring the street onto the runway, reimagining everything from police uniforms to everyday clothing as high fashion. In his hands, the category of simple ready-to-wear was elevated into something avant-garde.
He created the category of designer denim, making jeans a high-fashion item with a matching price tag—nearly $200 back in the '90s. Lang splattered some of those pricey jeans with paint—rubber-based, so it wouldn't come off in the wash—mimicking painters' workwear. Today, the idea is standard fare. On others he incorporated the seamed, ergonomic knees of motorcycle pants. Now the biker jeans made by luxury brand Balmain are one of the brand's most popular and iconic items, worn regularly by celebrities such as Kanye West and Kim Kardashian and knocked off routinely by smaller labels. Their DNA can be traced straight back to Lang.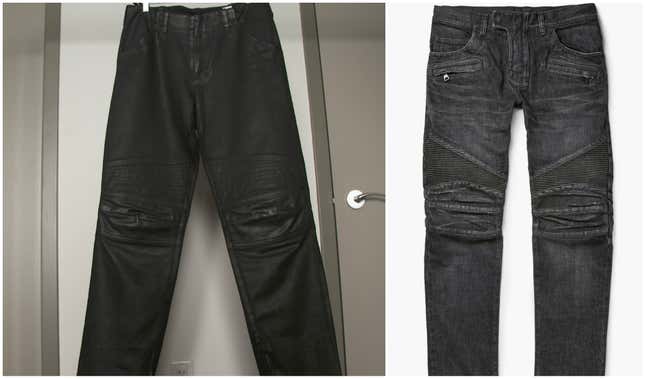 He created garments based on bullet-proof vests, and fabricated military bomber jackets in high-end or unusual fabrics, transforming them into luxury items. Expensive bombers are now prevalent in the collections of numerous designers, such as Rick Owens, who has made them in silk and virgin wool. Kanye West openly riffed on Lang's clothes in his line for Adidas, while streetwear brands repeat these ideas as well, some going so far as to mimic the bondage straps Lang used.
Actually, the use of straps and harnesses, inspired by sources such as parachutes and bondage gear, is one of Lang's most recognizable innovations. He put straps into the interiors of his jackets, for instance, so they could be worn like backpacks. The same element reappears in the work of New York-based designer Siki Im, who idolized Lang and joined the brand after Lang left, and Rick Owens, again, in a slightly altered form. (Full disclosure: I previously worked for Im). He also attached them liberally to his clothes purely as design elements to create a look that was industrial and militaristic. It's an approach echoed in buzzed-about young brands such as Hood By Air and Craig Green.
His use of bondage references, meanwhile, added an aggressive edge that was sexy without being about simply showing skin. Recently, when Taylor Swift made headlines by wearing a harness as part of an outfit, she was following Lang's lead, whether she knew it or not.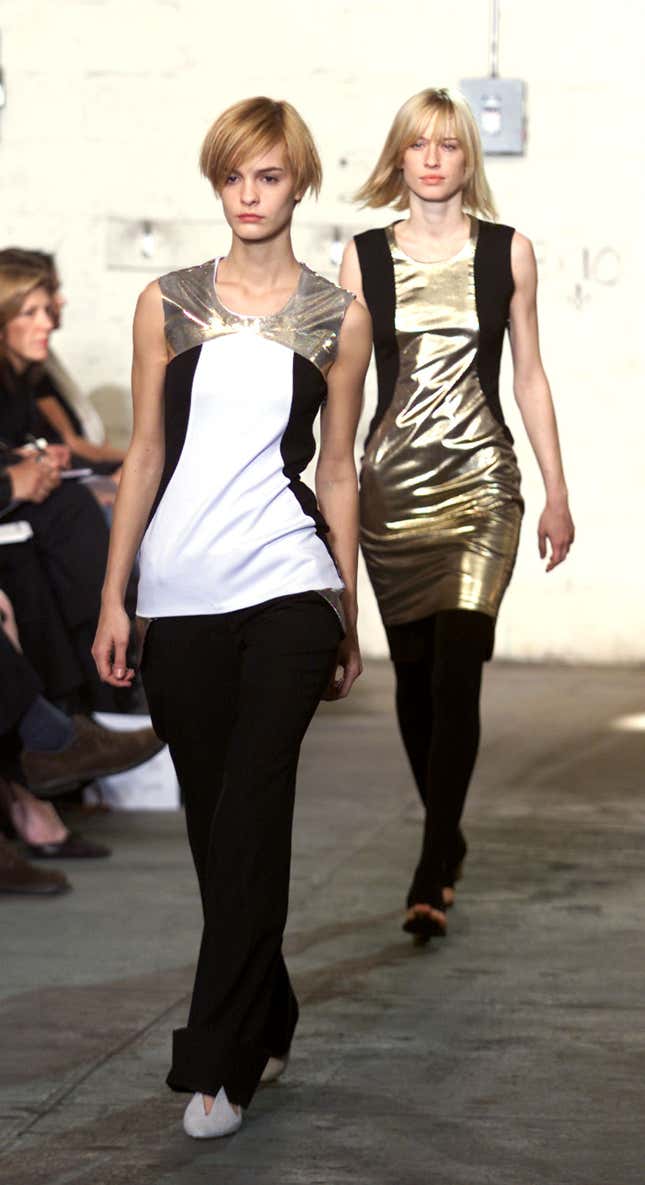 His pioneering use of technical fabrics has had an immense impact on fashion. He would back silk with nylon, for instance, or use textiles blended with metal to get unique textures. In his runway shows, he would juxtapose technical with natural, shiny with opaque, luxe with cheap. (Lang's long-time collaborator, Melanie Ward, undoubtedly deserves some of the credit too.) It's all territory designers are still exploring.
"When you think about his sense of the role that tech fabrics would play in fashion, it's huge," says Arbuckle. "At that point in time, people thought about them as utilitarian, and think about where we are today—it's such an important part of fashion."
All of these innovations gave the designers that followed in Lang's wake a new conception of how fashion could be done. Even some of the most prominent and supremely creative designers working today owe Lang a debt.
"Without Helmut Lang there would be no Céline, no Raf," Bernard Wilhelm, a German fashion designer, told i-D. "I've heard from people working at different fashion houses that there is always a Helmut Lang piece hanging and it's right there to be copied."
A Lang archive
Since Lang departed his label, retiring to a home in East Hampton, he's traded fashion for art. In February 2010, a fire wrecked part of his New York studio, and along with it a portion of his clothing archive. As Lang looked through the damaged clothing to find what was salvageable, he had the idea to destroy the rest of it himself.
Thankfully he donated a large portion to 18 museums around the world, but the remainder he shredded, and formed into sculptures. Twenty-five years of work, combined with pigment and resin, became eery, elongated trunks, resembling birch trees, some of which appear blackened by fire.
The obvious downside of his decision is that it's difficult to find an extensive collection of his clothes. One of the best resources may, in fact, be a 25-year-old stylist and fashion collector named David Casavant.
During more than a decade of collecting, Casavant has amassed an archive of several thousand pieces—mostly menswear. Originally it served as a resource for stylists, but lately it's become a place for celebrities, such as Kanye West and Rihanna, to pull items for photo shoots and events. There are only two designers Casavant collects in large quantities: Raf Simons and Helmut Lang.
"You can definitely see Helmut's influence today in everything really," Casavant tells Quartz. "He changed the idea of what luxury is. He looked at everything, from military to how people were already dressing on streets to utility wear and uniforms."
Visiting Casavant's collection, which is housed in his Manhattan apartment, is like taking a trip through recent fashion history. He has iconic pieces, such as a green version of the tank-top with the nipple cut-out that featured on the runway and in photographer Juergen Teller's famous ads for Lang. He has bomber jackets, and shiny astronaut pants, as well as Lang's precisely tailored suits and numerous pairs of jeans.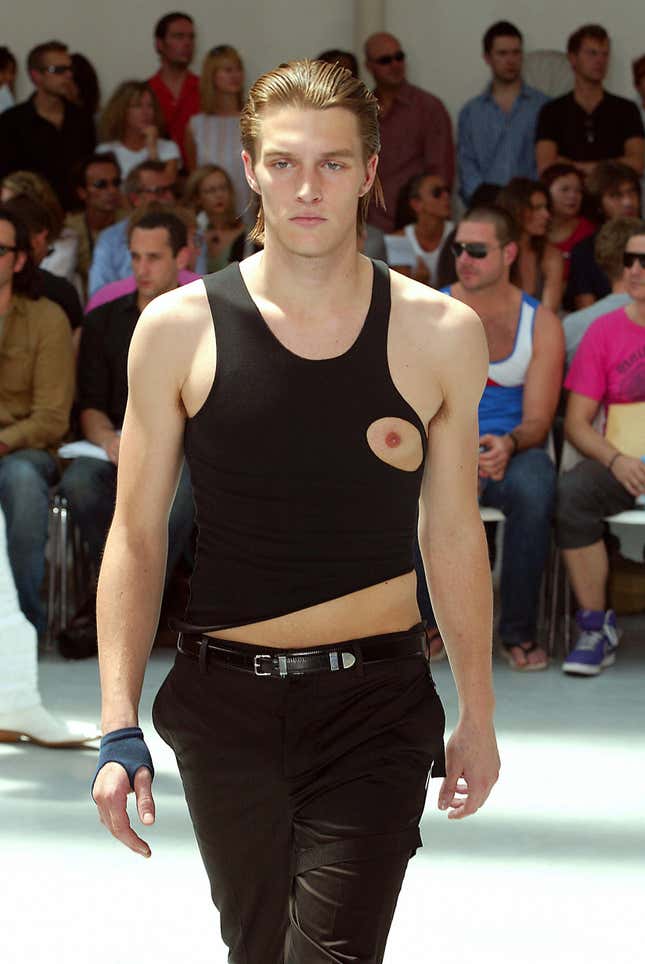 "When you get [Lang's clothes] it's like you want to look at all of it, you know? The tag is cool, the details are cool, you see what it's lined with, you see what the cuffs are made out of, you see the bondage details—if it has it," Casavant says. "I didn't even necessarily want it for me to wear. I wanted to have it, and just because I like clothes, I wanted to have them to do something with one day, maybe, is what I always thought."
What's notable is how modern it all looks. Pieces from the late '90s would still work on any runway today, and the magazines and stylists that continue to pull Lang's pieces from Casavant's archive attest to that.
The clothes would also fit easily into a real person's wardrobe. "Some designers are great at the shock factor, but I think he was someone who could really provide the excitement and the news, and at the same time they were wearable clothes," Arbuckle tells Quartz. "You wanted to wear the clothes."
Enduring influence
The revolution Lang caused in fashion didn't end with his clothing. When New York relaunched a dedicated men's fashion week this year, it was largely in response to a calendar that Lang singlehandedly created. Not wanting to follow the European shows, he moved up the date (paywall) of his spring-summer 1999 show to precede Europe. Other brands, including Calvin Klein, immediately followed suit. By the next season, all the New York shows had adopted Lang's schedule. Menswear was forced to join as it didn't have its own week, even though the timing was awkward.
His marketing was similarly groundbreaking. He was the first designer to live stream a runway show on the internet, and the first to advertise on taxi cabs. The ads he made with Jenny Holzer, an American conceptual artist, remain so popular that they routinely circulate on social platforms, such as Instagram and Tumblr.
Paradoxically, Lang's huge sway didn't always translate into equally sizable earnings. Sales at his brand plunged in the years before he left, though Prada probably deserves to share the blame. When Prada bought 51% of Helmut Lang in 1999, the company was doing upwards of $100 million in revenue. By 2004, that total had plunged to about $30 million. The New York Times reported that sales fell after Prada cut back significantly on the denim line, which accounted for more than half of revenue, as it sought to turn the brand toward sales of pricey handbags and shoes. Others evidently felt Prada didn't invest enough time in developing the brand properly.
In 2005, Lang left, and Prada sold the company the next year to Link Theory holdings, the Japanese maker of Theory clothing and subsidiary of Fast Retailing, which owns Uniqlo.
Still, Lang was a powerful force in the industry even as he stepped back from it, and his hold undeniably continues. One of the most prevalent, commercial looks of today is a sporty, diluted version of what Lang did. It's even the prevailing aesthetic at the current Helmut Lang, which has essentially become a high-end mass-market label.
Angelo Flaccavento, a noted fashion critic, complained about the lack of originality he saw on the New York runways at the fall shows this past February.
"This week in New York, you could almost tick the boxes as the models strolled by: Céline, done; Vuitton, done; Dior, done. And so on. Not to mention another favorite hunting territory for American designers: Helmut Lang's industrial/minimalist aesthetic," he wrote.
If nothing else, it's evidence that Lang created a design language that was so tuned into the way people dress—and want to dress—that it's still in use today. It's so consistently present it's become a fixed element amid the non-stop motion of the fashion world. New designers may come out and perform their parts on stage; Helmut Lang's work is now part of the stage itself.