Heroin is claiming more and more lives in the United States. Since 2000, deaths related to heroin poisoning have risen nearly four times, says a new report from the Centers for Disease Control and Prevention (CDC). And more of those dying are likely to be younger white men compared to the older black men demographic that was prevalent before 2000.
The increase in deaths from overdose is happening across the entire country, with the biggest spike in the Midwest. The report does not mention the reasons why, but tumbling heroin prices are often blamed. The drug can also be easier to get than prescription medication. Heroin catapulted into the national spotlight with the death of actor Philip Seymour Hoffman, who died of an overdose in his New York apartment last February.
Overdosing on painkillers is still a bigger killer than heroin, but the death rate has leveled out since 2010, while heroin deaths have increased sharply, nearly tripling in just three years.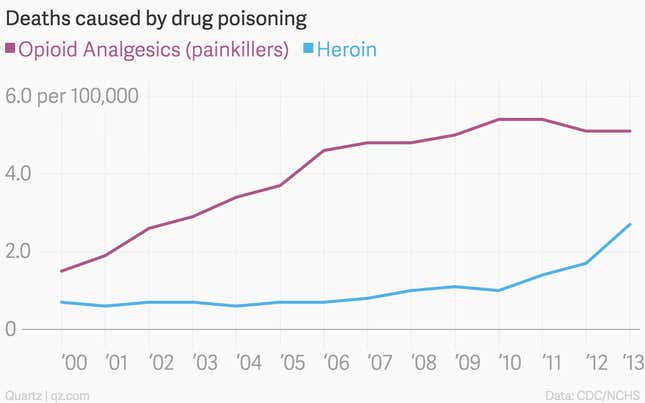 Men are nearly four times more likely to die of heroin overdose than women, the report shows.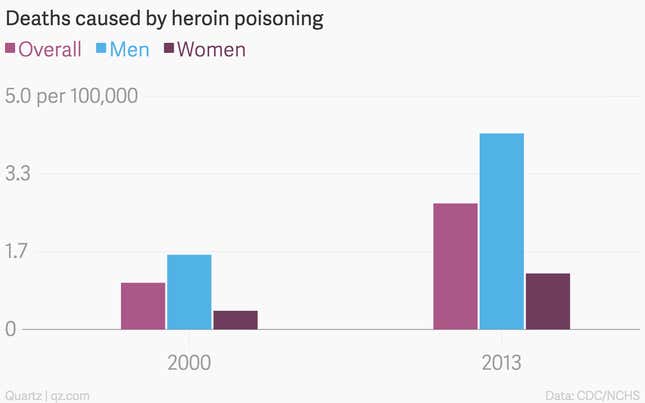 In 2000, the most vulnerable age group was older non-Hispanic black men, but over the years, the death rate among young non-Hispanic white men increased almost six-fold.