As the top-rated US network in the coveted 18-49 demographic, NBC is doing a lot of things right this season. That is, except when it comes to its comedies. The network that birthed massive hits like Cheers, Seinfeld and Friends seems to have completely forgotten how to launch and nurture its newest crop of sitcoms. Top-rated comedy, Parks and Recreation, just ended its seven-season run, and while NBC had one of the best midseason shows in its stable—the smart, hilarious Unbreakable Kimmy Schmidt, co-created by Tina Fey—NBC Entertainment chairman Robert Greenblatt knew the show didn't have a prayer on his network, which has stopped programming comedies on Thursday nights for the first time in 35 years. So Greenblatt did the only logical thing to ensure the show's survival: he gave it to Netflix.
The acquisition is just the latest in a long line of huge programming coups for Netflix, which picked up two seasons of the comedy last fall. The New York-based series features a woman, played by Ellie Kemper from The Office, who is rescued after spending 15 years underground in an Indiana doomsday cult and decides to start her life over. It's also great news for Kemper and company, since now Kimmy Schmidt will debut its entire 13-episode first season to Netflix subscribers on Friday, Mar. 6.
As Netflix continues to change the way viewers watch TV, in the process evolving from a niche outlet to one that wants to be all things to all people, the streaming service has also done something unexpected: it's helping to save the network sitcom.
To be fair, NBC is not the only network struggling to make viewers laugh. Traditional TV comedies are in dire straits as broadcast networks have struggled for years to launch new sitcoms to replace the long-running hits that have signed off in the past decade. It's partly a timing issue. Most sitcoms need the better part of a season to hone their comedic voice and tailor the show to the strengths of its actors. Very few comedies (Modern Family being a notable exception) are finely calibrated right out of the box, and many of the best recent long-running sitcoms—The Office, Parks and Recreation and Fey's first hit 30 Rock—had rocky, if not downright awful, first seasons. It wasn't until season two that they blossomed into the shows we now know and love.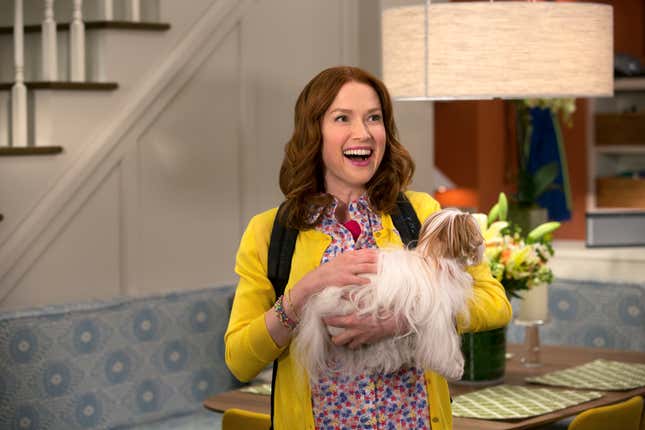 Unfortunately, shows are increasingly being denied this room to grow. Audiences—and networks—are abandoning most new network sitcoms quickly, sometimes after only an episode or two. And unless they have the benefit of another hit show as a lead-in to entice in audiences the way the terrific Black-ish and Fresh Off the Boat did this season with the help of Modern Family, they're often doomed before they even begin. As Kimmy, Kemper's bubbly enthusiasm is infectious ("I'm having candy for dinner!"), and the series, like Fey's 30 Rock before it, is packed with brilliant throwaway lines and Easter eggs. Still, even this promising upstart will need plenty of TLC to thrive.
That's where Netflix gets to swoop in and play the hero. Its binge-loving audience gravitates toward serialized dramas like Breaking Bad, but as Unbreakable Kimmy Schmidt proves, bingeing can also be an ideal method for comedies.
First off, Netflix offers the guarantee of a full season. Even as sitcoms like Selfie improved creatively, the network's writing was already on the wall. With ratings are that low, there's little chance of a renewal, and therefore no incentive for viewers to become attached. With Kimmy Schmidt, there are no such concerns. Not only can you be sure that all 13 episodes will air (and that a second season will arrive in 2016), but you can watch them all in one sitting if you'd like.
And while Kimmy Schmidt episodes might not end with a traditional cliffhanger designed to carry you over to the next episode, like Netflix's dramas ordinarily do, the show boasts plenty of comedic momentum. Out of the first six episodes I've seen, each ones gets stronger and stronger, as Fey and co-creator Robert Carlock build out their world and slowly layer in more laughs. The fourth episode is by far the funniest, packed with uproarious pop culture riffs and a disturbing yet riveting turn from guest star Martin Short. In a normal broadcast environment, many viewers would have thrown in the towel long before that point.
Arguably the biggest winner in the show's migration to Netflix—besides the audience—is NBCUniversal itself, whose in-house studio Universal Television will produce Unbreakable Kimmy Schmidt. Now, instead of a short-lived tenure under NBC, the studio has a contract for at least two seasons of the show, and potentially many more.
"It really represents an interesting turning point in the TV business in a way," Netflix chief content officer Ted Sarandos told Quartz earlier this year. "You've got a company that had a vested interest in the show being successful, NBC, but a deeper investment in the show being successful because they also produce the show and own the show. So they came to the conclusion that the show's best chance of success would be to be on Netflix. That was a pretty big milestone in the way TV is made and produced and distributed. And we agree, that the show's best chance of success is to be on Netflix."
As comedies have failed left and right this season across the networks, the importance of having an established, hit show to help launch a fledgling sitcom has become more and more apparent. Netflix is in the enviable position where the outlet itself is the hit show. Drafting off the strength of Orange is the New Black and House of Cards, every new Netflix Original Series is seen as an event (though that might change after a few more clunkers like Marco Polo, renewed for a second season despite being terrible), which will give Kimmy Schmidt more attention out of the gate than it would have ever received on NBC. And once viewers start binge-watching the show, the habit may become—like Kimmy Schmidt herself—unbreakable.