After the throng of museum-goers cleared out for the night on Tuesday (March 3), terminally ill patients were wheeled into the Rijksmuseum in Amsterdam for a private audience with Rembrandt.
The patients were brought in by Stichting Ambulance Wens (Last Wish Foundation), a Dutch charity founded by a veteran ambulance driver and operated by a volunteer corps of medically trained drivers. The charity has fulfilled thousands of wishes, transporting terminally-ill, bedridden patients to their dream destinations aboard a small fleet of customized ambulance trucks.
In this photo posted on the group's Facebook page, a 78-year-old woman suffering from Lou Gehrig's disease comes face-to-face with one of Rembrandt's self-portraits.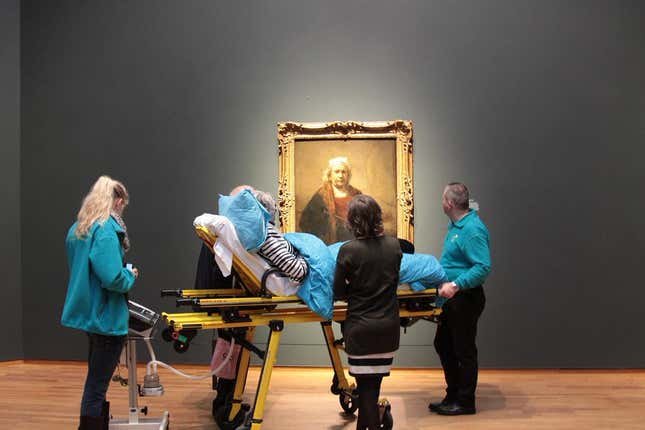 This unnamed patient spends time with a portrait of Jan Six, a prominent 17th-century Dutch cultural patron. (Twitter)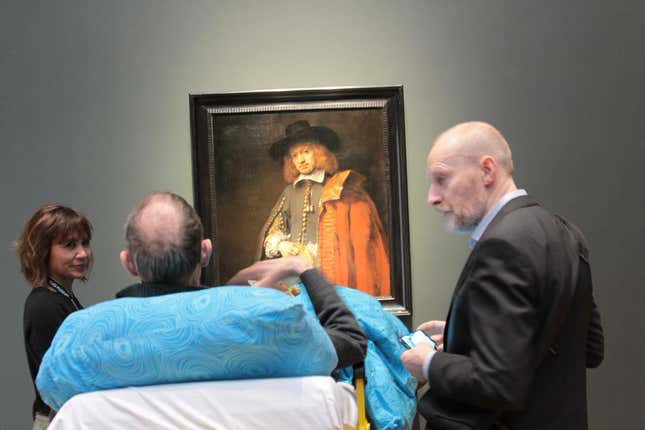 "Since its opening, the Rijksmuseum has welcomed and accommodated the Last Wish Foundation. We give our full support to this extraordinary initiative, and have great admiration for everyone concerned in these very special moments," the museum's general director, Wim Pijbes, tells Quartz.
Fittingly, the museum is currently holding an exhibition showcasing the later works of the revered Dutch painter and printmaker, who is known for his evocative self-portraits. The special retrospective spotlights Rembrandt's creative renaissance and late career experimentation. Many of his best-known masterpieces were created right before his death in 1669.