This article was updated on March 7 at 10pm in Hong Kong.

Indian government officials banned "India's Daughter," a BBC documentary about the Delhi gang rape of 2012, from broadcast in India this week, citing a danger to women's safety. But it still circulated on YouTube inside and outside the country after the ban, until Google complied with the government's requests and blocked copies of the film on the video-sharing site in India.
Now the BBC has launched a much more severe, global ban—the broadcaster has asked Google to remove all copies of the documentary, viewable anywhere in the world, from YouTube, citing copyright infringement. (It is viewable on the BBC's iPlayer within the UK.) Would-be viewers now see messages that say some variation of "This video is no longer available due to a copyright claim by British Broadcasting Corporation."
Just as dozens of blogs and mainsteam media outlets were trumpeting the ability of the internet, and international media, to circumvent the Indian government's controversial ban, the film is no longer available online: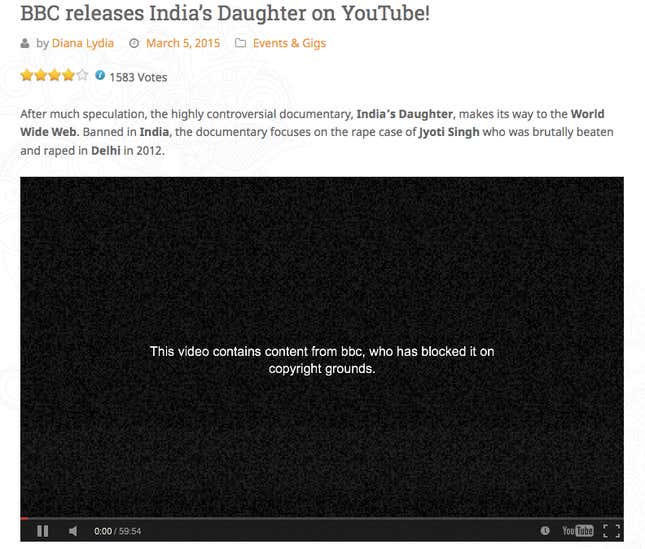 It is not even available on the BBC's own iPlayer channel outside of the UK: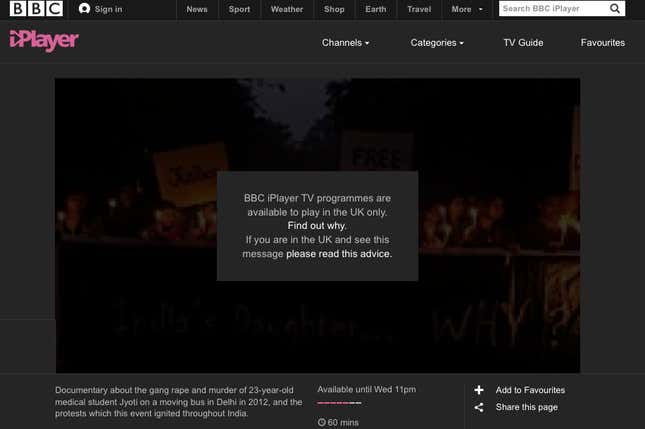 To view the documentary outside of the UK, you'll need to use a private VPN or a service like Hola! to create a fake IP address in the UK.
"When a copyright holder notifies us of a video that infringes their copyright we remove the content promptly in accordance of the law," Google told Quartz, explaining why the video has been removed from YouTube.
Update: The BBC said in an e-mailed statement a day after this was published that the company "has only broadcast the documentary, and made it available, in the UK," and has not uploaded it to YouTube. "The independent production company which made the film is currently taking steps to remove illegal uploads," the statement said.