Another strong jobs report has helped relieve the tension about the US job market, but the conversation has now turned to when the Federal Reserve will start to raise interest rates, a decision that will have repercussions across the global economy. Many expect a decision to lift rates at the June meeting of the Federal Reserve's monetary policy committee, but that would be unprecedented in recent history—since 1990, the Fed hasn't raised rates with wage growth this slow.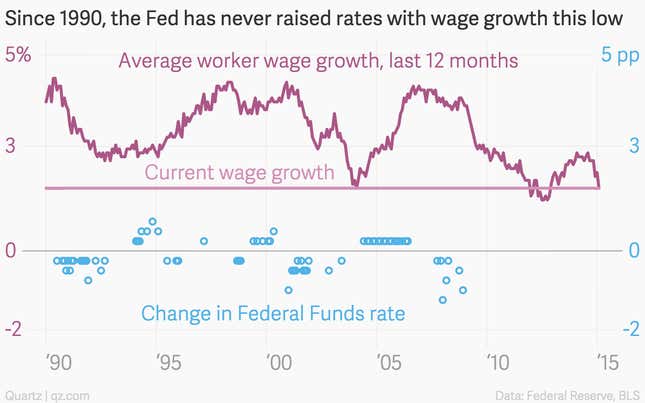 In the course of watching the Fed balance its dual mandate to stabilize prices and maintain low unemployment, many market observers suggest that falling unemployment—now at 5.5%—will soon lead to inflation if rates don't begin to rise from their current near-zero levels.
But Fed Chair Janet Yellen has urged investors to look beyond the headline numbers. With labor force participation still falling and real wage growth only rising because inflation is falling, there's still plenty of hidden slack in the labor markets. "Too many Americans remain unemployed or underemployed, wage growth is still sluggish and inflation remains well below our longer-run objective," she told Congress last week.
And so, while all eyes look to June, this positive jobs report still doesn't signal the kind of progress that would make a rate hike inevitable.