"In the world there's no tranquility and silence. But here, it's quiet enough," said Sophrony Kirilov, a 38-year-old Russian Orthodox priest profiled by The New York Post. Kirilov resides in and cares for the world's southernmost house of worship—the Holy Trinity Church on King George's Island, Antarctica.
Russian priests are placed on King George's for yearlong rotations, according to the Post, primarily for the purpose of leading mass for the 15 to 30 workers at the nearby Russian base at Bellinghausen.
The tiny church—like something out of a Hans Christian Andersen fairy tale—sits atop a rocky precipice overlooking the Antarctic Ocean. Built in Russia out of sturdy Siberian cedar logs, the structure was shipped piece-by-piece to the desolate island in 2004. It is equipped with seven bells, which Kirilov rings himself, all nestled in a steepled belfry that has become a favorite roosting spot for brown skua—formidable seabirds with whom Kirilov has built up a rather friendly rapport:
"Since 2008, I constantly meet them here and talk to them," the priest says, recalling the time a skua tried to make off with his pointed monk hat. "Sometimes they become naughty," he smiles.
Below, Associated Press photographer Natacha Pisarenko documents her visit to Holy Trinity: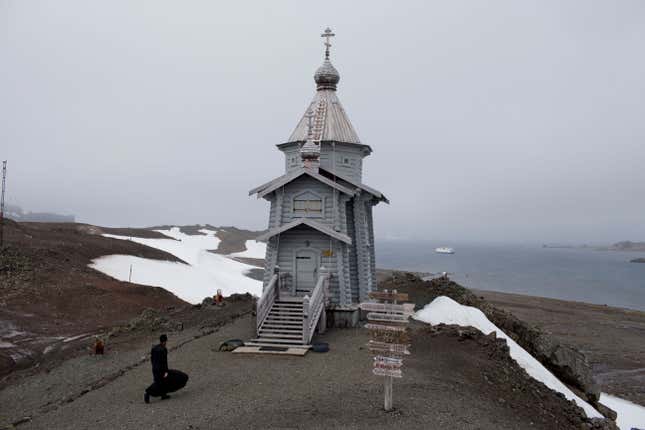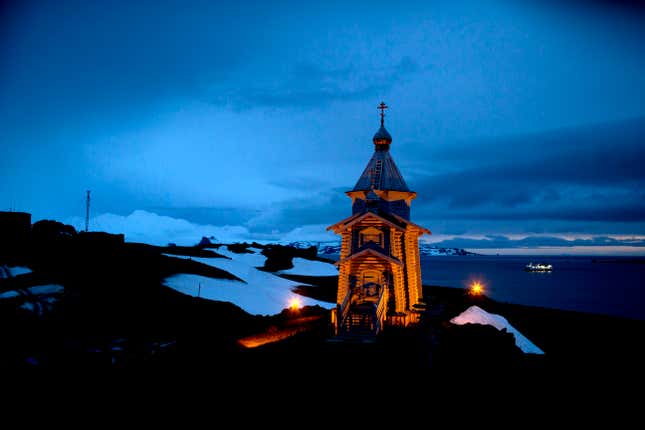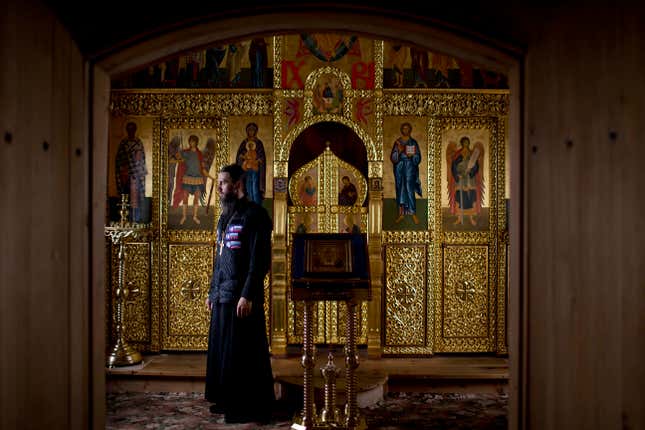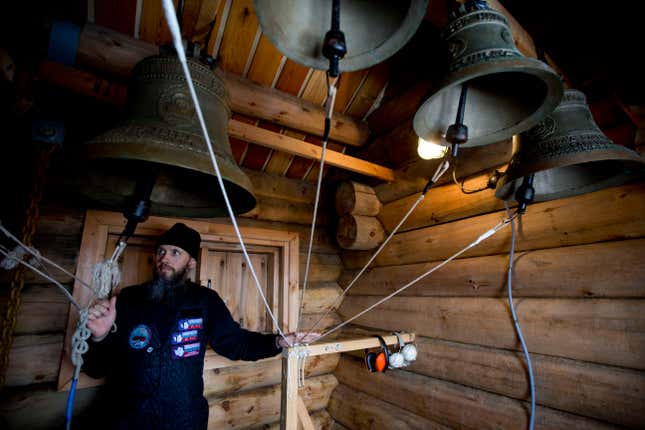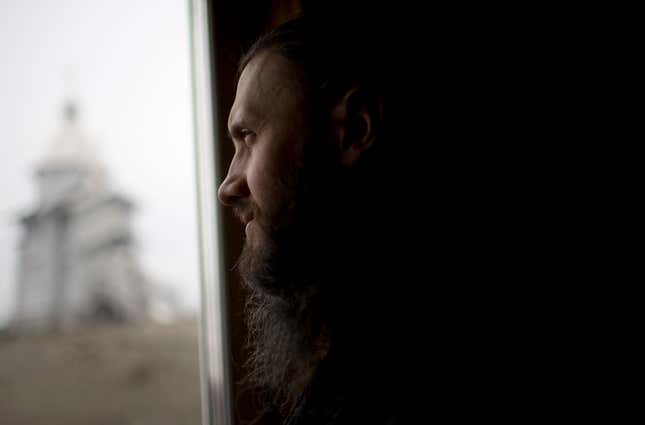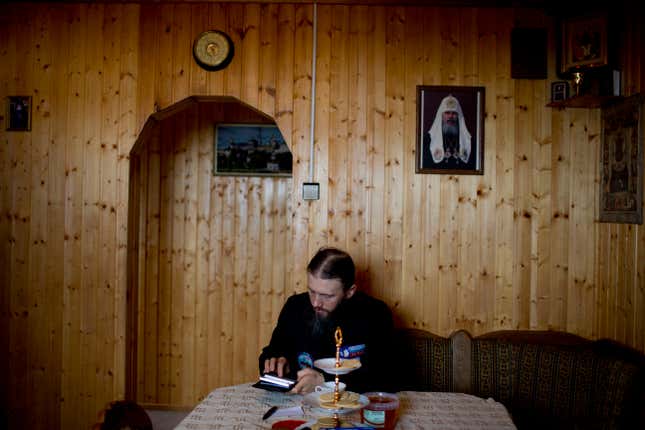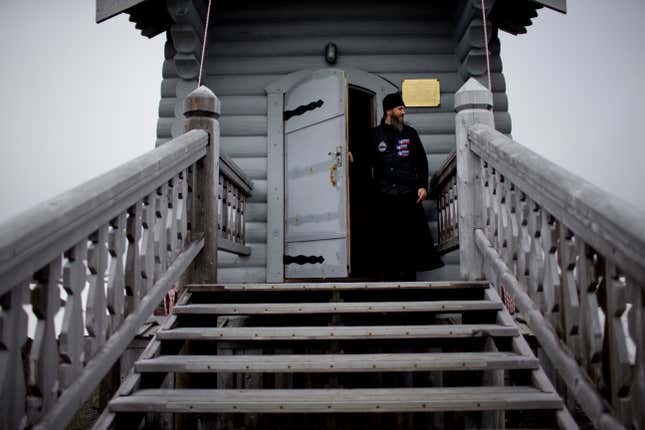 The world's northernmost church is not quite as quaint.
Svalbard Kirke, or Svalbard Church, is located in Longyearbyen—a settlement of more than 1,000 people and seat of the Norwegian island-territory of Svalbard (formerly Spitsbergen).
Unlike Holy Trinity, Svalbard Kirke is a sprawling structure of red-painted wood siding. It looks not unlike a nursery-rhyme barn, save for the steeple. And the taxidermied polar bear occupying a corner of the rec room.
The structure was built atop the rubble of an older church destroyed during the Second World War, when Nazi forces briefly occupied the Arctic archipelago. Today, it belongs to the Diocese of Nord-Hålogaland, part of the Church of Norway, which formed during the sixteenth-century Lutheran Reformation in Scandinavia. It employs a minister and two caretakers, and is the only major house of worship in the area—except for, wait for it—another Russian Orthodox chapel a Russian Orthodox chapel in the coal-mining village of Barentsburg.
Images courtesy of the Svalbard tourism board: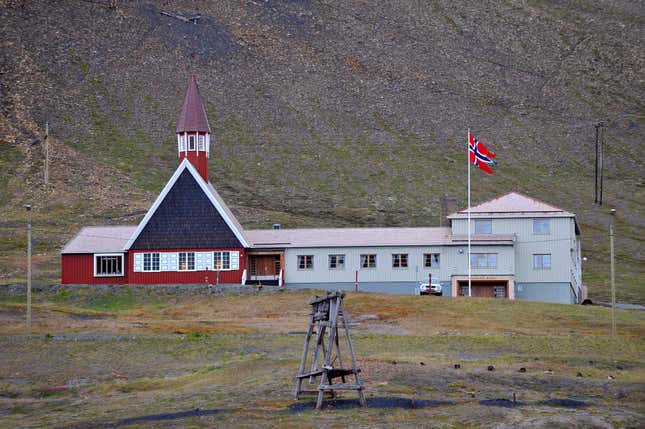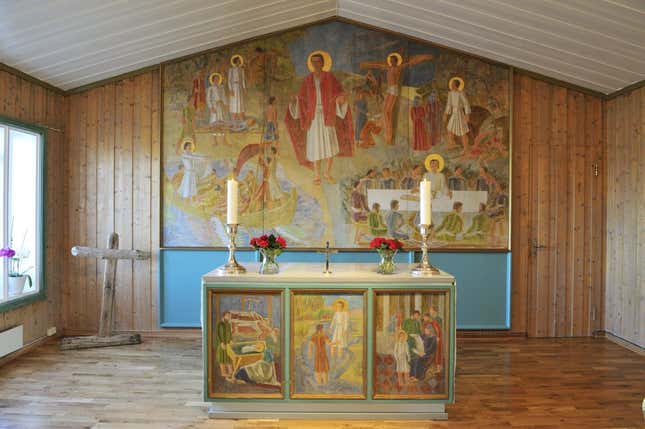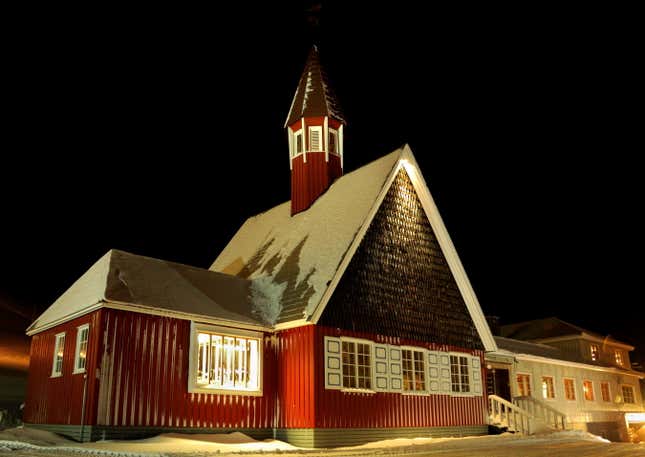 What drives the creation and ongoing maintenance of churches in such remote locations? For the Russian Orthodox and Norwegian Lutheran churches, it's merely part of a long history of missionary work in the farthest corners of the globe. The Russians have, of course, built a network of architecturally distinctive log-chapels and monasteries across Siberia; with a few scattered as far as the Alaskan coast. The Norwegians have meanwhile established mission outposts in as diverse a range of locales as Natal and Zululand in South Africa, the highlands of Peru and Bolivia, Japan, Greenland, and even inland Mongolia.
But than the historic drive to proselytize, even at the ends of the earth, there is a quieter motivation at work: "Here, you can calmly pray to God in peace and quiet," Kirilov told the Post. "Sure, you can do it anywhere in Russia, but here, it's special."