For years, drug makers have feared an onslaught of competition from "biosimilars," the generic version of drugs that are made by living organisms. It finally arrived last week when the FDA approved Novartis's Zarxio, a near copy of Amgen's blood cancer drug Neupogen and the first biosimilar in the US.
Until recently, this type of drug, called a biologic, had no generic competition in the US. That's because unlike typical drugs that are recreated through biochemical processes, biologics are much larger protein molecules, which require many more steps to precisely replicate, and aren't disclosed by drug makers.
The more complex process of creating a generic version of a biologic also makes the process of evaluating and approving the drug for sale more intensive. The FDA wasn't even allowed to consider biosimilars until the passage of the Affordable Care Act in 2010, after which basic details on the approval process took another two years. Europe approved its first biosimilar in 2006.
These barriers have helped make the drugs the pharmaceutical industry's latest cash cow.
Now that the hurdle has been crossed, a slew of essential blockbuster drugs will face competition from cheaper biosimilars. These are the best selling biologics worldwide, with the year their main US patent expires: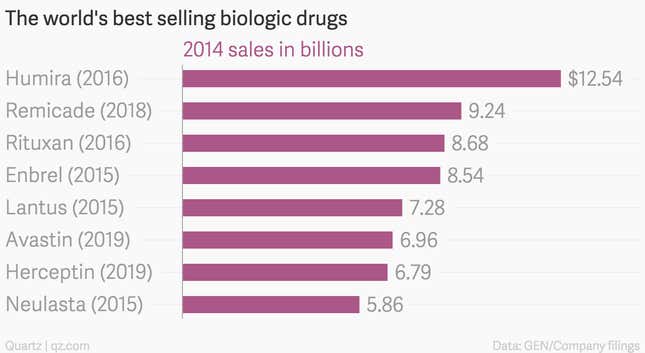 Biologics have been a major driver of drug spending by healthcare consumers, insurers, and government. The majority are considered specialty drugs, a category for which prices have soared in recent years, according to a new report from Express Scripts. The below chart measures the yearly percentage growth ("trend") in what private insurers spend on drugs for an average person in the US: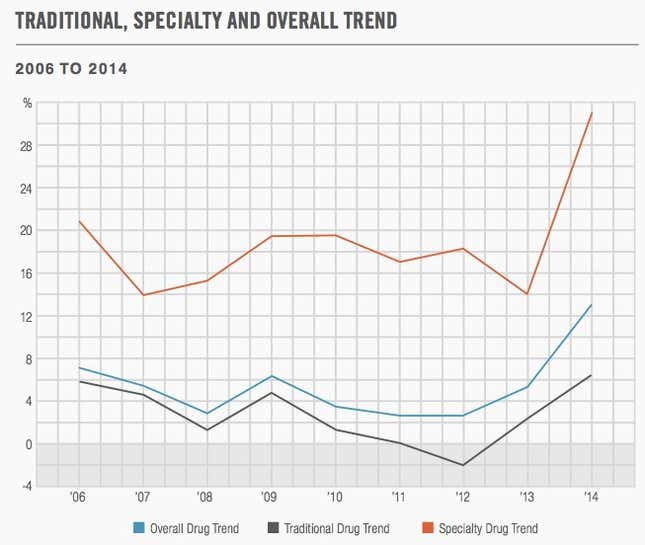 Many biologics that are best-sellers sell a majority of the drug in the US, with their US specific patents set to expire in the next five years. That's a big concern for many drug makers that rely on biologics for a big chunk of sales.
For example, AbbVie just spent $21 billion on biotechnology company Pharmacyclics after a bidding war that significantly drove up the price. The company only has one marketed drug that had about a billion US dollars in sales last year, of which AbbVie gets half due to a prior agreement with Johnson & Johnson.
The value for AbbVie is the patent on Pharmacyclics' drug Imbruvica, which lasts a decade longer than its existing biologic drug, Humira. Before buying Pharmacyclics, sales of Humira made up a substantial majority of AbbVie's revenues.
In another example, Pfizer bought biosimilar pioneer Hospira for $15 billion in February.
The bad news for big pharma is a win for healthcare consumers. A Rand study from late 2014 estimates that biosimilars could reduce spending on biologics by $44 billion over the next decade by US consumers and the government.