When the TED conference was founded 31 years ago, the first conference showcased a demo of the compact disc, the debut of the e-book, and 3D graphics from Lucasfilm.
The founder of the influential conference, Richard Saul Wurman, is a trained architect and graphic designer, who saw the forum as a way to explore the convergence among the three fields he named it for: Technology, Entertainment and Design.
But since then, as TED has expanded its reach and social mission, it seems that the D has been overshadowed by the T and the E—and at times even dwarfed by the P of politics, S for science, E for education, and another D for development. 
"It's true, our purview has expanded considerably," says TED's Fellows & Community Director Tom Rielly. "We're unearthing more ideas about things like social justice, schools, journalism and gender issues. But despite that evolution, the 'D' is still foundational to TED. Exceptional design breakthroughs and thinking thrill us, always."
Arguably, many of TED's most popular talks peripherally involve design. Hans Rosling's animated health statistics lecture spotlighted the persuasive power of graphic design. Edward Snowden's attendance at last year's conference as a self-propelled "telepresence robot" was a feat of product design. And even speakers' careful styling of their own outfits (paywall) seems to play a role in their talks' popularity.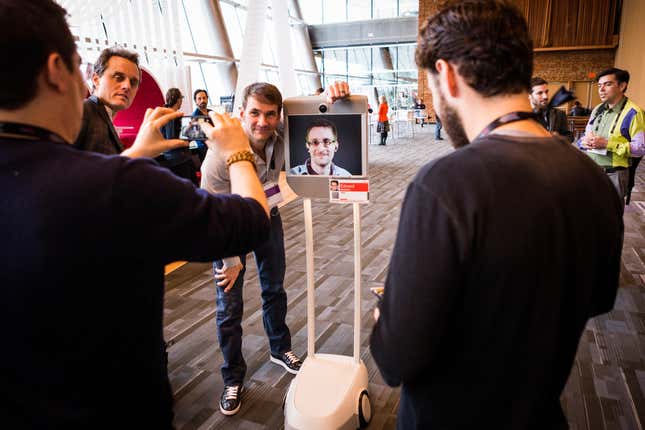 On some level, all talks about systemic issues could be seen as design-related: For example, the most-watched talk of all time—Sir Ken Robinson on how schools stymie creativity—is really about redesigning a system and a system of thought.
But the fact is that not one talk purely about design has made it to TED's top 20 list. This is unfortunate, because there have been some truly excellent talks on the subject (some of our favorites are below).
Beyond the talks, there are many noteworthy design features to the conference that aren't captured in the TED videos. Last year, a custom-built pop-up theater designed by the architect David Rockwell was erected inside the Vancouver Convention Center. The innovative 1,200 seat temporary structure was assembled on-site in five days with 600 pre-built units. Beanbags, benches, lounge seating, and chairs—all within 80 feet from the stage—offered a variety of seating options for attendees.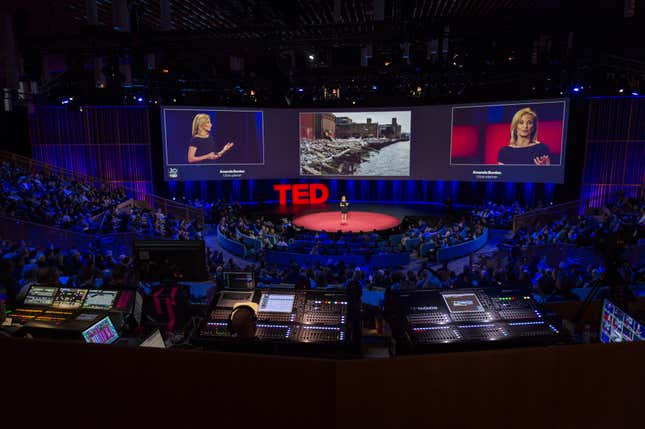 Then there's the integrated branding of program guides, badges and signage; the lighting and production scheme; the imaginative sponsor booths; the carefully curated swag bags; the attendee iOS app; and even the thoughtfully orchestrated meals. The entire staging of the conference is one big collaborative design project.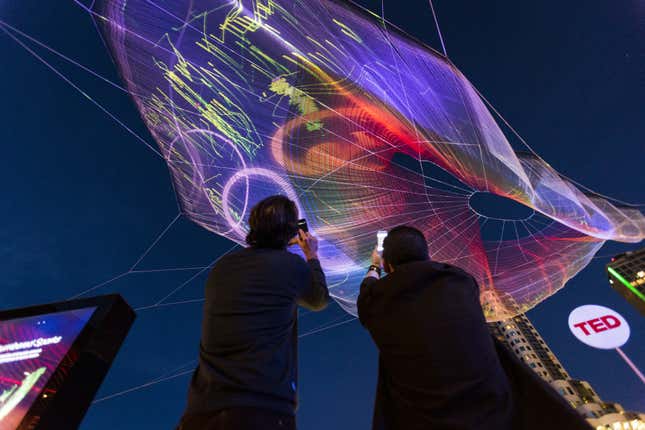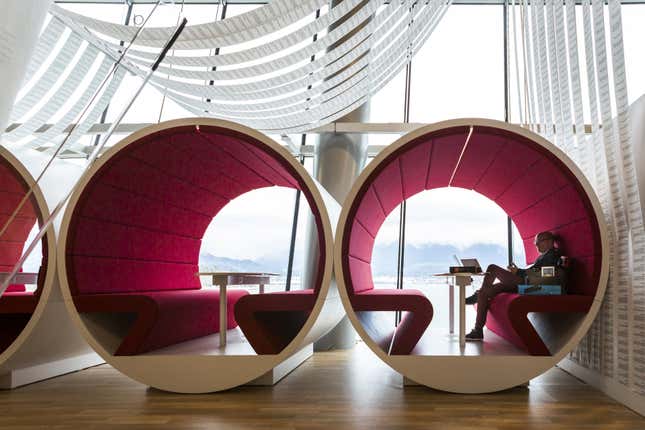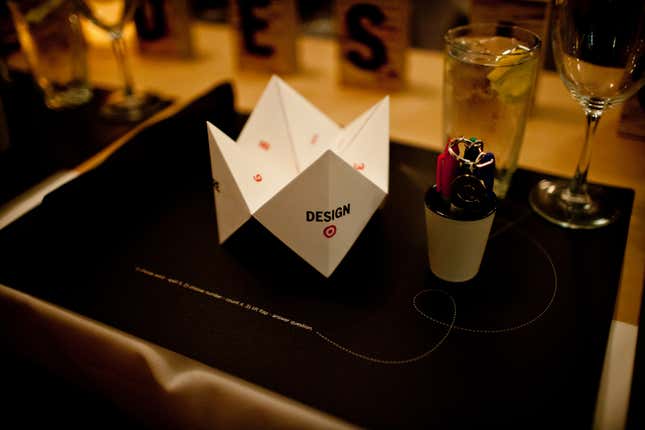 With over 70 speakers on the program, this year's TED conference will be held on March 16-20 in Vancouver, Canada. Quartz will report from the conference with a special focus on design.
As a warm-up for the creative marathon, here are five design talks worth watching and sharing:
Inventor Manu Prakash demonstrates a 50-cent origami microscope
Musician David Byrne riffs on how architecture heightens musical innovation
Curator Paola Antonelli explains design exhibitions
Engineer Hugh Herr delivers a talk on bionic legs
"Eyeborg" Neil Harbisson listens to color