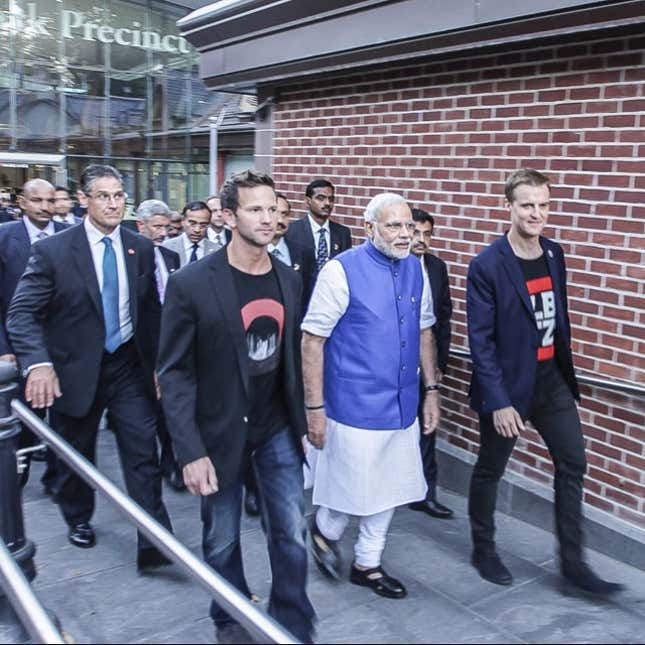 Aaron Schock, the US congressman facing questions about his use of public funds after re-decorating his office in the style of Downton Abbey and leaving an Instagram trail of his travel on donors' private planes, faces a new complaint today: Taking too many staffers to a party with Indian prime minister Narendra Modi.
Schock, one of the nation's youngest congressmen, has been viewed as a rising star in the Republican party since he took office in 2009. One of his advantages is that Caterpillar, the multinational heavy equipment manufacturer, is headquartered in his hometown of Peoria, Illinois, and employs many of his constituents. The company's employees provide a significant portion of the business-friendly politician's fundraising base, and their interests are reflected in his priorities as a legislator.
In part, that means an interest in India, where Caterpillar has significant manufacturing facilities, employment, and contracts. Schock has visited India twice since his election, including one trip underwritten by Global Citizen, an anti-poverty nonprofit that is also funded by Caterpillar, as well other major US corporations. Schock was part of a delegation that invited Modi to visit the US before he was elected prime minister, while Modi still was being refused a visa for his role in anti-Muslim riots that killed hundreds in Gujarat during his term as governor.
The latest controversy for Schock revolves around a Global Citizen Festival held in New York during Modi's visit to the city in September 2014, which culminated in a raucous address at Madison Square Garden. Schock spoke at the festival and attended the speech with other members of Congress.
According to the Chicago Sun-Times, Schock also spent $10,053 of his Congressional office budget to bring 10 staffers to the event, apparently without requiring them to do any work, which would violate rules limiting use of official funds to official business. (Three other members of Congress from Illinois who attended the Modi event didn't bring staff and didn't stay for an entire week like Schock did, the Sun-Times reported.)
A spokesman for Schock confirmed that at least 10 staffers were on the trip, telling the paper:
"India is a significant economic partner of the United States, and the Congressman felt it was important to further that relationship by playing a constructive role during Prime Minister Modi's event in New York as part of the Prime Minister's inaugural trip to the United States. In light of the importance of these events, a number of Congressman Schock's staff were present during the trip."
Quartz also has reached out to Schock's office and will update this post as warranted.
Bringing underpaid Congressional staffers to a festival with his official budget suggests that Schock is at best guilty of being a nice boss and a bad judge of political optics. But the pattern of poorly managing his official budget and financial disclosure requirements suggests the need for more rigorous oversight—a case you will doubtless hear from whoever opposes Schock in the 2016 elections.