In a report out today from Goldman Sachs about the future of money, the bank points out that 80% of bitcoin volume is now exchanged into and out of Chinese yuan. The second-highest trading currency is the US dollar, followed by smaller denominations in yen and euros.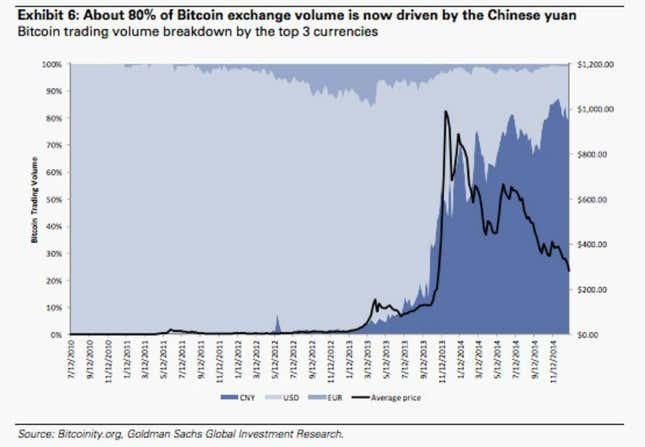 The revelation of China's bitcoin trading dominance seems to defy the logic that tight government restrictions would depress bitcoin's adoption in the world's largest economy. The amount of bitcoin trading activity in China has also risen, despite bitcoin's precipitous price fall from last year's $1,000-plus highs to less than $300 today.
The Chinese bitcoin surge comes against a backdrop of waning confidence in the Chinese economy, as the yuan weakens against the strengthening dollar and capital outflows—once rare in China—increase at record rates.
China's central bank clamped down on the cryptocurrency back in December 2013 when it banned bitcoin transactions at banks, retailers, and payment companies such as Alipay and Tencent. But the data show that bitcoin volume continued marching higher as bitcoin believers kept buying, selling and mining the cryptocurrency.
The fact that China has become a major mining hub is a likely contributor to its high bitcoin transaction volume, according to a report from the U.S.-China Economic and Security Review Commission. The report also notes that bitcoin has lured day traders looking to profit off of bitcoin's volatility, as well as younger Chinese investors who might not have the money to invest in property or the understanding to invest in the stock market.
Bitcoin evangelist and crypto currency lawyer Roland Sun explained in an interview on industry website Lets Talk Bitcoin that there's no explicit ban on buying, selling, or owning bitcoin as long as the central bank considers it a commodity, rather than a currency. He said "the only restriction imposed here is to block financial institutions and third-party payment processors from aiding crypto currency businesses (yet there are still many loopholes in reality to circumvent or even penetrate that restriction)."
So until the Chinese government provides more clarity on its bitcoin stance, China's bitcoin trade is likely to go on.