Facebook has removed "fat" from the list of "feelings" that can be associated with a user's status updates in response to a petition that garnered nearly 17,000 signatures on Change.org. The petition argued that the "fat" feeling and emoticon were making fun of people who struggle with negative body image.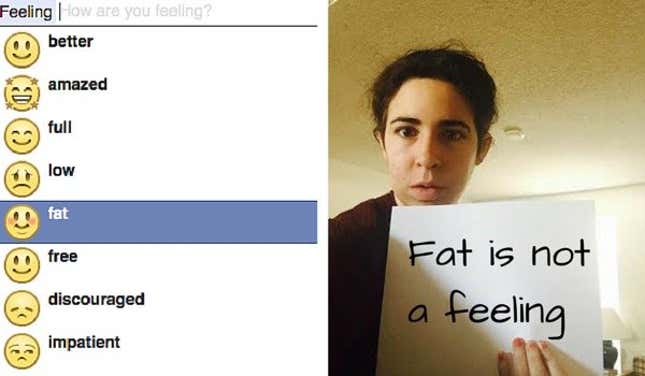 Catherine Weingarten, the petition's author, wrote:
When Facebook users set their status to "feeling fat," they are making fun of people who consider themselves to be overweight, which can include many people with eating disorders. That is not ok. Join me in asking Facebook to remove the "fat" emoji from their status options.
In a response posted Tuesday on the petition's page, Facebook replied that it would remove the "feeling fat" text from its site. As The Verge points out, the rosy-cheeked, chubby-faced emoticon that once stood for "fat" is still on the site, now associated with "feeling stuffed."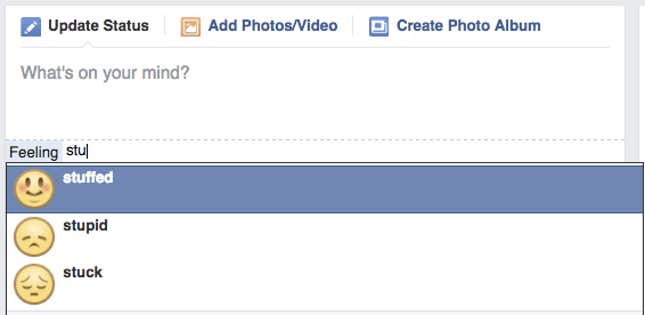 As emoji and emoticons have emerged as indispensable parts of digital language, the challenge of designing that language in a sensitive and inoffensive manner has proved difficult for companies. Apple, for example, unveiled new multiracial emoji last month. And while the new designs were largely well-received, the company faced outcry from those who wondered if its yellow-faced "neutral" emoji weren't a bit racist. And then there's the petition calling for ginger emoji.
Facebook, too, may face more challenges to its defined "feelings." It still contains plenty of terms like "depressed," "ugly," and "stupid," all of which are likely offensive to someone.