The circus of Fashion Month, the semi-annual series of fashion weeks in New York, London, Milan, and Paris, wrapped up on Wednesday. And as we sift—and scroll—through the digital detritus left behind, specific images tend to stand out.
If last year was the season of the Chanel supermarket—a spectacular set for a fashion show where sneaker-and-tweed-clad models pushed shopping trolleys past shelves of Chanel-branded groceries—this will be remembered as the season of Zoolander, a promotional stunt on Valentino's stage that reached far beyond the realm of fashion people.
These photogenic, shareable, "Instagrammable" moments are now essential for designers seeking global publicity. Our first impressions of a fashion collection no longer come through the pages of a newspaper or magazine or the windows of a store, but through our phones. Over the past few seasons, we've seen designers grow savvier when it comes to creating—and controlling—those moments.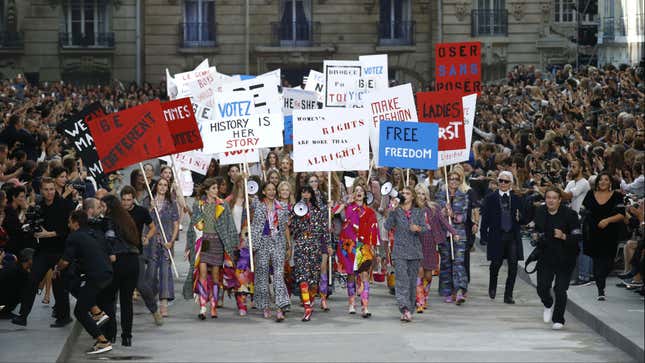 Some, such as Chanel's "feminist march" at Paris Fashion Week last September and this season's "brasserie," are obviously staged as spectacle. Others feel more spontaneous. At the New York designer Rachel Comey's intimate dinner shows, for example, details such as desserts and flowers never fail to inspire Instagrammers, and Gucci was wise to invite editors for a closer look after the Chewbacca horsebit slippers walked the runway. A curiosity like a dog on a catwalk begs to documented, as the casting directors behind Hood by Air's soulful great dane and the highly-coiffed poodle at this season's VFiles show could attest. And then, there's just plain beauty (see: Dries van Noten's models in repose on a mossy runway).
Once in a while, these moments are even about the clothes, though perhaps not always the pieces designers expect. A show's finale or bride doesn't always make a lasting impression, but when Joseph Altuzarra's skunk-striped fur coat hit the runway mid-show in February of 2013, it handily took over Instagram streams. This season, that role was reprised by the model Fernanda Hin Lin Ly, wearing pink hair and a cloud-like sheepskin coat. The most Instagrammable moment—or garment—is now the one that leaves a lasting impression.
To be sure, designers have been creating drama on the runway for decades—especially showmen such as John Galliano, Jean-Paul Gaultier, and the late Alexander McQueen. At McQueen's spring/summer 1999 show, model Shalom Harlow writhed on a slowly rotating turntable, while two sinister robots attacked her white dress with spray paint. The year prior a model stood in a ring of fire. But these slightly disturbing dramatizations share as much with the conceptual performance art of the 1970s as they do with the instantly-broadcast "microstunts" of today. The now-famous skulking model that Galliano sent out at Margiela this season deftly scurried down the line between artistic expression and instant meme.
Today's social media landscape lets designers reach fashion's ever-widening audience more directly, rather than depending on editors and buyers to convey their vision to the world. An expertly executed Instagrammable moment leaves little room for misinterpretation. And while one could argue the denizens of social media now control the narrative, this week's Zoolander stunt shows how easily they fall into line and become instruments of promotion. The runway turn of the comic actors Ben Stiller and Owen Wilson set off a single-day social media onslaught, and Paramount Pictures got a high-impact and hilariously on-brand announcement for its Zoolander sequel, delivered by a tribe of online influencers.
Here are some the other ways designers are making these "moments" happen.
Create a scene
Chanel creative director Karl Lagerfeld consistently impresses with his elaborate sets, which have become more interactive in recent seasons.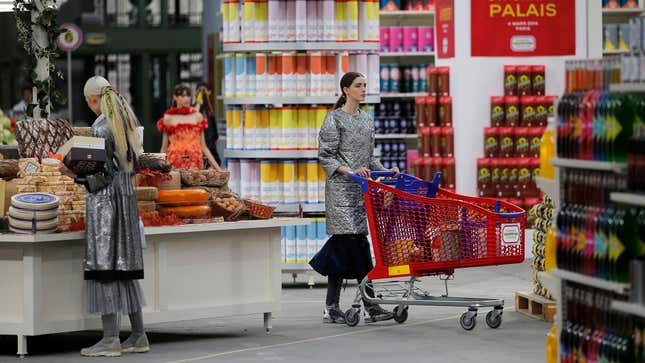 Pre-Instagram, Lagerfeld staged extravagant shows in locales such as Grand Central Station and a Los Angeles airfield. Now, he builds his own locations. Over the past few seasons, he has created the famous Chanel supermarket, "Boulevard Chanel" for protest marches, and this week, the "Brasserie Gabrielle" (named for Gabrielle "Coco" Chanel) where models flirted with "bartenders" and sipped grapefruit pressé while VIP guests watched from booths.
At the darker end of the spectrum, the New York-based designer Thom Browne creates similarly interactive sets that invite viewers into fanciful—though perhaps more complicated and foreboding—worlds. His show this season made Style.com's Tim Blanks wonder whether Browne's cinematic vision might one day outgrow the catwalk.
Fill the front row with stars
Kanye West's debut at Adidas this season would have likely have taken social media by storm regardless, but just to make sure, he guaranteed it with a front row that included his wife, Kim Kardashian West (who perhaps you've heard of) and her sisters Kendall Jenner and Khloé Kardashian, as well as Beyoncé Knowles, Jay-Z, Diddy, and Rihanna. (Justin Bieber, Big Sean, and Pusha T sat second-row.)
Not only did Kanye guarantee social media coverage by enlisting front row documentarians with massive followings—Beyoncé alone has 27.7 million followers—he also ensured that no one present would be able to resist sharing photos of the blinding star power in the front row. (Kanye returned the favor at Balmain, Givenchy, Louis Vuitton, and a series of performances during Paris Fashion Week.)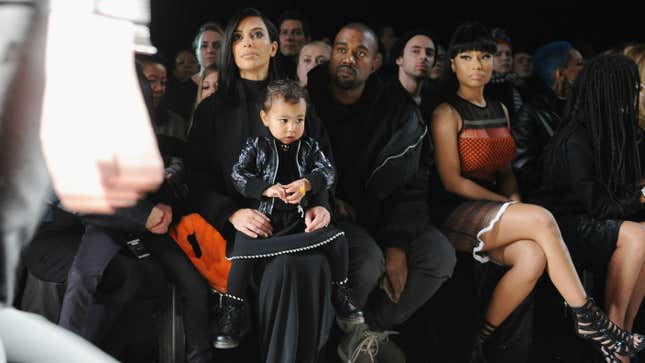 Also, babies help! When the toddler North West started to cry before Kanye's Adidas presentation, Twitter erupted with play-by-plays of a perfectly natural tantrum while awaiting a delayed show.
British designer Victoria Beckham's children often sit with their extremely photogenic father, footballer David Beckham, beside Vogue editor-in-chief Anna Wintour, offering an irresistible front-row photo opportunity.
Drop intimate (enviable) details
In the past, Tom Ford has eschewed the media's glare at his fashion shows, even prohibiting photography at one (pre-Instagram) presentation where his notable friends—including Julianne Moore, Beyoncé Knowles, and Rita Wilson—served as models.
This season, he went full-Hollywood—flashbulbs included—showing his collection in Los Angeles the night before the Oscars. Ford's front row included Jennifer Lopez and Gwyneth Paltrow, but it was the white-rose-petal-strewn floor that flooded Instagram: a beguiling visual detail that showed followers the show's opulence.
And that intimate detail does the double-duty of announcing that you made a short invite list, with the bonus side-effect of inducing Instagram envy. Many of those observing Tom Ford's show in L.A. were enduring sub-freezing temperatures in New York, no doubt.
Laura Brown, the comedic executive editor of Harper's Bazaar, turned this on its head by sharing images of herself photoshopped into meme-worthy photos of Paris Fashion Week with the hashtag #Iwasnotthere.
Personally, the desserts at Rachel Comey's New York dinners tend to trigger my own Instagram envy (along with my sweet tooth). The images from her show look always great, never gauche—which probably has as much to do with the setting as it does with the guest list. A tightly edited group of editors, artists, and friends can be trusted to paint a pretty picture.
Enlist an "Instagirl" to walk in your show
This week, model Cara Delevingne's Instagram following grew to 10 million, which means she is about halfway to reaching the audience of her friend and catwalk cohort, Kendall Jenner (who has the advantage of Kardashian blood).
But 10 million is nothing to sneeze at, and puts Delevingne firmly at the top of a model category that Vogue has dubbed the "Instagirl," along with Karlie Kloss, Joan Smalls, and the rapidly rising Gigi Hadid. (Hadid's following has doubled since we analyzed the fashion Instagram universe last season.)
These millennial supermodels' massive audiences mean followers will seek out images of them after they've walked in a fashion show—and if the model herself posts from backstage, so much the better.